Richmond Author David Robbins' Novel Hits the Stage
| March 2nd, 2017
Robbins' novel "The End of War" becomes a Virginia Rep. Theatre production
---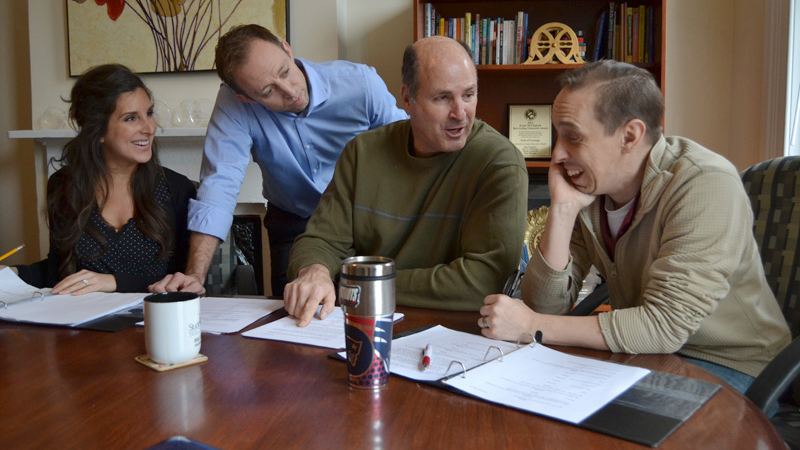 A story can be told in many ways.
The stories local author and BOOMER columnist David L. Robbins crafted in his 528-page book, "The End of War," are being told in a completely different format – a play. Under the direction of Nathaniel Shaw, the Virginia Repertory Theatre is bringing to life Robbins' dark and honest wartime book, a book that illustrates the troubles, tragedy and gut-wrenching choices people faced at the end of World War II.
The process of adapting the book to a script, Robbins said, was challenging yet rewarding.
The first challenge involved choosing which of the many stories in the book would be the most compelling onstage. Then he had to determine how best to communicate that tale in a new medium.
"Rather than doing a lot of inventing [as in creating an original novel or play], it was more about discovering how to tell the story in a different form, how to lend three-dimensionality to the imagination," Robbins said.
In communicating his message through a script, he focused on writing more concisely and directly. In his books, for example, he can communicate characters' emotions subtly, through extended narration, but on stage, characters must express feelings more directly.
At the same time, the author had to simplify the book's themes. One essential theme that Robbins was intent on communicating poses a question to the audience: would you have illegally housed a Jewish person to keep them safe during World War II?
In writing the script, Robbins was able to "hear" the book but couldn't imagine how it would come together on stage, which is where Shaw and his team take over.
Overall, Robbins said he has enjoyed the collaborative aspect of the process, and he has no concerns about whether the cast will do the book justice on stage.
"It's not my play anymore. It's their vision," he added.
In the end, Robbins said, playwriting makes him a stronger novelist as it refines his storytelling skills.
Catch "The End of War" at The November Theatre, March 10-26.