Brocks Bar-B-Que
| October 13th, 2022
Still crazy (about the food) after all these years
---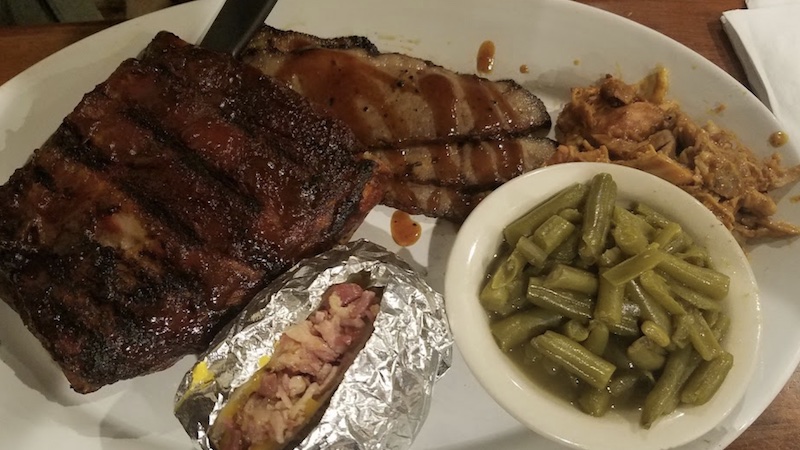 There's a reason for its longevity. Richmond food and travel writer Steve Cook takes us to Chester for a local favorite, Brocks Bar-B-Que, and introduces us to the family behind the catering business and restaurant.
---
As a child, Jim Brock remembers his father, Charlie, was always cooking something up on the grill and letting his family taste test his culinary creations. Eventually, Charlie Brock, a Virginia State Trooper by profession, began to invite the neighbors over on the first Saturday each May to enjoy his barbecue.
These annual cookouts, which began in the early '70s, soon grew to number up to 600 people gathering at Pocahontas State Park. During their get together in 1975, one of the neighbors, a local businessman, asked Charlie if he'd be interested in catering his company's upcoming picnic.
Thus was born Brocks Bar-B-Que in Chester, which over the past nearly half century has become somewhat of a Chesterfield institution both with its sizeable catering operation as well as with its restaurant at 11310 Iron Bridge Road.
Because of its appeal to so many area diners, by 1987, the family, which included his wife, Doris, and sons, Tim and Jim, saw the need to open a restaurant. By 2000, continued growth led the sons to purchase property in the same shopping center where their first store was located and build a new restaurant from the ground up.
Seasoned restaurateurs
Today, Jim runs the restaurant while Tim oversees the catering operation from a separate kitchen nearby. When the new restaurant was opened, the brothers never found the time or saw the need to use the drive-through, which they had seen fit to include as part of the new facility However, during the pandemic, Tim says that drive-through became the business's life saver.
Now that things are somewhat back to normal, it's difficult to fully remember the fear we may have had being any place where we had to interact with those outside our family circle. But we all are aware of the impact the pandemic had on the restaurant industry.
As a sign that the worst is behind us, the Brock brothers have reintroduced one of the most attractive features of their business – their buffet. I have often said that I could never qualify as a food critic because of my love of buffets. And there is plenty to love on Brocks buffet. My favorites, as you might imagine: fried chicken and pulled pork barbecue.
While the restaurant has not yet returned to their weekend seafood buffet, they do offer a lunch buffet Tuesday through Friday and a dinner buffet from Tuesday through Saturday evenings.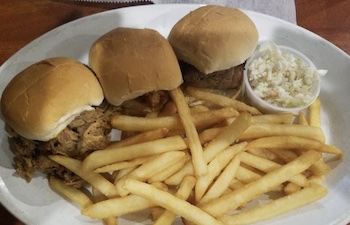 I asked Jim to explain the phenomenal success that Brocks Bar-B-Que has continued to enjoy even through Covid. To be honest, even before he answered, I had figured it out. It comes down to two words: fantastic food!
But, of course, more is involved. One of the keys to the success is the family's willingness to adapt and to evolve as the customers' tastes evolve.
Jim tells me that he is constantly adjusting the menu to reflect those changing tastes. "For instance," he explains, "brisket never used to be popular. Now, all of a sudden, a lot of people are interested in the brisket. They see it on TV and want to try it. Now, other than the barbecue, it's one of our most popular meats."
After one taste, I can certainly see why the brisket is so popular. It was prepared to perfection. "It's all in the sauce," Jim says, adding, "Of course, you have to start with a quality piece of meat and a smoke technique." For the brisket, the Brocks created a special dry rub, which complements the deliciously smoked meat beautifully.
While there are a variety of sauces to fit each specific type of meat, the most popular was created by Charlie Brock himself. "It's a family secret. We've not changed it in any way," Jim says.
He cites yet another reason for their success. "We are a family-owned business. The majority of our staff has been with us for years."
As we chat, I continue to enjoy a sampling of some of Brocks delicious fare. So, by the time I finish the conversation, I'm able to add two more reasons that people love Brocks so much: the hush puppies (wow!) and the redskin potato salad.
"It tastes very much like the potato salad they used to sell at Ukrop's," Jim says, referring to the legendary Richmond grocery store.
I disagree. Brocks is better, way better. It's virtually potato salad perfection. Of course, I only possess one set of taste buds, so I can only speak for myself.
The business that started as a local caterer still offers full-service catering (they can handle up to 50,000 at a time, if you have that many friends). In fact, I'm told they are about to release their seasonal catering menu online. But even if you lack 50,000 friends, you can still enjoy the fantastic food. You can still drive through or come on in and sit a spell.
Discover for yourself any number of your own personal reasons that Brocks Bar-B-Que is still so popular after all these years.
Brocks Bar-B-Que, 11310 Iron Bridge Rd., Chester, Virginia 
---
Steve Cook has lived in the Richmond area for most of his life, working as a writer and editor and in marketing and radio. He loves to keep abreast of the local restaurant scene and researches the subject voraciously. "I used to think I was a foodie," he says, "but then I realized I just like to eat a lot." He once co-hosted a local Richmond restaurant radio program with BOOMER editor Annie Tobey. Steve completed his first novel in 2017 and says he hopes to read another one this year.
Dig in to more restaurants and other recommendations from Steve Cook