Cheesy Bean and Tomato Bake
| March 8th, 2023
Simple to make, easy to clean up, and a family favorite
---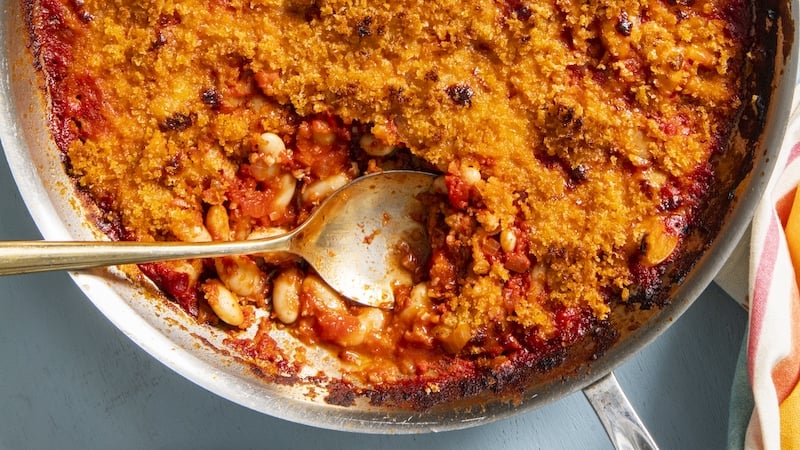 America's Test Kitchen offers Cheesy Bean and Tomato Bake, an easy meal that's perfect for when the grandkids are over. Not only will they eat it, they can help make it!
---
On busy nights, there's nothing like a one-pan meal the whole family will love! You can even get the kids involved to help make this easy dish.
All it takes is stirring white beans into a quick-cooking tomato sauce, topping the mixture with cheese and bread crumbs, then baking until it's creamy and crunchy!
This recipe uses two types of cheese – mozzarella and Parmesan – so one way to get the kids involved in the cooking process is to have them taste each one and compare the different flavors and textures before sprinkling bits of cheese on top of the dish.
And while the kids are snacking, you can spill some facts about these key ingredients: Firm Parmesan has been aged, sometimes for more than a year, giving it a stronger flavor because it loses water through evaporation. Soft mozzarella isn't aged at all, meaning it's full of water and melts into gooey goodness.
And just like that, in about an hour you'll have made a scrumptious meal with the whole family. And because it's in one pan, there's minimal cleanup!
Cheesy Bean and Tomato Bake
Serves 4 to 6
Ingredients:
2 (15-ounce) cans white beans, drained and rinsed
1 tablespoon plus 2 tablespoons extra-virgin olive oil, divided
1 small onion, chopped fine
3/4 teaspoon table salt
3 garlic cloves, minced
1 teaspoon dried oregano
Pinch red pepper flakes (optional)
1 (28-ounce) can crushed tomatoes
1/3 cup water
Pinch sugar
1/4 cup grated Parmesan cheese (1/2 ounce)
1 cup shredded mozzarella cheese (4 ounces)
1/2 cup panko bread crumbs
Directions:
Adjust oven rack to middle position and heat oven to 475 degrees. In a 12-inch oven-safe skillet, heat 1 tablespoon oil over medium heat until shimmering, about 2 minutes (oil should be hot but not smoking).
Add onion and salt and cook, stirring often, until onion is softened, about 5 minutes. Add garlic, oregano and pepper flakes (if using) and cook, stirring constantly, for 30 seconds.
Stir in tomatoes, water and sugar. Bring to a boil. Reduce heat to medium-low and simmer, stirring occasionally, until slightly thickened, about 10 minutes.
Add beans to skillet and stir to coat with sauce. Cook, stirring occasionally, until beans are warmed through, about 5 minutes. Remove from heat.
Stir Parmesan and half of mozzarella into beans. Spread beans into an even layer. Sprinkle remaining mozzarella evenly over top.
In a small bowl, combine panko and remaining 2 tablespoons oil. Stir until panko is coated with oil. Sprinkle panko evenly over top of cheese.
Transfer skillet to oven. Bake until cheese is melted and panko is well browned, 5 to 8 minutes. Transfer skillet to a cooling rack (skillet will be VERY hot). Let beans cool for 5 minutes. Serve.
---
Tips for engaging with the grandkids in the kitchen
For dessert: Chewy Chocolate Cookies
---
For 25 years, home cooks have relied on America's Test Kitchen for rigorously tested recipes developed by professional test cooks and vetted by 60,000 at-home recipe testers. The family of brands – which includes Cook's Illustrated, Cook's Country, and America's Test Kitchen Kids – offers reliable recipes for cooks of all ages and skill levels. See more online at www.americastestkitchen.com/TCA.
© 2023 America's Test Kitchen. Distributed by Tribune Content Agency, LLC.