ChefSuite in Richmond
| April 13th, 2023
Takeout and delivery of the future – today
---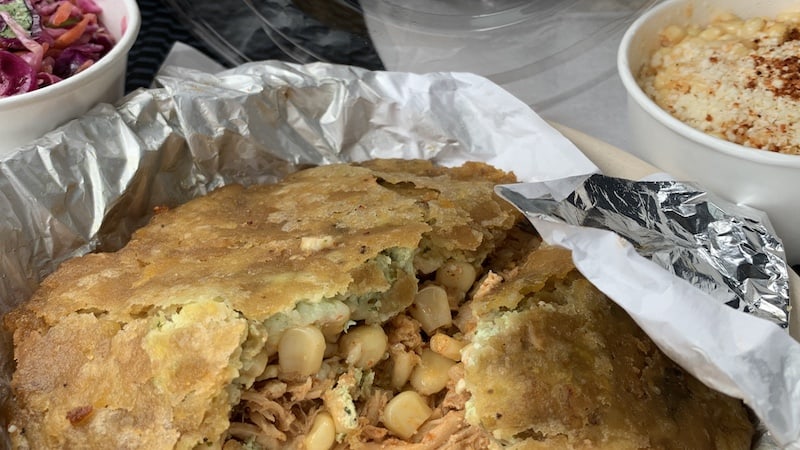 Are electronics an inevitable – and desirable – part of dining in the future. At ChefSuite in Richmond, Virginia, the answer is a resounding "yes"!
---
The time is right for a follow-up on Steve Cook's review of Rise in Short Pump, notably the ordering system. He was not a fan of the Rise ordering a pickup process, which is "streamlined to get customers their orders quickly and efficiently." Thus states the Rise website, touting their computer kiosks for ordering. Food writer Steve Cook responded, "To me, there's nothing more efficient than speaking with a real, live, nice human being. But, then, I'm old fashioned."
Fortunately, Steve thoroughly enjoyed the food at Rise, especially the biscuits, comparing them favorably to his grandmother's biscuits.
He followed up his Rise review with his experience at Eat 33: old-fashioned food, old-fashioned service. "Eat 33 is filled with real humans, both employees and guests. From a customer-service standpoint, a visit to Eat 33 is very much like a trip back in time" – including a favorite server, affectionately named Bonkers.
After Steve's recent experiences, I saw yet another article on robot servers. These waist-high machines act as hosts, take orders, deliver food and drinks from the kitchen, and remove dirty dishes. "There's no doubt in my mind that this is where the world is going," said Dennis Reynolds, dean of the Hilton College of Global Hospitality Leadership at the University of Houston. Staffing issues in restaurants, the growth of technology, and, perhaps, growing consumer impatience, electronics seems inevitable.
Sure, there's a case to be made for friendly service, especially at a sit-down restaurant. Not only can a great server make a meal out even more enjoyable, we humans need our people fixes just like we need food, water, and fresh air. However, with quick, convenient, pick-up meals, electronic efficiency seems indisputably preferable.
We've been picking up food at drive-thru lanes for decades. Not only do you have little human interaction, a scratchy voice over a worn-out intercom can be downright aggravating. Even curbside pick-up at a sit-down restaurant offers little-to-no direct human contact.
ChefSuite
So when I tried out ChefSuite on Broad Street, just east of Willow Lawn, I felt like I'd found the future. A welcome future, not the future of Margaret Atwood or Arthur C. Clarke's HAL. "I'm sorry, Dave, I'm afraid I can't do that."
The takeout-and-delivery-only kitchen opened in March 2023 with three distinctly different restaurants: A Pinch of Sugar, Latin Quarter Kitchen, and On a Roll Italian Subs.
A Pinch of Sugar offers Southern-style food, like fried chicken and pork chop entrees and sandwiches (and, of course, chicken and waffles), to country classics like liver and onions and tuna casserole, to sides like collard greens, yams, and deviled eggs, plus peach cobbler for dessert.
On a Roll offers classic subs – Italian hoagie, chicken parm (spicy or regular), caprese, eggplant parm, meatball – ziti pasta dishes, sides, and options to add more sauce to your order. (Yes, please!)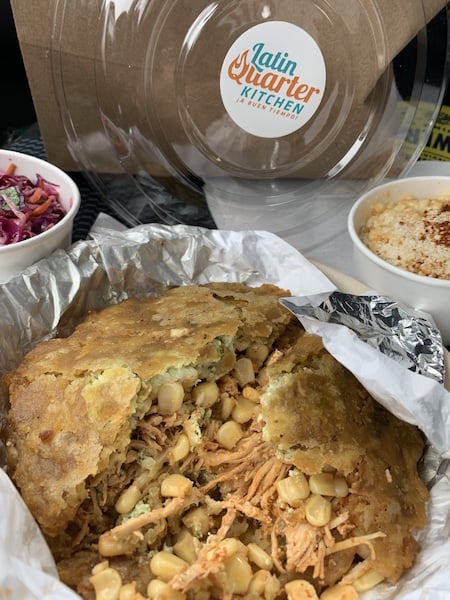 I chose Latin Quarter, as south-of-the-border cuisine makes me muy feliz. The kitchen dishes out signature bowls, with roasted pork, chicken, flank steak, or jackfruit ropa vieja, enhanced with Latin slaw, pickled onions, cotija cheese, and more. It also offers patacones (smashed plantain sandwiches), and side dishes such as nachos, Mexican street corn, and rice and beans. Oh, and breakfast patacones and sweet treats, too!
Ordering can be done online (smart device or computer) or at a kiosk at the order/pick-up window inside the ChefSuite building. Your orders are handed to you by cheerful people (Steve, you'll appreciate that), who are also there to answer questions and provide guidance.
Speaking of questions, I asked if customers needed to order from each of the three restaurants separately. Yes, for now, I was told. So if you're ordering for a crowd, you can definitely order from all three, but just know you'll place three separate orders … but pick them all up at the same place.
Whether you order sit-down from a server or to-go from a robot, arguably the most important factor is the food. I can attest that I will indeed be returning for more food from Latin Quarter Kitchen. The El Chavo Patacon – smashed plantain sandwich with chicken, street corn, cotija cheese, shredded cheese, tajin seasoning, and jalapeño ranch was delicious and filling. The sides, of slaw and more street corn, complemented the patacon perfectly.
Convenient and delicious, with a side of friendly service if needed. Sounds like a recipe for happiness into the future to me.