Going Bonkers at Eat 33
| April 6th, 2023
A good meal in a friendly, warm, and welcoming environment
---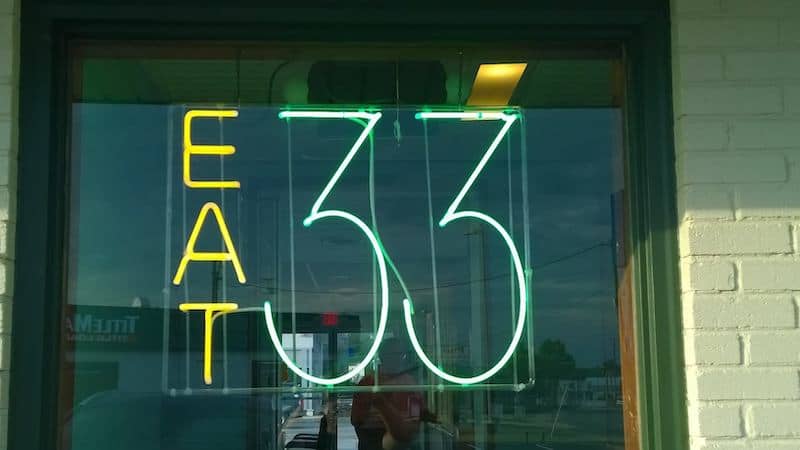 Not a "rehash" from food writer Steve Cook, just an update on customer service, biscuits, and other food, with kudos to Eat 33 in Richmond, Virginia, for both.
---
A couple of weeks ago or so, I wrote about my personal discovery of what I proclaimed to be the best biscuit in Richmond. I was talking about Rise Biscuits in Short Pump. I'm not here to tell you today that I've found a better biscuit since then. I really haven't. I still have flashbacks of that terrifically tasty treat.
I'm really not planning to tell you about a new discovery of any sort. But what I would like to share with you is my somewhat nostalgic biscuit-related experience that I had this week.
My daughter invited me to join her and her four sons for breakfast at Eat 33 at 6901 Staples Mill Road, Richmond. I had written about Eat 33 last year right here on this website. But when you get old, you start to tell the same stories to the same folks over and over, so please indulge me.
Actually, I'm coming at this from a somewhat different angle today. You see, when I wrote about Rise Biscuits, my biggest complaint was the impersonal service. I hate ordering at a computer kiosk. Panera Bread has instituted one of those new-fangled devices, too, but at least they will let you speak to a real human.
Eat 33 is filled with real humans, both employees and guests. From a customer-service standpoint, a visit to Eat 33 is very much like a trip back in time. As soon as my grandsons entered the place (noisily, I might add), they ran up and hugged their favorite server. I only know her as Bonkers. I'm sure that's a nickname. Bonkers has been their favorite server for years. She epitomizes what makes a visit to Eat 33 so delightful.
I guess expediency has its place and, of course, we now get to blame COVID 19 for all the things that were already wrong with customer service before the plague hit. It's true that restaurants are having a difficult time finding and keeping "good help." At least that's what everyone tells me.
Bonkers seated us in a booth in the back corner of the tiny restaurant. She moved a table over next to the booth to give us more room. I knew what I wanted … a cup of coffee and one of Eat 33's fantastic country ham biscuits.
As I waited for my breakfast to arrive, I began to feel a little guilty for having raved about the Rise biscuit. Had I been unfaithful to Eat 33?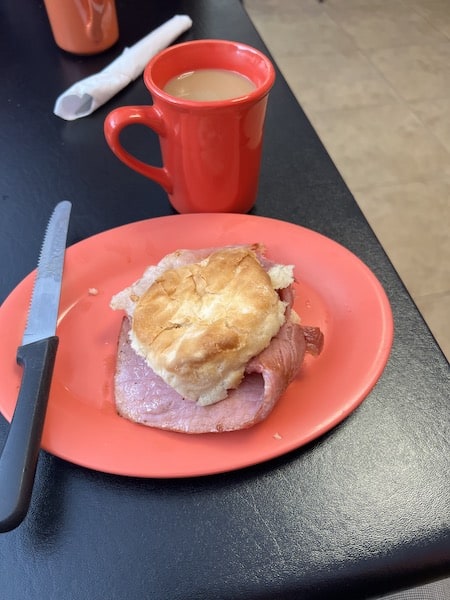 Well, let me tell you, while Eat 33's biscuit was as delicious as any biscuit I've had at that location in the last 35 years or so, it wasn't as melt-in-your-mouth tasty as the biscuit I'd had at Rise.
The biscuit was a skosh smaller than the Rise biscuit, but the slice of country ham was ginormous. It took me 20 minutes of chowing down on the country ham before I ever reached the biscuit. One complaint I don't think you're ever going to hear when you dine at Eat 33 is that the portions are too small.
My daughter ordered the salt herring. She left half of it on her plate. However, I was more than willing to finish her meal off. Salt herring, or really any type of fish for breakfast, is not everyone's cup of tea. However, if it's yours, you absolutely cannot find a more perfectly prepared salt herring than what's coming out of the kitchen at Eat 33. It tasted exactly like my mother used to serve me when I was a kid. Fried salt herring was a special treat at my house. My father always insisted that my mother serve the salty delicacy with slices of fresh cantaloupe.
Eat 33 also offers salmon cakes that remind me of the joys of sitting around the kitchen table with my parents and my two brothers when I was just a child.
There's a lot of nostalgia to be found at Eat 33. The breakfasts are big, especially the Big City Breakfast, which consists of three eggs, your choice of two meats (sausage, bacon, ham, bologna, or fat back), plus hash browns (or apples) and a biscuit (or toast). And with all this inflation it's just $8.95.
Other items on the breakfast menu that might have you harkening back to a simpler era include chicken-fried pork chops and eggs and topped with gravy. When was the last time you enjoyed a chicken-fried pork chop? Or how about homemade corned beef hash with green peppers and onions? Throw in a couple of eggs, the hash browns, and a biscuit and you have yourself a good old-fashioned breakfast.
I generally order from the breakfast side of the menu. However, both breakfast and lunch are served from the time the door opens at 6 a.m. (7 a.m. on the weekends) until closing time at 2 p.m. (3 p.m. on the weekends).
I can tell you from personal experience that the burgers are excellent, as is the meatloaf. On occasion, I'm in a beefy mood at breakfast, so Eat 33 is the perfect choice. Other nostalgic culinary treats from Eat 33's menu include fried chicken livers, oven-roasted turkey, and chicken and dumplings. And if the main reason you do brunch on Sunday is for the Bloody Mary, you can have one of those for breakfast any day of the week at Eat 33.
Everything is good. Many of the items are excellent. But what is even greater is the personalized customer service. The servers are friendly, and perhaps that's what attracts friendly people. It was nice to see other diners taking the time to speak to my 4- and 6-year-old grandsons. I'm sure they get a grouch in the place from time to time (including me on occasion), but the overall atmosphere is down-home friendly.
If you've grown accustomed to impersonal, often somewhat unfriendly service, you'll go bonkers for the service at Eat 33, whether it's Bonkers or one of her associates. They're all there to fill up your coffee or offer a refill on water or soft drinks. They don't hover, but they are present when you need something. And they always offer it with a smile.
So, bottom line: There is room for modern technology. I don't mind pushing buttons on a computer to get a fantastic biscuit. But when you want a good meal in a friendly, warm, and welcoming environment, my suggestion is to eat at Eat 33.
Eat 33, 6901 Staples Mill Road, Richmond
---
Steve Cook has lived in the Richmond area for most of his life, working as a writer and editor and in marketing and radio. He loves to keep abreast of the local restaurant scene and researches the subject voraciously. "I used to think I was a foodie," he says, "but then I realized I just like to eat a lot." He once co-hosted a local Richmond restaurant radio program with BOOMER editor Annie Tobey. Steve completed his first novel in 2017 and says he hopes to read another one this year.
Dig in to more restaurants and other recommendations from Steve Cook