Eat 33 Diner Satisfies Taste Buds and Memories
| April 21st, 2022
Food like you remember it
---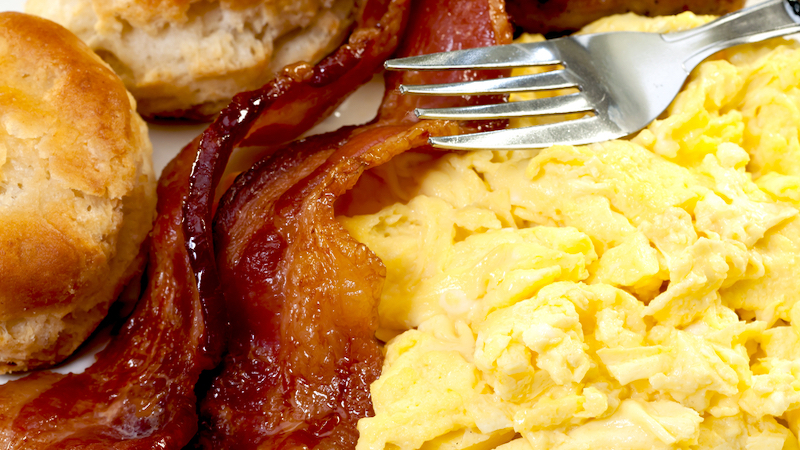 Richmond food and travel writer Steve Cook takes us to Eat 33 Diner on Staples Mill in Richmond, VA, and revisits memories from breakfasts long ago.
---
In preparing our What's Booming feature for this week, I found myself waxing nostalgic. No, I'm not talking about the dinosaur exhibit. Contrary to popular opinion, my memories do not include the time when those pesky creatures roamed the planet. But with Rolling Stone and Allman Brothers tribute shows coming, how could I not reflect back on my wasted youth.
I hearken back to those days when my addiction to pancakes, fried salt herring, and country ham biscuits gave me reason to get up each morning. I usually fueled those addictions at my favorite neighborhood dining spot, MacLean's on Staples Mill. This is not to be confused with McLean's Restaurant at 3205 W. Broad, although they do share some history.
But MacLean's, which was located across from what was once the old Dumbarton School and then the Old Dumbarton Library, at 6901 Staples Mill Road, was closer to home and was my go-to spot until, much to my dismay, it shut its doors forever about a decade ago. However, life does go on and, much to my joy, in 2014, from the figurative ashes of MacLean's, came Eat 33, with a menu so similar to that of the old place that it really was like déjà vu all over again.
Eat 33 Diner was the creation of the late Allen Davis, who had made a name for himself in the industry with the old Shenanigans Eatery and Pub, which had been located on MacArthur Boulevard until it closed in 2011.
Allen put his own spin on what had been a great breakfast spot. But he kept enough of the same items that had helped me to transition from a fat young man to an even fatter older man. One of those spins was adding a bar, and while alcohol was not one of my addictions, a Bloody Mary with a country ham biscuit ain't so bad.
The thing I love the most about Eat 33 is that it really hasn't changed that much. In fact, with the exception of offering libations, having breakfast at Eat 33 Diner is almost exactly what I remember from those golden MacLean's years.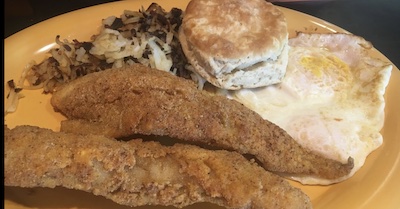 On my low-carb days, I'll skip the delicious biscuits and hash browns and simply have the scrambled eggs and country ham with a cup of decaf. The eggs are always done perfectly. I like my eggs scrambled easy or juicy or whatever the correct egg term is. And there's always a sizeable portion of country ham with just a teeny bit of fat left on. If my wife isn't watching, I'll go all out and nibble at the fat.
While I'm a big fan of the ham, the thing that really draws me in is the salt herring. Do you ever have one of those mornings when nothing will satisfy your fast-breaking appetite like a couple good pieces of fried salt herring? You do, if you grew up in my family. Back in the day, my father always insisted we slice a little cantaloupe to go with our salt herring. The sweetness complemented the saltiness perfectly. Unfortunately, Eat 33 doesn't serve cantaloupe, but I do dab on a little apple butter from one of those tiny little jelly packs and enjoy it with the fish. For the uninitiated, always ask for vinegar with your herring.
On occasion, I'll get a hankering for a salmon cake (again, lots of vinegar), which are about as hard to find for breakfast when dining out as is salt herring. But you can always find them at Eat 33, and, in my opinion, they prepare them perfectly, just like my mother's.
Sometimes, I'll wake up and want a hamburger for breakfast. Do you ever have one of those days? Well, again, Eat 33 Diner is the solution. That's another nice thing about the place. You can get breakfast or lunch from the time they open their doors (6 a.m. weekdays, 7 a.m. on the weekends). I mean, if I should ever wake up wanting a tuna salad cold plate, I know I could get a good one at Eat 33. Same goes for chicken and dumplings or meat loaf. They serve all that from sunrise until they close their doors. That's the only bad part. Sometimes I want one of their Big City Breakfasts (three eggs, two meats, hash browns, and a biscuit) for dinner. However, come 2 p.m. (3 p.m. on the weekends), the place is shut down for the day.
I say the menu really hasn't changed since my old MacLean days, but, actually, there are a few more creative additions such as a grilled meatloaf and egg breakfast or their salute to our neighbors to the south – the "Hickory Hill Huevos Rancheros," which offers ham-cooked pinto beans over cornbread with melted cheese and topped with two eggs, tomato, onion, and sour cream. But, I can honestly say that I've never awakened with a hankering for that.
If your taste buds are more creative than mine, check out their menu online. But if you are more into nostalgic dining, then eat at Eat 33 as well as its sister restaurant Eat 66 in the Stratford Hills Shopping Center off Forest Hill. I hope you'll be saying "Thanks for the memories."
Eat 33  
6901 Staples Mill Road, Henrico
---
Dig in to more restaurants and other recommendations from Steve Cook