C'mon, Get Happy (Hour) at ML Steak
| December 15th, 2022
A new Richmond steakhouse will make you smile
---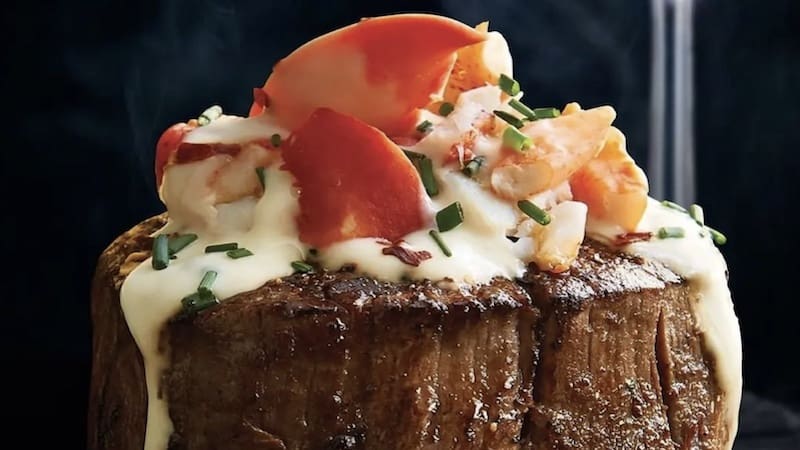 Do you like Happy Hour? Writer Steve Cook does, and his tale of a recent Happy Hour will come as no surprise to readers of his columns. True to form, he explores a new Richmond restaurant, ML Steak Modern Chophouse, and reviews its Happy Hour – and then some.
---
While I do not consider myself a heavy drinker (what heavy drinker does?), I do enjoy a good Happy Hour. All seriousness aside, I'm always on the lookout for a cool new place that offers a great Happy Hour. So, when friends began telling me about ML Steak Modern Chophouse at 328 E. Broad St., in the heart of downtown Richmond, I knew I had to check it out. And I am very happy that I did.
One particular longtime friend mentioned that ML Steak had an excellent Happy Hour. So off I went with some friends to find out just how excellent their Happy Hour is. Finding the place proved to be much more difficult than I had imagined. Here's the problem. When I got to Third and Broad, I figured I was in the right block, but as I drove around and around and around, I couldn't find a sign to help me identify the place.
You see, no one told me that I should be looking for the name Fatty Smokes on the building. That's the name of the former barbecue joint that used to occupy that space. Finally, we parked – no easy task, itself – and decided to explore on foot. And there it was. On the window under the big Fatty Smokes sign, I saw the ML Steak name.
Any happiness that may have dissipated during my crawl through downtown traffic soon sprang back to life as I entered the restaurant.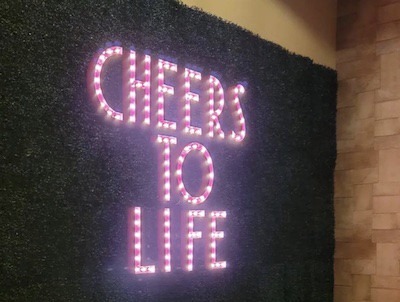 It's a cool place, sleek, sophisticated and, yet, warm and welcoming. The lights on the wall that spell out "Cheers To Life" actually made me happy. And Tyronda, the lady behind the bar with the bright welcoming smile, served to remind me that this was going to be a happy place for a Happy Hour. She told me that new signage has not yet gone up. ML Steak had only been open a couple of months.
That made sense, but more importantly, I didn't have time to whine. By this time, there were only 45 minutes left for Happy Hour. The restaurant is open Wednesdays through Sundays, and Happy Hour runs from 3 to 6 p.m. I took a look at the discounted drink prices and ordered a $6 glass of Cabernet Sauvignon. The couple with us each ordered a gin and tonic. During Happy Hour, well drinks are just $6. So, I decided that all's well that ends well and I switched to a gin and tonic.
However, having heard great things about the food, I was more interested in the appetizer specials. Happy Hour offers a good opportunity to get a hint of what the kitchen can accomplish and save some money while doing so. And, let me tell you, ML Steak's food specials are pretty special. I was having a difficult time trying to decide whether to have the Baby Burger or the seared yellowfin tuna. So, I compromised and ordered both.
At six bucks each (all HH food specials are $6), I did some mighty fine feasting for a $12 investment. The Baby Burger was actually twins … two delicious, juicy, slider-sized burgers with cheddar, onion jam, and their special sauce, which goes well beyond Big Mac's special sauce. The tuna was seared to perfection. And while I didn't take the time to actually count the number of slices of tuna, the portion was larger than I had been anticipating. Since I am a meat and potatoes sort of guy, I also tried the truffle fries. They were excellent as well, not too greasy, and served with a really very tasty herb aioli. My friends and I split the burger and fries, so my total came to $24. Yes, I did get a refill on my G & T.
Now that I've discovered how much I like this place, I'm ready to go back and dig in to one of their steaks. After my visit, I spoke with chef Mike Lindsey. Mike and his wife Kimberly own and operate Lindsey Food Group. In addition to ML Steak, their local restaurants include Lillie Pearl, Buttermilk & Honey, and Bully Burger.
Formerly a chef at Ruth's Chris, Mike says, "Opening a chophouse of my own was a dream come true for me." He explains, "My approach to making the best steak is seasoning the steak heavily in my signature seasoning and finishing the steak with herb butter and a side of our steak sauce." That sounds amazing to me.
The focus of ML Steak, Mike says, "was to take a different approach to the old school Chophouse and have a fun atmosphere that has a diverse menu that has something for everyone." Check, check, and check. I'd say from what I've seen, Mike and Kimberly have succeeded on every count.
While I'm not a food snob, I am a customer service snob. My approach to eating out is to find a place where the folks who work there get it. I mean, where they understand that for most of us spending $50 for a great steak is a special occasion and we want to be treated by both staff and management who see it that way as well. From the smile on Tyronda's face to the personal visit that assistant GM Darren Murphy made to ask us how we enjoyed our experience, I felt like I was dining somewhere with folks who actually appreciated our having come in.
Darren also explained to me that Mike's brother Brandon is the GM at ML Steak. So this truly is a family affair. In fact the "ML" stands for their mom, Mildred Lindsey. Personally, if I was going to name a restaurant in honor of my mother, I'd want to make sure that I did her proud. On that point, as well, the Lindseys have succeeded. I definitely think this is a place you'll want to check out for yourself, whether you're looking for an exceptional dining experience or just a very happy Happy Hour. Just remember, for the time being, look for the name Fatty Smokes.
ML Steak Modern Chophouse, 328 E. Broad St., Richmond, VA
---
Steve Cook has lived in the Richmond area for most of his life, working as a writer and editor and in marketing and radio. He loves to keep abreast of the local restaurant scene and researches the subject voraciously. "I used to think I was a foodie," he says, "but then I realized I just like to eat a lot." He once co-hosted a local Richmond restaurant radio program with BOOMER editor Annie Tobey. Steve completed his first novel in 2017 and says he hopes to read another one this year.
Dig in to more restaurants and other recommendations from Steve Cook
including The Aberdeen Barn, a steakhouse in Charlottesville, Virginia