Coffee with Linda Verdery
| September 23rd, 2016
She had her retirement planned – until a fib and a passion turned her to something she simply 'can't not do'
---
Linda Verdery had it all figured out.
Not that it was tough. She was a writer and a teacher – first elementary school at St. Christopher's School, then college at the University of Richmond and Randolph-Macon College, and finally, most notably, at Trinity Episcopal School for 20 years, where she was also assistant head of school and dean of the faculty. She was an English and literature teacher. So, of course, in retirement, in 2010, she would go off and write. Poetry.
Except she didn't.
Blame a chance meeting at a swimming hole and, she admits, an almost inexplicable lie.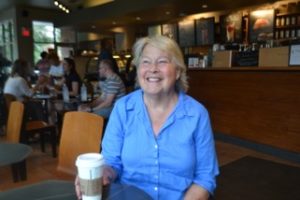 "I'm swimming in the Philadelphia Quarry," she says, referring to a West End swim club. "A woman asked if I painted. I said yes. She said, 'Join our paint club.' "
The only real problem was that she didn't paint. Never had. Circle around "she didn't paint" with a line out to: Other than that, completely true
OK, so we'll call it a fib. True, she had minored in Art History and spent many a day in a museum, so she knew about painting. But not painting itself. She didn't know how to draw or to mix colors or to use different brushes.
Verdery sat down for coffee recently at the Starbucks in the River Road Shopping Center – having made the hourlong drive in from her home in tiny Bremo Bluff in Fluvanna County – and shared her story. Circle around "made the hour-long drive" with a line out to: Before you decry my lack of consideration: She also was getting eyeglasses nearby
Hers is a "second act," like those of an increasing number of baby boomers. First careers behind them, they have many productive hours – and passions – ahead.
But Linda Verdery's story has a twist: She had mistaken her passion.
She did join a writing group after retiring. Even now, though, she's not sure why she lied – sorry, fibbed – to the woman at the swimming hole, other than saying she's very competitive.
"Thank goodness there are good books about painting, and good videos," she laughs. So Verdery went to the painting group, conducted by local artist Curney Nuffer.
She was willing to work hard – which fits her philosophy, anyway. "Having taught writing, I don't think you can teach writing any more than you can teach painting," she says, making the statement seem not at all paradoxical. "It's seeing that matters."
Painting, she found, was "something I'd like to explore." It soon became more than that. "It grabbed me. It did."
She took classes from local artist Christophora Robeers. "She was insistent, after teaching me for a year, that I go out on my own." Verdery hooked up with a national group she found online, the Perceptual Painters, and took a number of workshops.
All the while, she was painting, painting, painting – primarily landscapes and other types of Plein Air (outdoor) painting. "I moved to the country for a reason," she says. She was also painting over canvases and even tossing out others. She thought her paintings weren't good enough.
"It's very much like writing," she says. "You're trying to find your own voice."
She asked who was the best teacher around – and back came the recommendation of University of Virginia professor Philip Geiger. Why not? Verdery approached Geiger. He evaluated her work – it was good – and let her into class in the fall of 2015 as a third-year student.
"The first critique, he put the work up on the wall. 'Clearly this person can't draw,' he says." Circle around 'Cleary this person can't draw' with a line out to: Other than that, Mrs. Lincoln, how did you like the play? Verdery was crestfallen. "So I cry on the way home – and say, 'Get over yourself.' And I realized I had more work to do."
She did it. Last year, Verdery won juried competitions at the James Center in Richmond and at the Montpelier Art Center. "The jurors were people I really admired," she says, "so I didn't discount what they thought."
Geiger invited her to continue working with him this school year – though insisting she also take a drawing class. She fancies college classes, even as she's entered her 70s. "I like the discipline," she says, "and the energy of the young people."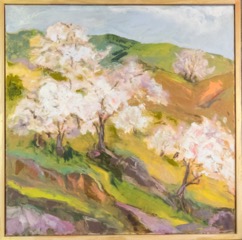 She's sold more than a dozen paintings, at $350 to $600, "enough to cover workshops, classes, supplies and travel," and exhibited solo in August at Thistle Gate Vineyards in Scottsville. In November, she will take part in a show at The Art Box in Crozet. And she's been invited to stage a solo exhibit at the Montpelier Art Center in March.
Passion has pushed aside poetry.
"I'm dead serious about this painting," Verdery says. "I can't not do it."
 For more: LindaVerderyArt.com.