My Small Batch Local Kitchen Moment
| May 26th, 2022
Hotel dining at its best!
---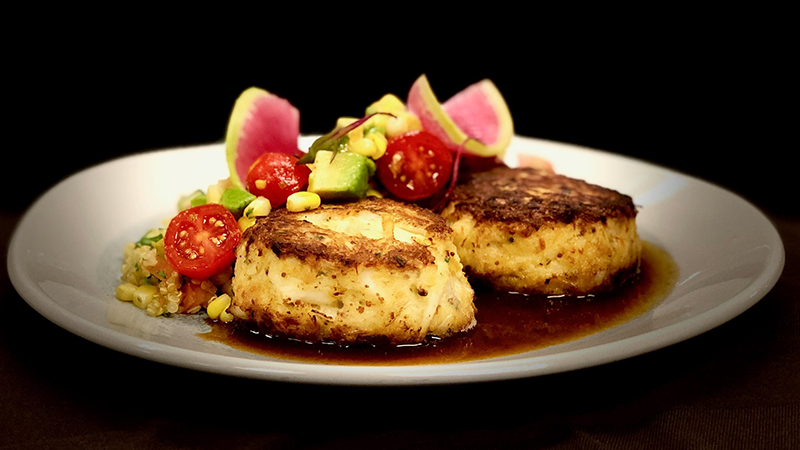 Richmond food and travel writer Steve Cook, at the behest of his wife, dines at a hotel restaurant, and is pleasantly surprised at how excellent the experience was.
---
Do you know how Christopher Columbus must have felt when he discovered America? He probably couldn't wait to tell all his friends.
Well, that's me. No, I didn't discover a new continent. Even better, I discovered a new restaurant. Well, actually, I didn't "discover" it any more than Columbus discovered America, but I'm taking credit.
Here's the scoop. My wife had an old gift certificate to the Westin Hotel at 6631 W. Broad St., that she had purchased back in the day when I used to work for Boomtown Radio. It had expired but she talked one of the managers there in to honoring it. And I'm so glad she did and they did because it's a fantastic hotel.
But anyway, because we were staying there, she (my wife, that is) suggested we eat there. I had eaten there once, years ago, and while it was fine, typically, in my opinion, hotel restaurants are overpriced. There are some exceptions, but generally speaking, the food is just ok.
But because I'm an agreeable guy, I went along with her plan. And am I ever glad I did. The Small-Batch Local Kitchen is, perhaps, the best new-to-me restaurant I've visited in the past few years. I am tempted to call the discovery serendipitous, but I'm not exactly sure I know what the word means.
I do know that the executive chef, John Papa, is doing some marvelous things at this place. John had previously served as a chef at both the University of Virginia and Charlottesville's very popular Boar's Head Inn.
I also know that I was impressed with everything. Let's start with the décor. Of course, entering from the beautiful Westin lobby with the glass waterfall, starts things off on the right foot as far as creating atmosphere. But the entire space is beautifully decorated, creating a rich feel and even as the restaurant began to fill up during our meal, there was still a feeling of intimacy and quiet throughout the evening.
Our servers were friendly, attentive but not hovering. I hate hovering.
Now, as for the food, I was very happy. The menu features locally sourced foods and the restaurant endeavors to support local farms and businesses.
I had the Maryland blue crab cake sandwich, which was so good, I may go for the full crab cake dinner next time. Crab meat is not cheap (what is these days?) but at 16 bucks, and that includes a side, I think it was a great deal.
If it's done right, in my opinion, a crab cake may be the tastiest food on earth. This crab cake was done just right. It wasn't so over spiced that the deliciousness of the crab meat was hidden. It was perfection. I probably have a few more adjectives I could throw in here to try and let you know how much I loved it. But I'll spare you.
My wife ordered the roasted beet and burrata salad and added the salmon. Thankfully, she asked for the beets to be put on the side since I absolutely hate beets. The salad, sans beets, was sensational. It featured very fresh arugula and watercress, but the thing that really made it special were the pickled blueberries. The salmon was cooked just enough to be warm but was still moist.
We enjoyed the meal so much that we returned on Sunday afternoon. My wife wanted to try their Seven Hills Gourmet Cheeseburger. My only complaint is that it was so huge, I could barely get my diminutive mouth around it. Okay, my only other complaint is that my wife likes her burgers medium well, which this one was. I'm more of a rare or medium rare sort of guy. But, the high-quality beef combined with the Boar's Head cheddar cheese resulted in an exceptional sandwich.
I was going to order the cheeseburger, myself, but was seduced by the Boar's Head Reuben served on marble rye. The corned beef was excellent and the sauerkraut was sour enough and plentiful enough to let you know you were eating a Reuben. The fries were also delicious.
I am so happy to have discovered this classy, little restaurant. It could easily become our go-to dining spot on those occasions when we can't decide where we want to eat.
While I'm gushing, I will add that if you're looking for a great staycation destination, the Westin would be an excellent choice. The hotel is immaculate. The rooms are large and the staff is knowledgeable and courteous. And, oh yeah, one more thing that put the cherry on top of our wonderful meal and overnight stay, on my way up to the room, right by the elevator, sits two M&M dispensers, one for peanuts, one for plain. That's right. Talk about a dream come true – free M&Ms.
Small Batch Local Kitchen
6631 West Broad Street, Richmond
---
Dig in to more restaurants and other recommendations from Steve Cook