After the End
June 28th, 2017
Holding onto and letting go of transient, life-changing experiences
---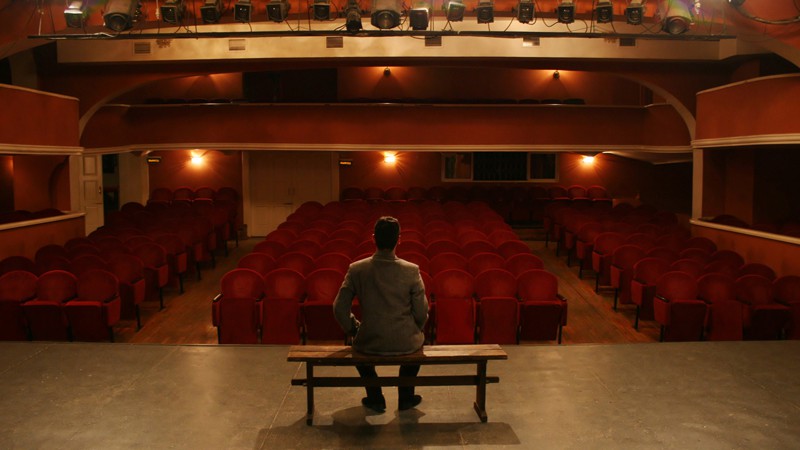 Days before this writing, my third stage play closed. The End of War had a successful run at the November Theatre in Richmond. The theater company, Virginia Rep, put on a remarkable production of my script, sparing nothing of their talents and resources.
The director, Nathaniel Shaw, elected my work for his debut effort as the new artistic director of Virginia Repertory Theatre. The script about five people living through the fall of Berlin at the end of WWII received two prestigious grants for emerging dramatic works; Nathaniel and the actors were top-notch; the designers, costumers and crew were on top of their games.
The End of War was a fantastic lifetime event for me. I think of it as a great thing on a bad-thing schedule. You know what I mean. Good stuff happens quickly: the check, the promotion, compliment, thrill. Then it's over. Poof, back to work. By contrast, bad things take forever to wash out: the firing, breakup, health crisis, lost wallet, bad tooth. The "Lordy, give me strength" kind of stuff.
I watched two-dozen rehearsals and fifteen performances. I did the same for my previous two plays, Scorched Earth and Sam & Carol. Why? I saw something different every time: one actor exploring a novel inflection or insight to a line, a fresh audience reacting in ways I never anticipated, sparkling and fleeting genius, hilarious or maddening mishaps and slip-ups. Live theater's no different from live sports or music; it's organic and messy, born new each time the lights come up.
Also, honestly, I spend months at a time isolated at my keyboard, typing or erasing what I've typed. For a marvelous month, just across town, grown people in a big theater were saying – out loud and on purpose – words I'd written. Other grownups gathered in the hundreds to maybe laugh, even cry, hopefully applaud. Nightly I got to shake hands, say "Thank you," take pats on the back, hang out with the stars, act like a Yiddish macher, a big shot. What lonely writer can stay away from that? Be fair.
WHAT'S NEXT
Then, it ended.
How to let something this wonderful go?
To be frank, I've had precious little experience with wonderful. I haven't really developed a familiarity with it to know what to do in every case. I'm not so good at greeting it, either. I get over stimulated, and at my size – 6'6", 260 pounds – that can be a load of happy coming at you, I admit.
What to do?
I let myself enjoy. I didn't look past the final show but looked forward to it. I dressed nice. I had a good meal before. I went to the show alone, to have just my own voice in my ear. I sat through what I believed was the best performance of all, a showpiece of timing and onstage passions that made me proud, or, to stay with the Yiddish, kvell. The theater was packed with 300-plus patrons.
In the final tableau of The End of War, a Jew named Julius emerges from a Berlin home where he's been hiding from the Gestapo and protects two vulnerable women – a mother and daughter. Outside, on the stoop, sits the powerful Russian soldier Ilya, who's found the antidote to his madness in that house. Together, these two, killer and fugitive, will protect this home and these women who have, in different ways, saved them both. A cellist onstage plays a solo from the Kol Nidre, a song reflective of the Yom Kippur prayer for atonement and a new beginning. It is a powerful, evocative moment, and beautifully portrayed. And the end of the play.
In my seat, in the waning dramatic seconds of a marvelous time, I cupped my hands and held them in front of my face, surely an odd gesture for the woman seated beside me. I held the wonder, the gift of it all, named it perfect and, like smoke, released it into the air.
I figure life is like my play. If any piece of it is held too long, the rhythm and lines get out of sync. The play must end to be a play. Nothing unfinished is beautiful.
I'm unfinished. So are you. Beauty awaits us, yes?
And we're done here.
---
David L. Robbins is a best-selling author whose 13th novel, The Devil's Horn, was published in November. The Sandston native is the founder of the James River Writers, co-founder of The Podium Foundation and creator of the Mighty Pen Project veterans' writing program, in partnership with the Virginia War Memorial.