"Dido and Aeneas" at Norfolk's Virginia Arts Festival
| April 24th, 2017
Dance, drama and opera in one majestic presentation
---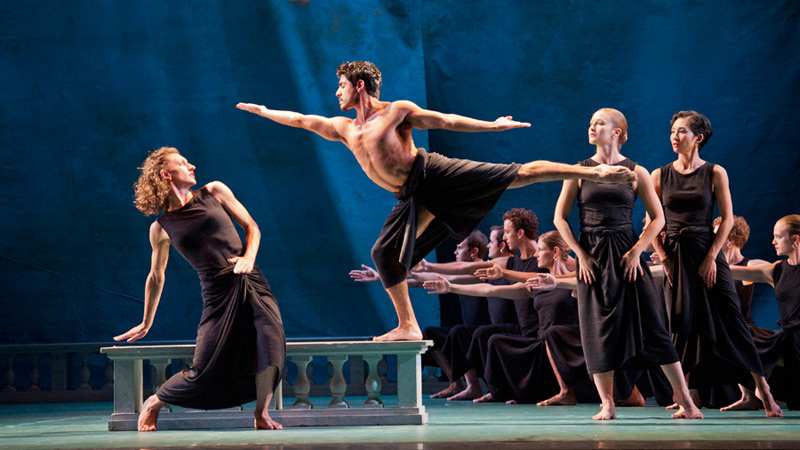 If you look up Dido and Aeneas, Mark Morris Dance Group, you'll be inundated with quotes from publications from all over, gushing over the choreography, fluid dance movements and overall extravagance.
This entire article could be written by stringing together reviews from media such as Times Union ("mastery and artistic perfection one only dreams about experiencing") or Ballet Review ("a production involving all aspects of theater brought together by an artist of imagination and vision") or the Chicago Tribune ("Delight in sex, in music, in pathos, in mischief and even evil. Delight … and joy").
But let's just stick with a traditional rundown of what to expect from the Dido and Aeneas opera, performed by the Mark Morris Dance Group ("the preeminent modern dance organization of our time," per none other than Yo-Yo Ma).
Dido and Aeneas depicts the story of Dido, the widowed Queen of Carthage, and Aeneas, a Trojan prince shipwrecked while sailing to Italy. The two fall in love, but a team of malicious witches scheme to persuade Aeneas to continue to Italy in hopes that it will result in Dido's demise. This tragic love story is told through an intriguing marriage of opera and ballet, accompanied by the ensemble's own live orchestra.
It certainly appears to be "a tour de force of artistic storytelling," as the Los Angeles Times put it.
The prestigious opera is enhanced by the mezzo-soprano performance of Stephanie Blythe. This legendary opera star performs as both the love-dazed Dido and the evil Sorceress; her pristine vocals raise the entire opera from excellent to unbeatable. "That astonishing voice – dark, vehement, burning … to hear Ms. Blythe sing … is to hear the roles anew," says The New York Times.
Dido and Aeneas is presented by the Mark Morris Dance Group, a nearly 40-year-running dance ensemble composed of 16 dancers and 47 musicians. They have been praised by audiences and critics all over for their inspiring compositions and authentic choreography.
The opera will be shown at the Virginia Arts Festival in Norfolk on Saturday, May 13, at 8 p.m. As Rob Cross, executive director of the Virginia Arts Festival, stated, "This production will be a performance that cannot be missed."
It sounds like he's probably right.