Diva Phyllis Hunter Spices Things Up
| August 2nd, 2019
Making life delicious
---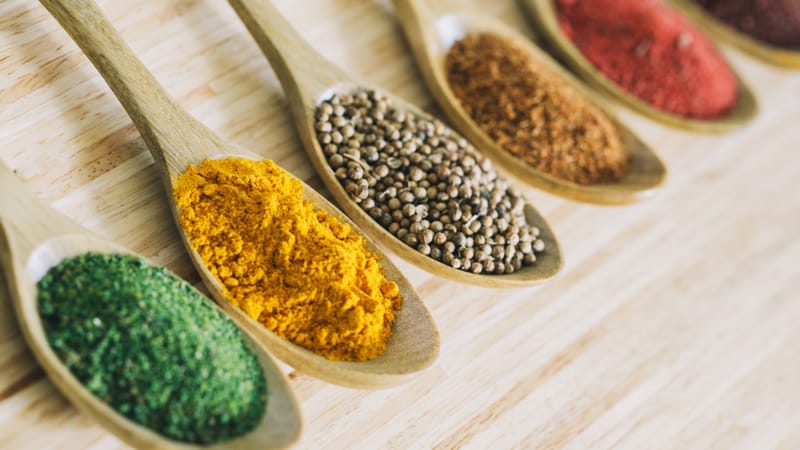 If variety is the spice of life, Phyllis Hunter is well seasoned.
The West Texas native, who has called Virginia home since 1984, was an opera singer for many years, traveling from Brussels to San Francisco and many points in between.
When her three sons were growing up, she taught singing and opera workshops at Old Dominion University and other places. She then sold luxury cars like Audis, Jaguars and Porsches.
Then, in 2011, she and her attorney husband, Wil Harville, moved from Coastal Virginia to Charlottesville, and she opened The Spice Diva.
"I decided that with the move to Charlottesville, I would do something involving food," she says. "Wil and I were on vacation with son Jeremy in Northern California. We spent the weekend in Napa, where we shopped at a unique spice shop at Oxbow City Market. After a couple of visits, I knew that is what I would do."
Hunter's shop, located in Main Street Market, is filled with herbs and spices, as well as a selection of kitchen gadgets and utensils.
"We offer spices, teas, oils, vinegars, mustards, local products, locally made ice cream, coffee, cookbooks, containers, cocktail ingredients, kitchen gadgets and sarcastic cocktail napkins," says Hunter. Inventory includes 16 of their own rubs. Some 250 spices and 30 loose leaf teas are sold in bulk. David Hopper, the store's assistant and marketing manager, makes chutneys, marmalade and puddings under the name Chutney Ferret.
"There's also cooking classes to private individuals, clubs and small groups. We also do wedding favors and confetti," she says.
Hunter runs a hands-on shop. "One of the things that we allow customers to do is to open the bulk spice jars and waft a sniff of spices."
She says that one day, a young man came in and indulged himself in sniffing for about 20 minutes.
"Finally, my curiosity got the better of me and I asked him what he was doing. He said, 'I am Muslim and it's Ramadan. I am fasting, so I'm tasting by smelling.' I love that the sense of smell is so evocative and that he felt comfortable to indulge himself in all our delicious smells."
---
Other ways to spice up your life:
---
WAFTING HER WARES FARTHER
But you don't have to live in Charlottesville to enjoy a little spice of life. Hunter sells online through The Spice Diva website and has a wholesale presence for restaurants and other retailers.
"Our products are used in the kitchens of some of the most prestigious restaurants in Charlottesville/Albemarle County," she says.
Hunter describes herself as, "Somewhere between 60 and death." But this boomer has put her life in context.
"The perspective of experience and of having lived a long time and through many changes in the world is invaluable," she says. "It gives me patience that I was not born with and the long view of what to expect for myself and my children."
That translates to business, too.
"My age brings me automatic gravitas. People trust me because of it, and it is my duty to use that trust responsibly. It makes me better."
Hunter says The Spice Diva offers a spice trade-in with a 30 percent discount for replacements and a 10 percent discount for refills of containers.
Retirement is in her future, probably five years down the road or so, she notes. Her children all live on the West Coast, and she'd love to travel more. In the meantime, she retires each evening with a nice cocktail.
"The shop closes at 6. After that, Wil and I usually have a Ketel One very dry martini accompanied by lots of dog snuggles."
The Spice Diva
410 W. Main St., Charlottesville Call
---
Patrick Evans-Hylton is a classically trained chef and award-winning food writer. He has covered tasty trends since 1995 in broadcast, electronic and print media. Patrick is publisher of VirginiaEatsAndDrinks.com.
---
SPICE TIPS
Spices are best when fresh and properly stored. Here are some tips and tricks from The Spice Diva:
Freshness is everything. Keep ground spices no longer than six months and whole spices no longer than 12 months.
Buy only the amount of spice you need and then buy more once it's used.
If you find a spice that you really like, use it. Don't get hung up on using a certain spice with a certain dish.
Buy whole peppercorns and not pepper already ground. If you grind pepper and let it sit in your shaker or cabinet even as little as two weeks, it will turn from black to a pale gray and the flavor will become dull as well.
---
BEEF TENDERLOIN PANCH PHORON
The Spice Diva, Phyllis Hunter, says this recipe is inspired by Cynthia Bruce, former owner of High Meadows Bed and Breakfast in Scottsville. The recipe uses Panch Phoron, also known as Bengali Five Spice, a blend of equal proportions of cumin seeds, fennel seeds, fenugreek seeds, mustard seeds and nigella seeds.
3 tablespoons Panch Phoron
1 teaspoon horseradish powder
1-2 cloves garlic (dried is fine)
3 tablespoons extra virgin olive oil
4- to 5-pound beef or pork tenderloin
Salt
Pepper
Prepare the spices: In a medium sauté pan over medium-low heat, add the Panch Phoron and cover the pan with a lid. Shake the pan frequently and toast until golden, about 3 to 5 minutes. Watch carefully so spices do not scorch. Transfer spices to a small bowl and set aside to cool.
In a food processor, add toasted Panch Phoron, horseradish, garlic and olive oil and pulse until a paste forms. Season with salt and pepper to taste. Alternative: add ingredients to a mortar, and form into a paste with a pestle.
Prepare the tenderloin: Wash the meat and dry it thoroughly. Rub the spice paste generously across the surface of the meat, pressing it in and covering it completely. Season with additional salt and pepper to taste. Refrigerate uncovered at least one hour before cooking.
Cook the tenderloin: Remove meat from the refrigerator and allow to sit at room temperature for about 45 minutes. A half-hour before cooking, preheat oven to 375 degrees. Place the tenderloin in a baking pan and roast; turn the meat midway through, cooking for even doneness.
Roast for 15-20 minutes per pound; a four-pound tenderloin would cook for between 1 hour and 1 hour and 20 minutes. Tenderloin is done when a meat thermometer reads 135 degrees for medium-rare or 145 degrees for medium when inserted in the thickest part of the roast. Remove from oven and let sit for 10 minutes before carving.
Serve with a simple sauce made by combining a small amount of toasted spice with mayonnaise.
Note: You can substitute 2 teaspoons of fresh grated horseradish for the horseradish powder in this recipe.