Drive Shack Drives Fun with a New Menu
| August 4th, 2022
Go for the golf or the food
---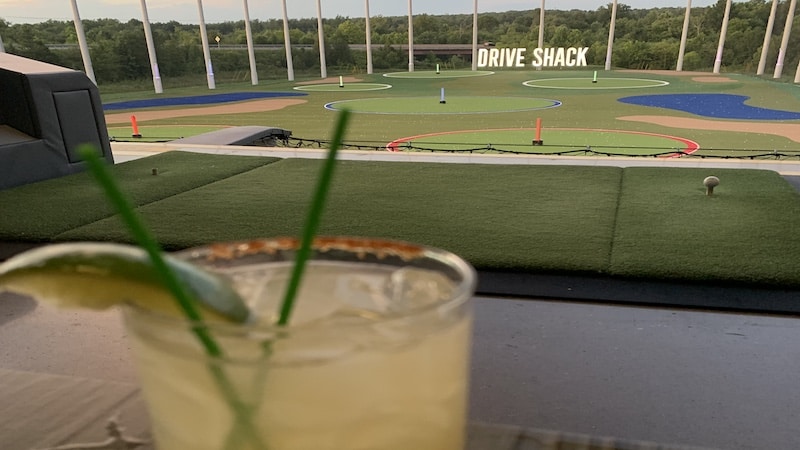 I feel my face flush whenever I recall the one time I played a full 18 holes of golf. The day was full of whiffs, and I don't mean smoke or smells. So going to Drive Shack was not on my to-do list – until an invitation to try their new menu coincided with a free evening. Turns out, my experience was fun – and tasty!
The fun
Drive Shack in Short Pump, visible from I-64 and 288 for its tall, netted walls, turns out to be just as big as the massive nets would imply. The 65,000-square-foot, three-story building has three levels of driving range bays – go with the family or enjoy an all-adult outing.
The experience reminded me of bowling: go with friends, sit in your common cubby, and take turns playing, cheering for or ribbing each other as needed, while a monitor tracks each player's progress.
But Drive Shack takes it a step further.
The range is equipped with radar-based technology for tracking each ball's flight, speed, and launch angle. You can play an 18-hole game of golf (based on genuine courses) … without leaving your bay. Or you can choose from a variety of other games, like Shack Jack or Darts or Monster Hunt, all with a videogame-like screen, displaying goals and scores that correspond to where you hit your ball.
And then there's the food.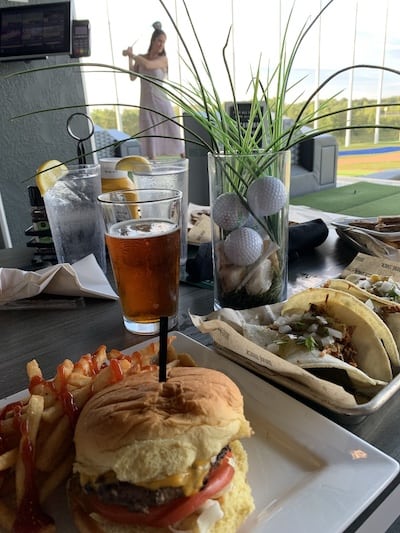 Maybe bowling alleys have upped their game since last time I went, but I would never go just for the food. In looking at Drive Shack's bars and restaurants (yes, there are more than one), many people were there simply to eat, drink, and hang out.
My friends and I sampled several appetizers and main dishes: rich, cheesy queso fundido; nicely layered stacked nachos; pretzel sticks (the right touch of soft and chewy for my taste); smash burger with a "secret sauce," served on a potato bun; chicken tinga tacos; and my favorite, the sausage and hot honey pizza. I'm picky with pizza and not usually a fan, but I really appreciated the thin crust and the toppings of ricotta, fennel sausage, soppressata, hot honey, parmesan, and mozzarella.
Oh, wait – my favorite was really the dessert: chocolate chip brownie sundae topped with ice cream, caramel, chocolate, and whipped cream. Hole in one!
To wash it all down, Drive Shack offers a nice beer selection, with the expected macro beers as well as a few Virginia craft beer options, plus wine, seltzers, creative cocktails, mocktails, and more.
The fun continues
Despite my previous embarrassing experience golfing, I gave the games at Drive Shack a try, with the assurances from my friends that they weren't much at golf either. Thanks to the large heads of the loaner clubs, I hit consistently, without a whiff (or maybe one, but hey!). And given that we were playing Darts, not driving the ball down a narrow fairway with sand traps and water hazards, I could experience a modicum of success.
I don't know that I'm destined for any tourneys soon, but I daresay I'll return to Drive Shack – for the fun and the food.
Drive Shack Richmond
1647 Four Rings Dr., Richmond
---
Boomer writer Rachel Marsh took a swing at Drive Shack when it first opened in Short Pump.