Eat Seafood That Supports the Health of Local Waterways
| May 17th, 2019
Taking a bite out of environmental issues
---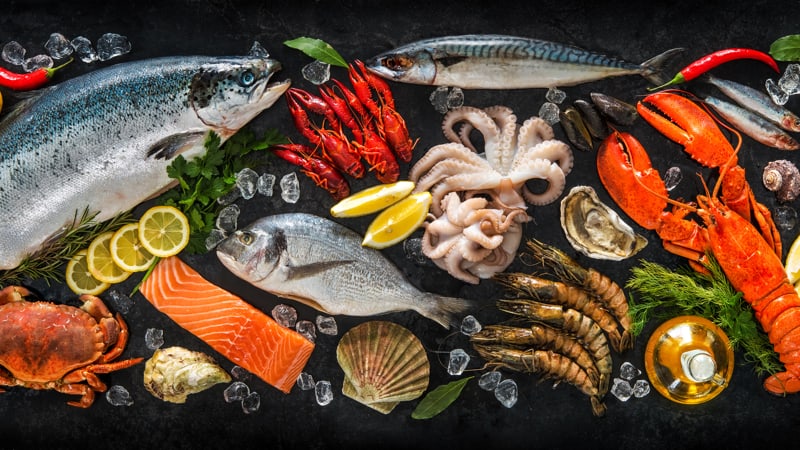 Ever since ocean explorer Jacques Cousteau sailed the world, sharing his environmental epiphanies with readers and TV viewers, the public's awareness of and strategies for combating the issues have continued to grow.
One evolving strategy, in fact, is quite tasty. "We must plant the sea and herd its animals using the sea as farmers instead of hunters," said Cousteau. Sustainable fishing reduces environmental impact, protects against overfishing and follows best practices that avoid harming other marine life and simultaneously provides jobs and food.
DEMONSTRATING THE CONCEPT
For his new Richmond restaurant, Alewife, Chef Lee Gregory sources seafood that supports the health of the Chesapeake Bay. "It's one of our responsibilities as chefs and consumers to … be responsible with the environment and our resources," says Gregory. Besides the ethical appeal, he knows that his livelihood relies on healthy waters: "It's what we do, so it's in our best interest to try to do that responsibly."
At Alewife, Gregory says, "We try to introduce people to other species that are more abundant, less overfished and properly caught and raised … skate, mackerel, bluefish – things that are very available in the waters of the Chesapeake Bay and Mid-Atlantic."
Non-native, invasive fish species, such as snakehead and blue catfish, also appear on the Alewife menu. Blue catfish, especially, have been gobbling up native marine life and dominating waterways. What better way to fight them than to catch and eat them?
Fortunately, these second-tier and invasive fish are also great eating fish, says Gregory. And with his career accolades, including three nominations for Best Chef Mid-Atlantic by the James Beard Foundation, you know the preparations will bring out the best in each delicate morsel.
In addition to a strategic menu, Alewife also participates in oyster recycling programs, supports the VCU Rice Rivers Center for environmental research and the Chesapeake Bay Foundation and works to educate customers on solutions to environmental issues.
PRACTICING THESE IDEAS FOR YOURSELF
Shopping for sustainable seafood at the market can be as tricky as avoiding jellyfish at the beach. Most markets don't note their standards on individual packages of fresh seafood, and when a store or package does boast of sustainability, the policy could be weak or based on low standards.
So unless you have time for a deep dive, here are some general guidelines to follow.
Shop at markets that have done the vetting for you.

Greenpeace ranked 22 major U.S. supermarkets on the sustainability and social responsibility of their seafood. Richmond markets in the top 10 for 2018 are Whole Foods (#1), ALDI (#3), Target (#4) and Wegmans (#6).
Richmond's Ellwood Thompson's sells sustainably sourced seafood that minimizes bycatch (when the capture entraps innocent "byswimmers" such as dolphins, sea turtles, birds, unwanted fish, etc.) and does not stock overfished seafood.

Search labels for sustainability certifications.
Choose local. By buying seafood sourced from regional waters, you will minimize the carbon footprint and support local businesses. Look for prepackaged products from Dickies' Seafood, a Richmond-based business creating responsibly sourced products (available at Tom Leonard's, Bon Air Seafood, Libbie Market, Wegmans and Kroger), or frozen shrimp from Suffolk-based Wanchese Fish Company (available at Food Lion).
Eat local oysters. Besides the local advantage, oysters filter the water where they live, thus cleaning it.
Learn more. Helpful resources include the Monterey Bay Aquarium Seafood Watch (SeafoodWatch.org), FishWatch.gov and The Safina Center (SafinaCenter.org/programs/sustainable-seafood-program).
Thanks to creative chefs and caring conservationists, you can have your cod and eat it, too!
---
Have a hankering for seafood? Find a recipe for spiced catfish tacos from the Monterey Bay Aquarium Seafood Watch program, at BoomerMagazine.com/spiced-catfish-tacos.