Electric Football: Tiny Players Vibrating Over the Field
| September 13th, 2019
Like Rodney Dangerfield, this sport doesn't get any respect
---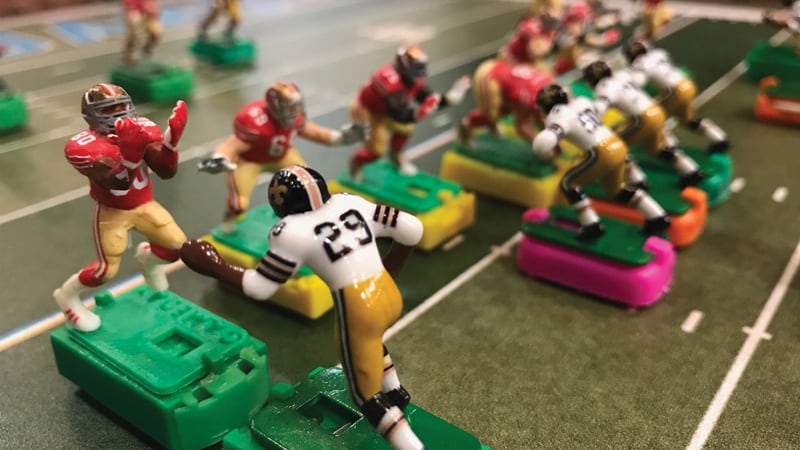 It's a game that most people don't know about, despite the fact that more than 40 million games were sold during its pre-video game heyday in the 1960s and '70s. And those precious few who do have firsthand knowledge of the electric football experience will invariably twist their heads like dogs hearing something strange and comment, "You mean that game where the players would spin around in circles?"
"Yes," the enthusiast will say, having heard those exact same words so many times before, "that's it."
A CHANGE, A REVELATION
Antonio "Tony" Jones is one of those people.
The 46-year-old Washington, D.C., native played the game with his friends as a pre-teen. He discovered the brave new world of electric football in 2007. "I was cleaning a restaurant restroom in Newport News and saw an article above the urinal about a tournament in Virginia Beach," the military veteran recalls with a laugh, "so I decided to check it out. My mind was blown."
Anyone who played the game in their youth will be thoroughly amazed and delighted by how "coaches" (the word modern-day players use for themselves) play the game in the 21st century.
Today's electric football is not the electric football you may recall. The game has evolved from being arguably the most disappointing board game of the 20th century to being a game that is as close as you can get to playing football without physically playing it. The random chaos of generic game pieces bouncing erratically on vibrating metal fields has been replaced by concise adaptations of football plays by realistic miniatures gliding smoothly on finely tuned fields.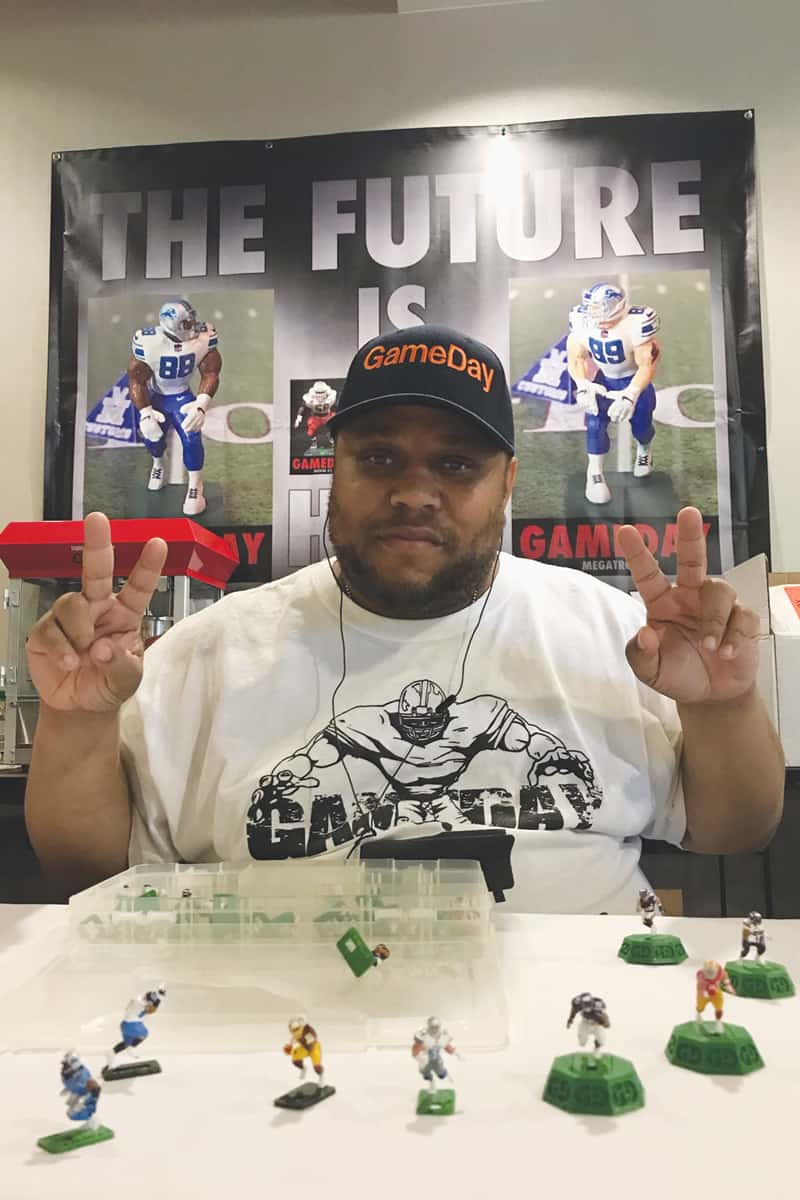 After several years of playing, painting and creating figures and teams, Jones started GameDay Figures in 2013. "I wanted to make realistic figures that looked more like actual players," he says of his passion project. Before and after his workday with Performance Carpet Restoration, the cleaning company he started in 1999 and runs with his wife, Stacy, Jones creates a wide assortment of miniature plastic figures for every position on the football field. In a partnership between Jones and longtime friends Chris Robinson and Bruce Watts, GameDay has become a premier maker of game pieces in the tightknit gaming world of electric football.
"As soon as I put a new figure or set of figures up for sale, I sell out almost immediately," he says matter-of-factly. "It's hard to keep up with the demand."
IN THE LOCKER ROOM
One of most amazing things about the evolution of electric football is that it was done without the help or input from a national manufacturer. Tudor Games, the company that manufactured the game since 1946, was out of existence during the pivotal era of the hobby when players learned how to manipulate bases (a process called "tweaking") and began creating their own figures and boards. During this time, in the early 2000s, the Miniature Football Coaches Association was formed with players from around the globe trading game tips, forming leagues and creating a gaming culture that is still active today.
When I talked to Jones, he was busy getting his latest handmade merchandise ready to sell at the Tournament of Champions 12, the Super Bowl of Electric Football, which took place in late July at the Four Points by Sheraton Richmond Airport. It is the third international championship to be held in Richmond.
For this year's event, GameDay featured a wide assortment of its limited-edition figures for sale as well as the company's recently introduced line of paints, decals, T-shirts and just about anything else to make a miniature team look like its real-life counterparts.
"I'm waiting on the snowball machine to come, but it hasn't got here yet," he chuckled. Jones is vending food as well as game accessories at the convention. "I hope it gets here soon or else the popcorn machine is going be lonely."
As with everything in life, in order to play electric football correctly you need to dedicate time to it. From painting your team to getting each player to do specific tasks to finally have them all work as a cohesive unit, coaches invest countless hours in making their team all it can be. In a world increasingly dominated by instant gratification and dwindling attention spans, electric football, in its current form at least, is in a fourth-and-long situation.
"I hope people keep playing the game," Jones answers after a moment of consideration when I ask him about the future of the game. "If not, oh well, I'll keep playing. It's the best game in the world."
---
Chris Bopst is a writer, artist, musician and engagement advocate based in Richmond. He has recorded albums and toured with the Alter Natives, Holy Rollers and Mao Tse Helen. A founding member of the Grammy-nominated theatrical group GWAR, his podcast, The Bopst Show, is available at ChrisBopst.podomatic.com.