Feeling Good with Kämé Naturals CBD Products
| October 13th, 2021
A Richmond, VA, business sprouted from a vision of helping Mom
---
Like the Kämé Naturals CBD products themselves, the story behind this new Virginia business will make you feel good.
Reed Anderson, a food industry professional, went to a food show in New York City and stopped by the booth of a company giving out CBD oil. Having been a "cannabis enthusiast" growing up, Anderson had some familiarity with the plant. "I always knew that that cannabis helped as a medicine. It wasn't just fun and recreational." His thoughts went to his mom, who suffers so greatly with arthritis that she has a difficult time sleeping at night and functioning during the day.
"So I brought it back to her and said, 'Just try it.'" It took several weeks, but finally she did. "I guess things got bad enough, that one night she picked it up … And she called me the next day. She was almost in tears. She said, 'I slept through the night last night, for the first time in four years.'"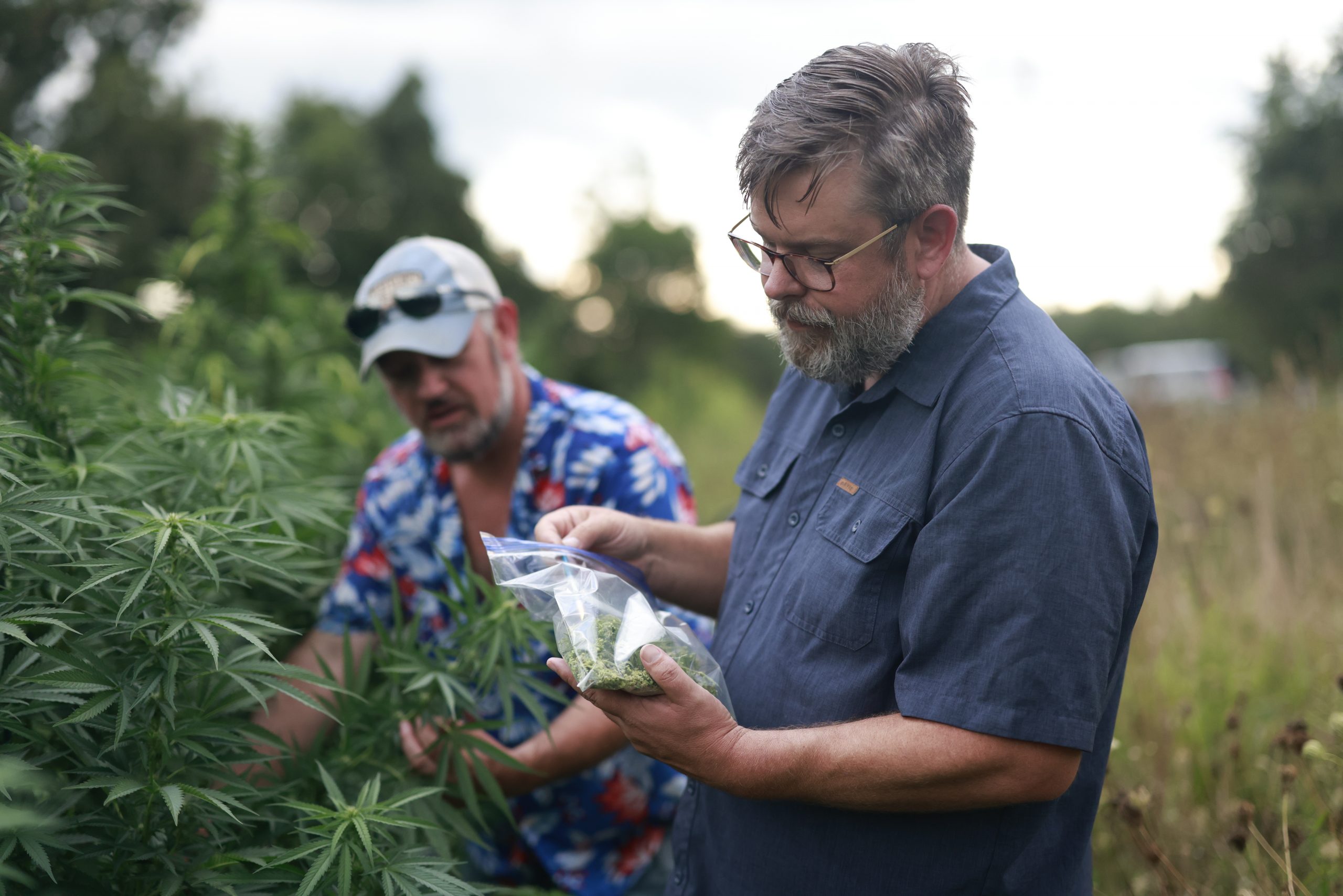 That sparked Anderson's interest. In researching CBD, he saw that there was little regulation, transparency, or honesty within the fledgling industry.
"The more I dug, the more I said, you know what, I'm going to do this by myself." Well, not totally by himself. Conveniently, Cam Trickey, whom Anderson had known for years, had just purchased a farm in Goochland, Virginia.
In 2019, Anderson and Trickey registered with the state. Conveniently, the first initials of their children in order of age resulted in the word "kämé" (\KAH-MAY\), which happens to be Japanese for turtle. "The farm was already called 'terrella,' which means 'little earth,'" explains the Kämé website. "In Native American culture the turtle represents Mother Earth. The turtle symbol also means longevity and good health and it is at the core of our beliefs."
They began planting hemp in the spring of 2020. Today, their Kämé Naturals CBD products ship throughout the U.S. and have pick-up and retail options within the Richmond, Virginia, area.
A CBD primer
Boomer Magazine published an overview of CBD in early 2019, when the hemp plant was just getting traction in Virginia.
Cannabis plants include marijuana and hemp (the way that Capsicum pepper plants include hot habanero and sweet bell peppers). Both marijuana and hemp plants contain THC (Tetrahydrocannabinol, the psychoactive ingredient that contributes the "high") and CBD (aka, Cannabidiol, a compound that is said to provide health benefits without a psychoactive effect or other significant side effects). The important difference is that marijuana contains a high level of the narcotic THC, while hemp contains plenty of beneficial CBD and only trace amounts of THC. CBD products are also broken down to "isolate" (with just the CBD molecule) or "full spectrum" (on the theory that using the whole plant is more beneficial).
Kämé Naturals CBD products are full spectrum, with less than .3% THC (so no psychoactive effect), and other beneficial ingredients: other cannabinoids, terpenes, vitamins, fatty acids, and more.
Kämé Naturals CBD products quality
Trickey and Anderson proclaim the purity of their products. The hemp is grown on the Goochland farm or sourced from other Central Virginia farmers, the website explains. The business partners with other local businesses throughout the process, from growing to manufacturing to testing, "to maintain quality control and ensure that we are producing the best product possible. This direct interaction results in a product that we can attest meets our standards and provides something of the highest potency and quality while being totally traceable and free of impurities."
In producing the CBD from the hemp plant, they use solventless extraction, rather than using ethanol to separate the cannabinoids from the plant, as most other brands do: "keeping them as clean and safe as possible."
The products are tested at an independent lab, with results linked from the Kämé website.
A boon for baby boomers
Although it was Anderson's mother who inadvertently kickstarted this business, the partners' other parents and in-laws have medical issues and have benefited from Kämé Naturals CBD products.
Trickey's father was also resistant to using the product. However, he had his bladder removed earlier this year. "When your back's against the wall, you've got no other choice," Trickey said. So he began using CBD and has weaned himself off of most of the medications – and their side effects. He's sleeping well and his appetite has returned.
"Boomers were really who we thought about when we started," says Trickey. "It's about bringing normalcy to life and giving some level of control to people. We don't make false promises like, you're going to be able to row across the Atlantic afterwards, which apparently is what everyone wants to do when they get older. But you can pick your grandkids up, you can get up off the couch, you can sleep through the night. It's those things as youngsters that you don't miss it until it's gone."
He adds, "We use it ourselves. I slather the salve on every day on my shoulder and my arm to get me through farming, which is a lot of physical activity. I don't know how I'd be able to do it without it."
"As more and more research comes out, there's just this litany of items that it's really good for," says Anderson. And because doctors are seeing a connection between conditions like heart disease, diabetes, and Crohn's disease to a suppressed endocannabinoid system, then it's possible that CBD can contribute to improving such problems.
"It's something that works, something that is as affordable as we can certainly make it, but it actually works without causing problems with your kidneys or hardening your arteries, hardening, or other potential problems and side effects," says Trickey. "It's independence, that's really what we were going after.

To check out the products first hand
The Kämé CBD oil is used orally, once or twice a day. It may be useful for relief of anxiety, arthritis, inflammation, and pain relief and may contribute to gut health and better sleep.
Other products include topical salves for skin relief, salves for muscle and joint relief, soap.
Residents of the Richmond, Virginia, area can purchase select products at Ellwood Thompson's, Blossom, HAIR the Salon, and Mamie's Apothecary. Products are available online directly from KameNaturals.com. They can be shipped throughout the U.S., or picked up locally in Richmond.