"Field of Dreams" Celebrates 30 Years
| April 12th, 2019
The timeless message on baseball, heroes, and fathers still resonates
---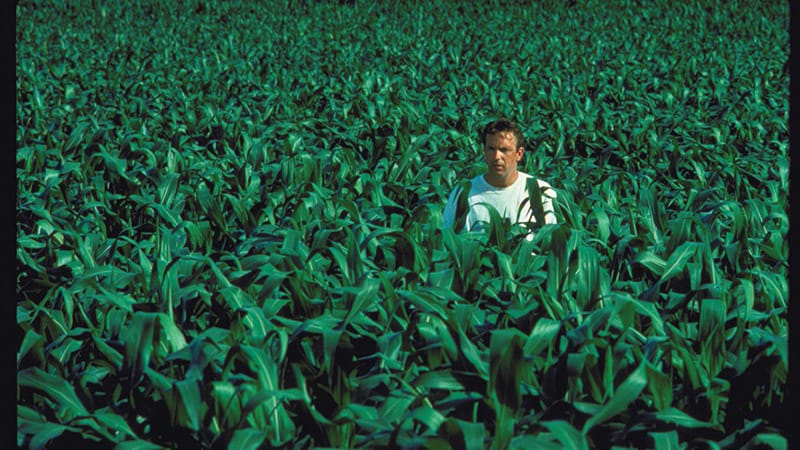 The state of Iowa has used several slogans over recent decades, such as "A Place to Grow," "Life Changing" and "Fields of Opportunity." But it would be entirely understandable if you believed the state slogan to be "Is this heaven? No, it's Iowa."
After the release of a certain film, which celebrates its 30th anniversary this year, Universal Studios granted permission to the Iowa Department of Economic Development to use those six words to promote tourism in the state.
Based on a 1982 book, Shoeless Joe, by W. P. Kinsella, Field of Dreams tells the tale of an Iowa farmer (Ray Kinsella, played by Kevin Costner) who, upon hearing messages from a mysterious voice, plows under his cornfield to build a baseball diamond. He does this so that eight members of the 1919 Chicago White Sox, including "Shoeless Joe" Jackson, could have another chance at playing the game they loved. These players had been permanently banned from playing the national pastime because they had been accused of participating in the "Black Sox" scandal by throwing that year's World Series.
Selected two years ago by the Library of Congress for preservation on the United States National Film Registry for being "culturally, historically and aesthetically significant," Field of Dreams is, after all these years, still one of the most beloved movies of all time.
WHO WILL COME?
That the fantasy-drama continues to resonate with audiences is attributable, in large measure, to its healing qualities, according to actor Dwier Brown, who played Costner's father (John Kinsella) in the film. The elder Kinsella had loved baseball, the Chicago White Sox and Shoeless Joe; but before his death 15 years earlier, he and his son had had a strained relationship.
"I think what is so long-lasting about the movie is the second chance you can have with your parents," says Brown, who wrote a book titled If You Build It, about his experiences making the film and its effect on his personal and professional life. "There's nobody who wouldn't want to have that second chance."
Emmy Award-winning actor Timothy Busfield, who played Ray Kinsella's brother-in-law, Mark, the villain of the movie, concurs with Brown. "The desire of all of us not to go to our death with a fractured relationship with our parents, to keep that father and son relationship alive, is so important to the film's success," says Busfield. He adds that the Oscar-nominated score from composer James Horner contributed to that feeling during the meaningful moment when the son asks the father if he wants to "have a catch."
"It's a dog whistle for men," adds Busfield, who proudly notes he once played semi-professional baseball for a team in the Northern Saskatchewan Baseball League and says he still plays for the Cubs of the Long Island Men's Baseball League. "They always start crying right then; you can always expect the floodgates to open up for a man's emotions at that point."
"The last ten pages of that script were written on onion paper," quips Brian Frankish, the line producer and unit production manager, who is now one of the principals of Frankish-Benedict Entertainment. "Phil [Alden Robinson, the movie's director who adapted the screenplay] hit a nerve by focusing on what the relationship between a father and son really is about."
OTHER RBIs
Frankish also has nothing but praise for the rest of the script, which was nominated for an Academy Award for Best Adapted Screenplay. "The 'people will come' speech [by James Earl Jones' character] is one of the most magnificent pieces of writing I've ever heard."
"Even the greatest cynic would listen to that and go, 'My god, that's what this game [of baseball] is all about,'" Costner told NBC's Today during a Field of Dreams reunion in June 2014 at the Dyersville, Iowa, location where much of the movie was filmed.
Though it's tempting to think that all critics were enthusiastic about the film, the reality was far different. For instance, The Washington Post's Rita Kempley noted that, while the film "doesn't strike out, it does foul a few off the bleachers." She was kinder to Costner, whom she described as "a likeable lead, as plausible with his ghosts as Jimmy Stewart was with Harvey."
However, writing in The New York Times, Caryn James declared, "It seems much easier to fall into Field of Dreams than to resist its warm, intelligent, timely appeal to our most idealistic selves." Costner, she added, "does not make one false move."
"Kevin brings a directness and honesty to these American working-class parts because he comes from it," says Ron Shelton, the Oscar-nominated screenwriter who directed Costner in another famous baseball movie, 1988's Bull Durham. "The Kinsella character is one of those people with the added American quality of being a dreamer."
Time, of course, has a way of making people appreciate things. For Field of Dreams, that seems especially true.
"Movies aren't intellectual," said Costner during the Today interview. "They're emotional. And this one rang a bell …
"A lot of times," he continued, "people go, 'You know, the movies don't mean anything.' This one did. This little movie did."
And for fathers and sons, it's a little bit of heaven in Iowa.