Finding Fun and Food in Massanutten
| April 20th, 2023
Where to fill up when you've emptied your tank having fun
---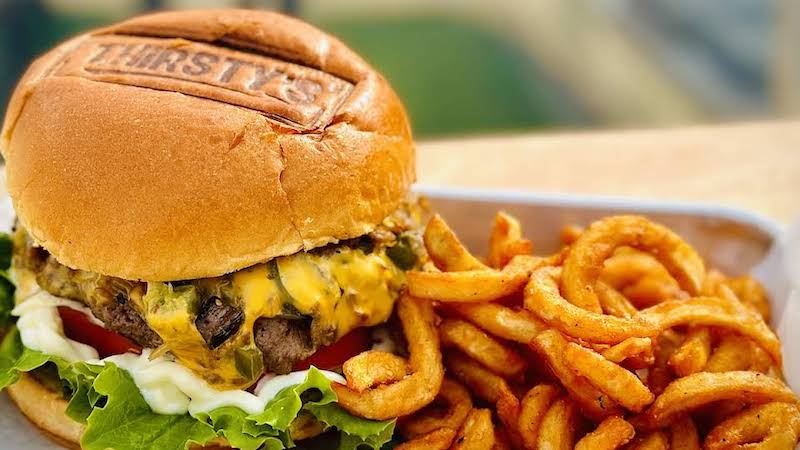 Massanutten Resort in the mountains of Virginia offers year-round fun. While food and travel writer Steve Cook appreciates the fun, he focuses his insights on food in Massanutten and the surrounding Shenandoah area.
---
With the temperature hovering near the 90s, you probably have a hankering to head for Massanutten Ski Resort just east of Harrisonburg. While the ski lifts are not operating this time of year and there's not a drop of snow on the mountains, what you will discover tucked away in the Rockingham County mountains is one of the most fabulous water parks this side of Wisconsin.
The outdoor component of the Massanutten WaterPark opens on Memorial Day but even off-season, the indoor park is bustling with old and young alike.
I was there with the grandkids on a recent weekend, and there is definitely plenty of fun for those who enjoy the water.
At the center of the indoor park, you'll find the Massanutten Meltdown, which is described as a "giant water-powered playhouse." Kids (and plenty of adults, too, it would seem) enjoy the water cannons, waterfalls, and the giant tipping bucket. Climb up three levels to and then splash your way to the bottom on the five water slides.
Practice your bodyboarding or surfing skills on the Flow Rider, which pumps almost 50,000 gallons of water a minute to create the sensation of riding ocean waves.
For those who like their water warmer and calmer, there's Shenandoah Hot Springs. This spacious hot tub has both an indoor and an outdoor section. The outdoor area opens whenever the temperature goes above 70 degrees.
The outdoor park opens and offers some real thrills including Mass Mayhem, which gives you the opportunity to experience a zero-gravity sensation as you plummet down a 47-foot half pipe.
The water park truly is designed to delight every member of the family.

But, of course, all that excitement is bound to work up an appetite.
Finding food at Massanutten
Now, to be totally honest, I haven't experienced any meal in the area that would entice me to head to Massanutten just to dine. However, that being said, there are plenty of dining options both at Massanutten Resort and nearby. Here are a few that I would recommend you check out when you're up that way.
---
Take the Whole Crew to Massanutten 
---
Base Camp
What Base Camp, located right at the base of the slopes, lacks in true culinary creativity, it makes up for in the atmosphere and the friendly service. When the weather allows or when you bundled up on those winter nights, I'd suggest you sit at one of the dining fire tables. Enjoy a craft beer or one of their craft cocktails along with appetizers such as baked brie or fried calamari. Deep dish pizzas, sandwiches, and salads are also offered. It's all very fun and very casual. On Monday night, they have a cookout featuring all-you-can-eat hamburgers, hot dogs, and all of your favorite sides.
Campfire Grill
Also located at the resort, the grill offers a buffet breakfast on Saturday and Sunday mornings. Campfire Grill opens for lunch on Thursdays through Sundays. I've been told by some in my family that the breakfast is very good. And while I haven't eaten there, some of the entrees do sound rather inviting such as the Drunken Duck, which is described as seared duck breast served with blackberry brandy demi-glace and caramelized onions. Other entrees include High Country Gumbo, grilled salmon, and pan-fried rainbow trout. You'll also find sandwiches, burgers, and pizza on the menu.
Finding food in the area: Village of the Valley
If you're looking for fare that's off the slopes and away from the resort, just head on down the road a couple of blocks to Village of the Valley at 11702 Spottswood Trail in Elkton. This cool little complex kinda looks like something right out of the '50s. Here you'll find a handful of locally owned eateries, including:
Thirsty's Craft Burgers
Thirsty's Craft Burgers is one of my favorite Massanutten-area dining spots. The juicy burgers and hot chicken sandwiches are especially tasty and the beer is cold. If you're 21 or older, you can even have your burger prepared with CBD-infused oil. I didn't have the CBD, but I did enjoy a cold Tangerine Wheat from Lost Coast Brewery in Eureka, California
Gogi-wa
You probably wouldn't expect to find authentic Korean food being served up in the hills around Massanutten. But here it is. Sharing an outdoor dining courtyard with Thirsty's is Gogi-wa, a cool little Korean BBQ place. The tender and moist chicken is the big draw. Diners also rave about the beef bulgogi.
Brew Ha Ha Brewing Company
What do you get when you mix a brewery with a comedy club? Yep, you guessed it. Brew Ha Ha's founder Pete Ballou has always had a passion for beers and for craft breweries, but he says that most brewery tours were boring. "We wait out the boring part to sample the amazing beer," he says. So, Pete decided to do something a little different. He likes the laughs but that doesn't mean he doesn't take his beer seriously. Perhaps in homage to the nearby ski resort, one of Brew Ha Ha's beers is named It's Snow Mistake (Coconut, Vanilla & Banana). The brewery explains, "This beer was an oopsie but it turned into something amazing."
Massanutten may not be a gourmand's concept of paradise, but there is plenty to entertain the entire family every season of the year. And yes, besides the fun, you'll find plenty of food, too.
---
Steve Cook has lived in the Richmond area for most of his life, working as a writer and editor and in marketing and radio. He loves to keep abreast of the local restaurant scene and researches the subject voraciously. "I used to think I was a foodie," he says, "but then I realized I just like to eat a lot." He once co-hosted a local Richmond restaurant radio program with BOOMER editor Annie Tobey. Steve completed his first novel in 2017 and says he hopes to read another one this year.
Dig in to more restaurants and other recommendations from Steve Cook