Finding a New Passion in Art
| November 16th, 2016
---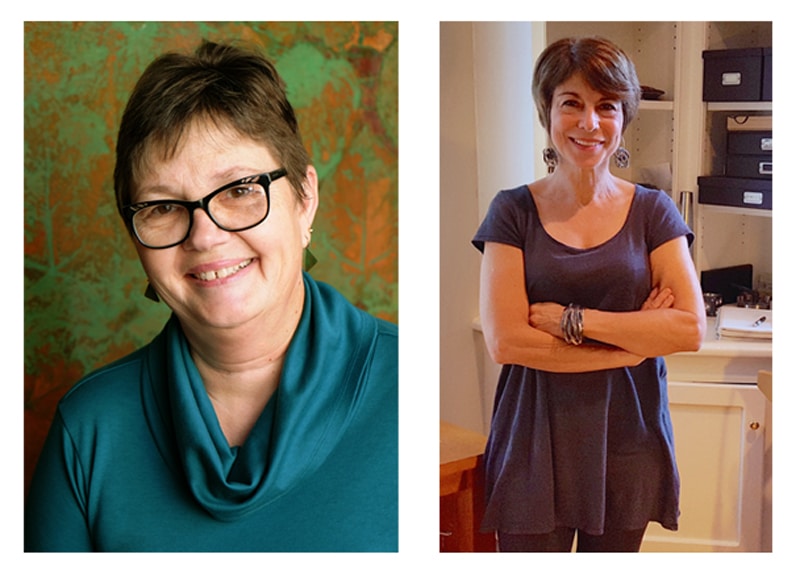 It's never too late to make a life-changing career decision regardless of where you are on your personal timeline. That's one lesson baby boomers can learn from two artists who discovered a new passion later in life.
Since Cathy G. Vaughn, a Richmond, Virginia graphic designer turned full-time, self-employed artist, was a child, the idea of switching careers has always been ingrained in her mind because of her father. She recalled hearing about her father's vision for a retirement plan of crafting marquetry after his career ended at Duke Energy (formerly known as Duke Power Co.).
For more than 20 years, Vaughn worked full time as a graphic designer. At the age of 30, she began rethinking her career because computers started changing the industry, making the art form less hands-on – an aspect of it that she really enjoyed.
"It sort of removed me from the process," she said. "I'm a very hands-on person, and while I was very good at it, it didn't make my heart sing like making things with my hands [does]."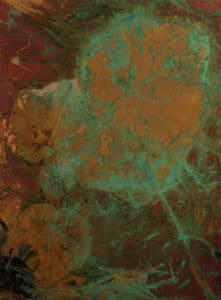 It wasn't until after Vaughn's father died in 2011 that she started making moves to work with a more hands-on art form. For a little while, she worked as a part-time artist and incorporated the business about a year later. Then in 2013, Vaughn took the plunge to become a full-time coppersmith.
Similarly, Beverly Tadeu of Bethesda, Maryland, switched careers later in life. At 49, Tadeu rediscovered her passion for art and sculpting after an 8-year career in finance and then a stint at the U.S. embassy. At that time, she and her husband lived in Chile while he served as a diplomat – the South American country was the last stop on their four-country tour.
While in Chile, Tadeu met an artist who introduced her to the art of jewelry making, teaching her how to cut and solder metals. Tadeu has always had a passion for the arts, as she double majored in fine arts and arts history in college. But she instead earned a master's degree in finance and pursued other jobs.
"I waited a whole lot of years before, one could say, I let myself do it," she said, referring to the career switch.
That's why Tadeu said she doesn't take a single day in her studio for granted.
A Rewarding Decision
Although Vaughn's decision to change careers involved some concerns, more work and a learning curve, she said she's truly happy being a full-time artist. Vaughn said working with copper has allowed her to channel her personal creativity while also getting her hands dirty, something that she longed for while being a graphic designer in the digital age.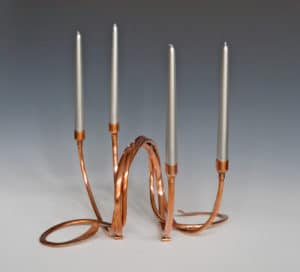 At the beginning of her coppersmith career, she manipulated the copper to create items such as trellises and candelabra. But now Vaughn has branched out and developed her own process of producing images, with real leaves, on sheets of copper. "It's something I really enjoy doing," she said.
After Vaughn finishes a piece, she immediately feels great because she is "making something that wasn't there before," but also because her artwork connects her to her late father.
Vaughn works out of her studio, Tracery 157, in Manchester. Her work has been featured previously at Craft and Design and other art shows. Some of her art can also be seen at places around town such as at the café inside the Science Museum of Virginia.
Before Tadeu started working with jewelry, she hadn't worked with metals, but quickly fell in love with it. "There was something about it – I loved the fact that I could take lifeless pieces of silver and wire and turn [them] into something that becomes alive," Tadeu said.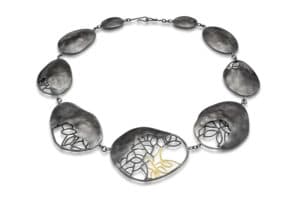 She explained that this form of art has allowed her to combine her passion for sculpture with her fascination for miniature items such as ceramic animals. That wasn't all Tadeu enjoyed about crafting art jewelry – she also likes its functionality and that it serves a purpose when it's worn.
Lessons Learned
For both artists, this career switch has been a fulfilling yet sometimes challenging journey. But in the end, they've learned a lot from their experiences. For those who may be considering following a passion of their owner, Vaughn said, "Think carefully about what it is you want to do or how you want your voice to be heard in the world. … Find something that speaks to you personally."
Because it took Tadeu some time to follow her passion, she recommends that once you find something you're passionate about, "persevere, don't get discouraged and put in the time." During the beginning of her career as an artist, she received some pushback and criticism, but, ultimately, didn't let that stop her from pursuing her dream and feels it paid off.
Like Vaughn, Tadeu has also become a self-sufficient, full-time artist, and each day she remembers that, she said she's in awe of how far she has come. Tadeu shows off her jewelry at about nine craft shows a year and now has an assistant helping her out.
"Put in the time and persevere, and I think we're capable of so much, it doesn't matter the age," she said.
See both artists' work at this year's Craft and Design show. Plus peruse works from other internationally and nationally recognized artists on display at the event, which takes place Nov. 18-20 at the Science Museum of Virginia.