Foodie Adventure in Charleston, SC
| August 23rd, 2023
Discover why this Lowcountry destination is a top spot for visitors
---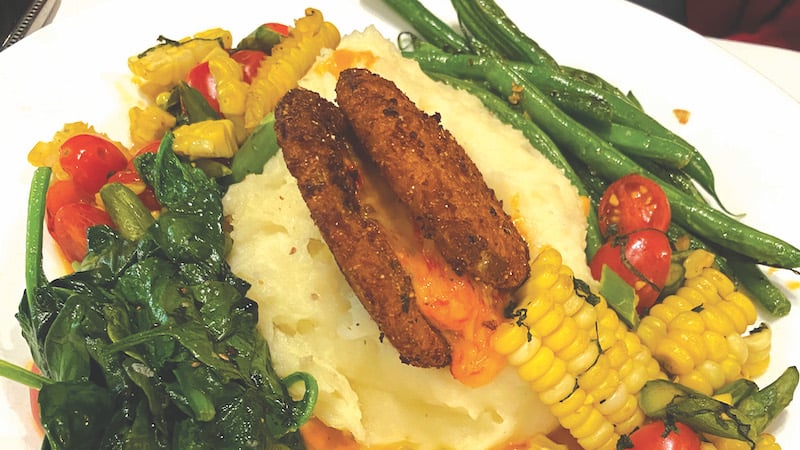 From a repository of chain restaurants, Charleston, South Carolina has become a mecca of independent restaurants and local chefs, specializing in Lowcountry cuisine and seafood, barbecue, continental cuisine, and more. Travel writer Peggy Sijswerda takes us on a foodie adventure in Charleston.
---
"Let's have some fun!" says Donnie, manager, server, and bartender extraordinaire of Muse Restaurant and Wine Bar in Charleston, South Carolina. He tells Peter and me that he likes to choose dishes for guests who are willing to roll the dice.
"We're game," I answer. Donnie asks about food allergies and preferences, and we tell him to keep it light. Then he takes it from there. What fun! Since I always have trouble choosing what to order from menus, this novel concept takes the pressure off.
Peter and I are eating our way through Charleston, a charming Southern city just a half-day's drive down I-95. It's become quite the foodie destination, and its restaurants consistently rank among the best. The hard part is choosing which restaurants to try. The Visit Charleston website is a great place to discover dining options as well as learn about other activities the city offers — and there are plenty of those, too! Because you have to do something else than eat, right?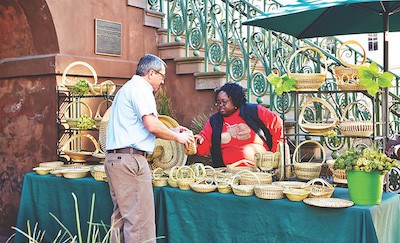 Not to worry. Besides the culinary scene, Charleston offers a vibrant, historic downtown with trendy shops and boutiques, as well as antebellum plantations and gardens, cultural attractions, and outdoor adventures, such as kayaking, bicycling, and harbor tours. The waterfront is a hub of activity as the new International African American Museum is nearing completion, and soon a new marina, shops, and residences will rise up where old wharves have existed for centuries. Charleston is a city on the move, so let's learn more about why this Lowcountry destination is a top spot for visitors!
Collision of cultures
For a deep dive into Charleston's food scene, Peter and I take a walking food tour through Downtown. Savor the Flavors is owned by Bulldog Tours, a locally owned tour company that also offers ghost tours. Our food tour guide, Sarah, is a hoot. We meet at headquarters and Sarah gives us a little background on why Charleston has evolved into such a foodie destination.
"Back in the 80s, Charleston was full of chain restaurants," she tells the tour group with a sniff. After Hurricane Hugo wreaked havoc on the city in 1989, the chains left. Local chefs started filling the void with Lowcountry cuisine, which Sarah defines as "the foods we cook in our kitchens." Dishes like fried green tomatoes, collards, grits, fresh shrimp, and fried chicken resulted from the collision of cultures that marked Charleston's early days as a French settlement. Eventually, the city became a busy slave-trading port, bringing both West African and Caribbean culture to Charleston.
After the brief history lesson, we commence eating. Our first stop is Rudy Royale, specializing in Chicken + Cocktails. Here we sample a pork-rind crowned deviled egg and a fabulous fried chicken slider, served simply with a dill pickle slice and a dab of Duke's mayo, my favorite, which by the way was invented in Greenville early last century.
Next, a quick stop for pralines to go from River Street Sweets, which I wisely tuck in my pocket and save for later. At the Oyster House Seafood Restaurant, we are treated to a Southern Sampler, mini servings of pimiento cheese, shrimp & grits, she crab soup, and hush puppies with praline butter, all of it over-the-top tasty. Uh-oh, the tour's not over yet, and I'm feeling stuffed! After exploring the Spice & Tea Shoppe and tasting some of their spice blends, we pop by our last eatery, Poogan's Smokehouse, specializing in all things barbeque, where we try their delicious cornbread and a slider overflowing with succulent pulled-pork BBQ.
Historical integrity
We're staying in an historic hotel right in downtown called Kings Courtyard Inn. Built in 1853, the property has been home to a boarding house, confectionary, and dry cleaners, among other businesses. By 1962 it had fallen into disrepair, but was brought back to its former glory through painstaking renovations and reopened as an inn in 1983. The owners preserved as much historical integrity as possible including the oversized windows and Victorian accents.
Peter and I love our spacious room with its gas fireplace and four-poster bed — you need a stepstool to climb up into bed at night! Daily breakfast and wine social hour is included, making this an ideal home away from home while you explore the area.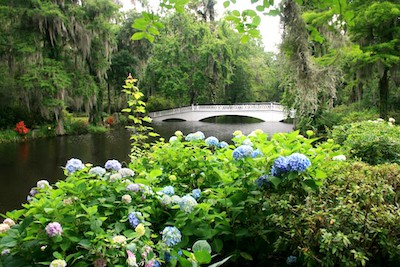 Charleston is known for its ante-bellum plantations, including Magnolia Plantation and Gardens, founded in 1676 by the Drayton family, which still owns the property. It's easy to be awed by the Gone-with-the-Wind grandeur of the plantation, but as our guide, Joe, points out on the "From Slavery to Freedom" tour, the plantation was a place of pain and torture for the many enslaved families who worked in the insect- and alligator-infested swamps, planting rice and tending cattle.
At the end of the tour, Joe asks our group a simple question, "How many of you would want to be married in a concentration camp?" He is of course referring to the Southern tradition of renting properties like Magnolia Planation for festive weddings. Joe's comment reminds us that everything is not always as it seems — food for thought as Peter and I stroll through the well-tended gardens with majestic cypress trees and weeping willows.
Back in town we visit the South Carolina Aquarium, located on the waterfront, a hub of activity as the state-of-the-art International African American Museum nears completion and plans for a new marina, hotel, and more are in the works. The aquarium is a fabulous venue for families, and Peter and I enjoy watching the children's eyes light up in wonder as they watch fish swimming languidly around giant tanks. Afterwards we take a Charleston harbor tour and learn about the city's maritime history. Playful dolphins swim by, adding to the excitement.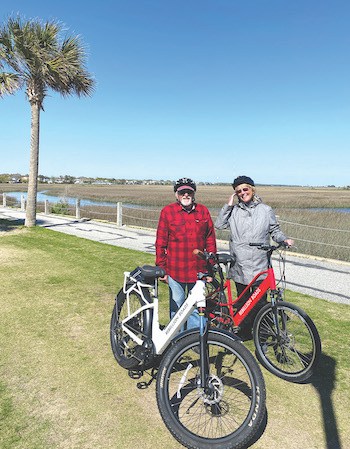 An e-bike tour that afternoon proves to be a lot of fun. Offered by a company called Rebellion Roads, the two-hour tour takes us around the Old Village of Mt. Pleasant and over to Sullivan's Island, where we visit Fort Moultrie. Our guide, TBD, actually grew up in Virginia Beach and is informative and fun. Good thing we have electric bikes because we face some stiff headwinds during our tour. The e-bike tour is a ton of fun, and happily we work up an appetite!
Gracious charm
The best part of sightseeing is winding down afterwards with a delicious meal, and Charleston is the ideal place to satisfy your Lowcountry cravings. Our first night, I indulge in a seafood platter at Charleston Crab House, a cozy eatery with wooden floors, brick walls, and mellow reggae music in the background. My plate overflows with phenomenal seafood: snow crab legs to the fat crab cake to the buttery grilled shrimp. Collards and cheesy grits round out the plate. Peter, who's vegetarian, orders the fried green tomatoes, collards, and mashed potatoes, saving room for his favorite course, dessert, a slice of salted caramel cheesecake.
Another must-dine restaurant is Amen Street Fish & Raw Bar, where I try baked oysters oozing with goodness and a Caesar salad crowned with luscious grilled scallops. Peter's broccoli and beet salad is also a hit, as is the magical key lime pie we share for dessert.
Magnolia's Restaurant, a staple in Charleston for 30+ years, epitomizes the gracious charm of the city's dining scene with white tablecloths and black-aproned servers. We try one of their specialties: lightly fried green tomatoes served on a bed of cheesy grits surrounded by a sea of tomato butter. It's as delish as it sounds. Peter orders a beautiful veggie plate, and I relinquish all concern over calories and choose a divine fried chicken sandwich called the Original Simmons, smothered in pimiento cheese and Sriracha mayo and topped with — what else — pickles.
---
Another southeastern adventure from Peggy Sijswerda: Lore and Culture in St. Augustine, Florida
---
Back at Muse Restaurant, where Donnie, our irrepressible server, is selecting dishes for us on our last meal in Charleston. First an amuse bouche arrives: perfectly caramelized onions and a dab of ricotta atop a toasted bruschetta. Next an Artichoke Torta lands on our table. We are wowed by this upscale Mediterranean pizza with phyllo dough as crust, which gives the torta a satisfying crunch. But the toppings star: grilled artichokes, spinach, tomatoes, and olives sprinkled with aged Balsamic, olive oil, and Za'tar, a Middle Eastern sesame and spice blend.
Another appetizer, creamy mushroom risotto, follows, which is light and lemony. Our main is a well-balanced Fettucine Alfredo with homemade pasta of course, topped by a soft poached egg, which Donnie tells us to stir through the pasta. He thoughtfully presents the dish vegetarian style and brings me a separate plate with shrimp and pancetta to add to my pasta. The dish is heavenly. Finally, we finish up with a decadent Pomegranate Trifle, tart and sweet, just the way I like it.
Donnie is right. This meal has been totally fun — and totally delicious — two adjectives that sum up our three-day getaway to Charleston, where food and fun are on the menu. Just be forewarned that you won't want to go near the bathroom scales for at least a week after your visit. Have fun!
Visit www.charlestoncvb.com to plan your foodie adventure in Charleston.
---
FEATURED PHOTO CAPTION: Magnolia Restaurant's vegetarian plate is a feast for the eyes and taste buds. Don't miss the fried green tomatoes. Photo by Peggy Sijswerda, for "Foodie Adventure in Charleston, SC."
---
Peggy Sijswerda is the editor and publisher of Tidewater Family Plus magazine. She has an MFA in creative nonfiction from Old Dominion University and is the author of Still Life with Sierra, a travel memoir. Peggy also freelances for a variety of regional, national, and international magazines.