Generous Richmond Dentist
| November 30th, 2016
---
Dr. Baxter Perkinson has been a practicing dentist in the Richmond area for 45 years. His dozen locations of Virginia Family Dentistry have more than 350 employees, including three of his four children who are also dentists. His executive assistant of 15 years, Marie Tesh, says, "As a boss, he is the best. When he walks in the door, he gives us a hug, then he walks around and says hello to all the employees here in the office before he sees his first patient. When he's done for the day, again, he has to hug us goodbye."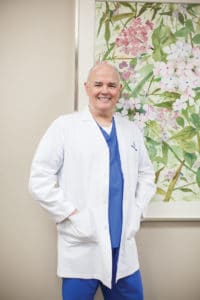 He's even taken his employees on "legendary" trips together: on a chartered plane to destinations like London, Paris, Rome and Mexico, on cruises, and to cities like Nashville, Tennessee.
That's one of the many ways Perkinson, 71, is known for his generosity. You've likely seen or may even own a painting by this prolific watercolorist. Since he took his first lessons in 1979, he's created thousands of pieces. He's never sold a painting for profit, but that's part of what makes his art so unique. He gives framed pieces to charities and nonprofits to auction off as fundraisers. And they've raised millions. "I enjoy painting," Perkinson says, "and to be able to use that to benefit so many gives me great pleasure." In 2006, he donated more than 200 works of art to hang in the nursing school at his dental school alma mater, Virginia Commonwealth University.
Newly built and opened in June 2009, a building on the VCU School of Dentistry campus in downtown Richmond carries his name, and he and his wife of 51 years, Elaine, have pledged a total of $2 million to help Trinity Episcopal School, home to the Perkinson Art Center, to expand its arts program. Virginia Family Dentistry as a business gives sponsorships to local schools, sports teams, nonprofits, etc. "My motivation," Perkinson says, "is real. I honestly want to help other people."
WHAT MAKES A GOOD LEADER/MOTIVATOR?
Being confident and passionate, a belief in what you are doing. Be consistent, and people will know.
PET PROJECTS?
I am a major contributor for the Chesterfield Center for the Arts and I am currently involved with the Make it Real campaign with the alumni at VCU.
YOU'RE VERY COMMUNITY INVOLVED. WHY IS THAT SO IMPORTANT TO YOU?
Your community is your home. You need to take care of your home. I want to make it the best it can be for my children and their children.
ANY SPECIAL CHALLENGES YOU HAD TO OVERCOME TO GET WHERE YOU ARE TODAY?
I did not grow up with the wealth that I now have. I am a self-made man: everything I have, I have worked for. I started at the bottom and ended up at the top.
WHAT'S YOUR PHILOSOPHY FOR LIFE?
Find your passion and go for it.