Head of Saint Joseph's Villa Focuses Efforts on Serving Others
| November 29th, 2016
---
Kathleen Burke Barrett says the best compliment she ever received was from a stranger sitting next to her at an awards luncheon. She'd found out that Barrett was affiliated with Saint Joseph's Villa (SJV) and said to her, "You saved my daughter's life over Thanksgiving." The daughter had been placed in an SJV pilot program for youth in mental health crisis, which has since won national awards. "All of those working in the Villa programs," Barrett says, "are heroes. We save lives."
Barrett has headed up the Richmond-based organization since 2006, and last year the Villa served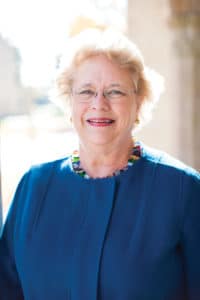 more than 3,000 children and adults in the areas of education, homelessness, mental health services and developmental disabilities. In November, the Villa's youth homeless services received one of three national awards from the National Alliance to End Homelessness for their groundbreaking program that assists youth who have aged out of foster care and those whose parents have turned them away because of their sexual preferences.
Barrett, 69, has more than 30 years' experience in fundraising and management in nonprofit. She's a past CEO of the local Red Cross and has served on the boards of Bon Secours, Benedictine and St. Gertrude. "VCU has my heart also," she says, having taught there and been president of the alumni association. "I bleed black and gold."
WAS THERE AN "AHA MOMENT" WHEN YOU REALIZED YOUR PURPOSE IN LIFE?
I learned that I had been blessed with gifts that would result in my leading and motivating others. I lead by example. I want to teach [my staff] and always encourage them to rise.
WHO HAS INSPIRED YOU?
I have been inspired by people who have a strong work ethic and whose lives are based on strong values. I grew up knowing right from wrong. I worry today that these things are not being taught to our young folks.
WHAT DOES SUCCESS MEAN TO YOU?
Success to me is giving back to this world far more than you take. I want my eulogy to be about my commitment and service, not about my career accomplishments.
WHAT'S YOUR PHILOSOPHY FOR LIFE?
Don't put your umbrella up until it rains! We worry so much about things that might happen that we forget to live in the moment, and every moment is precious.
WHAT'S YOUR NEXT "BIG THING"?
A $25-million RISE UP Capital Campaign for St. Joseph's Villa. The Villa is the longest continuously operating children's nonprofit in America. I want to lead the effort to ensure that it continues to help this community long after I'm gone. I want that to be my legacy.