Richmond Police Sgt. Gives Back to Domestic Violence Victims
| November 30th, 2016
---
When Richmond Police Sgt. Carol Adams talks about domestic violence, she speaks from the trauma of personal experience. She knows how a single moment can have a lifelong impact. As a child, she'd been witness to the escalating drama and violence between her parents for 12 years. On Dec. 30, 1980, she was in the next room of their East End home when she heard the barrage of gunshots fired by her father, which took her mother's life. Carol was just 17.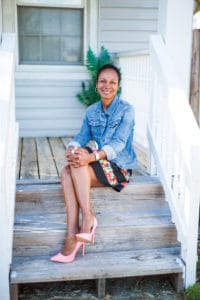 Adams has now worked in public safety for over 28 years, first with the Richmond sheriff's department. She graduated from the Richmond Police Academy in 1997. It was at that time she openly began sharing the story of her tragic past. She regularly talks to church, civic and community groups, and she gave an emotional, personal TEDxRVA talk at the Byrd Theatre in late October.
Adams, 54, now heads up the RPD Community Care Unit and has started a program within the Richmond police department to offer resources to domestic violence victims. That goes hand-in-hand with the nonprofit foundation that bears her name. It provides aid, shelter and services to women and children who are victims of domestic violence. The foundation hosts community events, including a 5k walk, a fashion show and a gala, which raise awareness and funds to continue her very personal mission.
WHAT EXCITES YOU ABOUT YOUR JOB?
I love my job as a police officer because it's something different all the time. I'm allowed to be creative in helping to educate the community and assist with resources. I get to make a difference, make a difference and make a difference.
WHAT'S YOUR PASSION?
My passion personally and professionally is a desire to truly help and be a blessing to others, especially those who are in crisis.
WERE THERE ANY SPECIAL CHALLENGES THAT YOU HAD TO OVERCOME?
The death of my mother and father. My father took my mother's life; however, I had to forgive my father and care for him during his sickness and death. I had to do it.
WHAT'S THE NEXT BIG THING YOU'RE WORKING ON?
I'm working on an afterschool program and summer camp for children of domestic violence survivors. My newest pet project is a safe house for survivors of domestic violence. The next big thing is finding a home for the Carol Adams Foundation Outreach Center.
WHAT ONE PIECE OF ADVICE WOULD YOU GIVE YOUR YOUNGER SELF?
Proverbs 3:5 – "Trust in the Lord with all your heart and lean not on your own understanding."