Giving Back: Blue Sky Fund
| June 1st, 2020
Providing a natural classroom for urban young people
---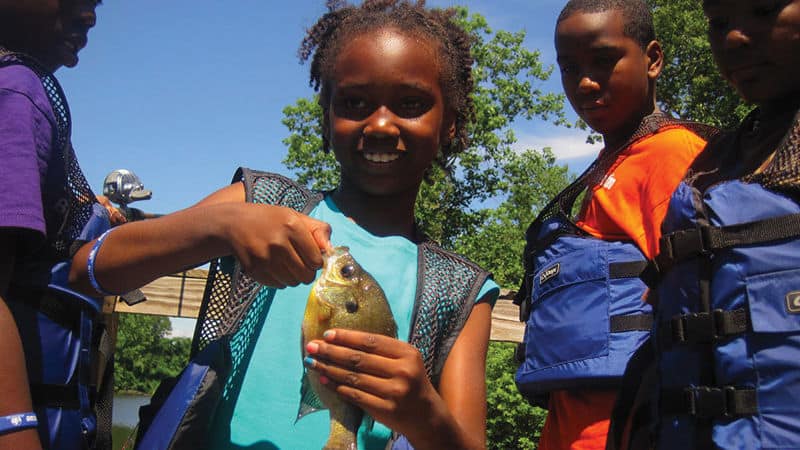 It's a strange time. We've all heard and muttered words such as these in talking about the coronavirus health crisis. We have seen and experienced the destruction it's caused, but in an effort to see the glass half-full, there is one gift the pandemic has delivered to us: a renewed relationship with nature. So many of our friends and neighbors have flocked outdoors to parks, the lake or biking trails. Being with nature helps to ground us, stabilize us, uplift us. The nonprofit Blue Sky Fund understands this and is changing lives by introducing Richmond-area students to outdoor adventures.
WITH MOTHER NATURE AS THE INSTRUCTOR
Blue Sky Fund, which was founded in 2008, takes Richmond elementary, middle and high school students out of the classroom and puts them in nature for educational learning and individual growth. For many students, the experience is transformational. "They have the ability to do more and be more than they ever imagined," explains Sarah Jane DeHart, Blue Sky Fund volunteer coordinator. "We're able to show them the James River and tell them they can be a scientist. Kids realize they can do something different, and they can succeed."
There are three educational programs offered by Blue Sky Fund: the Explorers elementary school program, serving second through fifth grade students at 14 Richmond public schools; the Outdoor Adventure Clubs middle school program, serving five Richmond public schools; and the Outdoor Leadership Institute, serving more than 150 students at nearly 40 Richmond-area high schools.
---
Remembering Lisa Schaffner and her spirit of Giving Back

---
HELPING TO POWER THE PROGRAMS
The Explorers program, which requires the largest volunteer pool, transports kids to outdoor locations such as Belle Isle to learn about the water cycle and water pollution. "We get them off the bus, and we're assigned one of the organized groups," says Explorers volunteer Tom Harrahy. "The kids are on site from 10 a.m. to 1 p.m. and complete four or five activities of 20 minutes each. Sometimes there are games designed for team-building," explains Harrahy, who's been volunteering for more than a year with Blue Sky Fund. "Sometimes the activities are designed around cooperation … The whole program is designed around science and learning."
Blue Sky Fund is looking for consistent volunteers who can be available primarily during workday hours. For the Explorers program, volunteers are needed between 9 a.m. and 1 p.m. For the middle school program, it's typically 3:30 to 6 p.m., immediately after school.
"What's really fun and adds so much value is when volunteers come in and engage the stragglers," says DeHart. "Keeping those high-energy or non-focused students engaged by being their buddy, hanging with them and asking questions enhances the experience for the student and for the rest of the class."
ASSISTANCE NEEDED NOW MORE THAN EVER
The nonprofit serves approximately 2,000 students annually, but may fall short of that number this year because COVID-19 closed area schools in March, which shut down all of Blue Sky's student programs. Although programming is in flux right now, it's expected to be in full swing by September.
Current volunteers are eager to return. "Bringing a child to the natural environment and letting them understand that environment in a way they've never been exposed to is fun and important," exclaims 67-year-old John Bailey. "I try to volunteer for a day when they have a lot of kids. I feel I'm more useful then," says the self-proclaimed serial volunteer.
Visit the organization's website and check out the varied volunteer opportunities under the "Get Involved" tab. A volunteer handbook details the volunteer job description and job expectations and the organization's mission, vision and core values.
We all have lost a sense of control and focus right now because of the coronavirus. Giving Back and volunteering for Blue Sky Fund will not only put you in control of your future again; volunteering will change the future of a child in need of nature.
WANT TO HELP? 
Blue Sky Fund
Provides transformational outdoor educational experiences for urban youth, enabling them to build relationships, grow educationally and learn about new opportunities.
TO HELP: Become a program volunteer and assist staff educators with on-site outdoor learning activities for urban youth from Richmond elementary, middle and high schools.
WEBSITE: BlueSkyFund.org
CONTACT: Visit "Get Involved" on the website and click "Volunteer" on the drop-down box to check out specific volunteer needs and fill out the volunteer interest form. For questions, email Sarah Jane DeHart, volunteer coordinator, at SarahJane@BlueSkyFund.org.
---
Lisa Schaffner, a former WRIC-TV anchor, is public relations and marketing director for UNOS, United Network for Organ Sharing. LisaSchaffner@verizon.net