Great American Deals at The Great American Ranch
| September 7th, 2023
A down-home welcome and food
---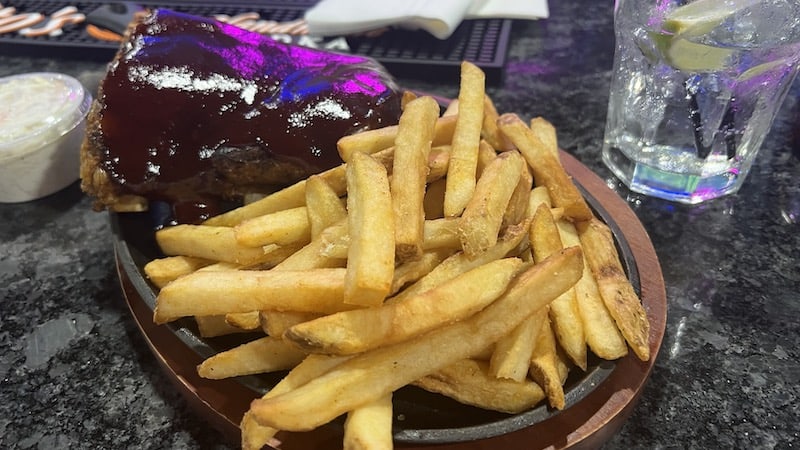 Food and travel writer Steve Cook takes us to the Great American Ranch in Mechanicsville, Virginia, for great American food, deals, and hospitality.
---
I have been in somewhat of a quandary most of my life. I love to eat. I love checking out new restaurants. But I hate spending money. I don't guess you could actually say I'm cheap, but I am frugal. So, I'm always looking for a good deal. That somewhat explains my abiding love for all-you-can-eat establishments. But, hey, a man has to venture out beyond Golden Corral once in a while.
I recently discovered a restaurant that offers good food at very reasonable prices. If you're one of those foodies who only goes to the trendiest of the trendy restaurants with a box-office chef in the kitchen when he's not doing magazine interviews, then perhaps the Great American Ranch at 7514 Lee-Davis Road in Mechanicsville will not be your cup of tea. But it is mine. There is another location for this local two-restaurant chain in Midlothian. But I have not had the opportunity to try them yet.
As I have somewhat mentioned, you won't go to the Ranch for gourmet culinary delights. But if you're into big juicy burgers or tender, tasty ribs or even a surprisingly delicious taco, then I think you'll feel right at home, here.
For starters, the folks behind the bar and serving you at your table make you feel real welcome in this down-home establishment.
Sometimes you wanna go
Where everybody knows your name
And they're always glad you came
You wanna be where you can see (ah-ah)
Our troubles are all the same (ah-ah)
You wanna be where everybody knows your name.
(I may have an obligation to credit this to Gary Portnoy and Judy Hart, which I just did.)
Well, the Great American Ranch is just that sort of place. Everybody seems to know everybody and now that I've been about four times in recent weeks, I feel like I'm part of the gang. I'm not sure why they call me "Norm," though.
But it takes more than being misidentified to keep me coming back. It takes decent food at really good prices and on these two counts, the Ranch gets a very high score from me.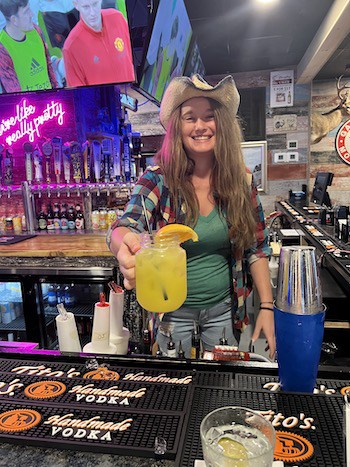 First, let's start with their excellent Happy Hour. How many places in town do you know that offer over 50 hours of Happy Hour a week? The Ranch does. Their Happy Hour runs from 11 a.m. to 7 p.m. Sunday through Friday and from 11 a.m. to 4 p.m. on Saturday.
So, what are the deals? Well, how about $3 for domestic drafts and well drinks? House wines are $4 and they also offer some other specials such as a very refreshing Orange Crush for five bucks. Most of the appetizers on the Happy Hour menu are also five bucks.
But the savings don't end there. As I've discovered, there are nightly specials on Monday, Wednesday, and Thursday evenings that will keep you coming back. And the food is not just cheap (talking price, here) but very good (talking taste, here).
On Monday night every burger on the menu is offered at half price. That would put their classic half-pound burger at just under $7 on Mondays. Or how about a bison burger for a dollar more? You can't get these prices at the fast-food joints these days.
Thursday night is Rib & Wine Night. I found my half-rack of ribs (just $9.99) to be tender, moist, and falling-of-the-bone delicious. The ribs are served with barbecue sauce or with a dry rub. I did the barbecue sauce and thoroughly enjoyed it, but others in the place told me I should have had the dry rub. The way I see it there's always another Thursday and I'm definitely going back.
The ribs come with some of the best French fries that I've been served in the last half century, along with a small helping of delicious Cole slaw. What a deal.
Bottles of wine are offered at a 50% discount on Thursdays, as well.
I hesitated to try the tacos on Wednesday deal because with a name like Great American Ranch, I figured the tacos would be so-so. I was right. When I did decide to try them, I found them to be so, so delicious. I tried both the beef and the chicken tacos in the soft shell. You can have hard or soft. And I loved them. No, I didn't feel like I was in Mexico, but the meat was very well seasoned, especially the chicken, and the shell was perfect. And here's the best part. These Mexican beauties were only $2 each! I won't tell you how much I spent on tacos because my wife may be reading this. But I did go back for seconds.
Besides great food at even greater prices, there's more to enjoy and love about the Great American Ranch. For instance, brunch is served every Sunday from 11 a.m. until 3 p.m. I haven't tried the brunch yet, but the menu seems to offer some delectable choices. There's also live music on the weekends and if you check out their Facebook page, you'll see that there seems to always be something fun going on at both locations.
The Great American Ranch is the ideal spot for a cheap guy who loves to eat. I don't know what else to tell you except I hope to see you there real soon. Just ask 'em if Norm is in.
Great American Ranch
7514 Lee Davis Rd., Mechanicsville, VA
13995 Raised Antler Circle, Midlothian, VA
GreatAmericanRanch.com 
Facebook/GreatAmericanRanch 
---
Steve Cook has lived in the Richmond area for most of his life, working as a writer and editor and in marketing and radio. He loves to keep abreast of the local restaurant scene and researches the subject voraciously. "I used to think I was a foodie," he says, "but then I realized I just like to eat a lot." He once co-hosted a local Richmond restaurant radio program with BOOMER editor Annie Tobey. Steve completed his first novel in 2017 and says he hopes to read another one this year.
Dig in to more restaurants and other recommendations from Steve Cook