Happy Birthday, "Virginia is for Lovers"!
| February 7th, 2019
50 years of our state's successful slogan
---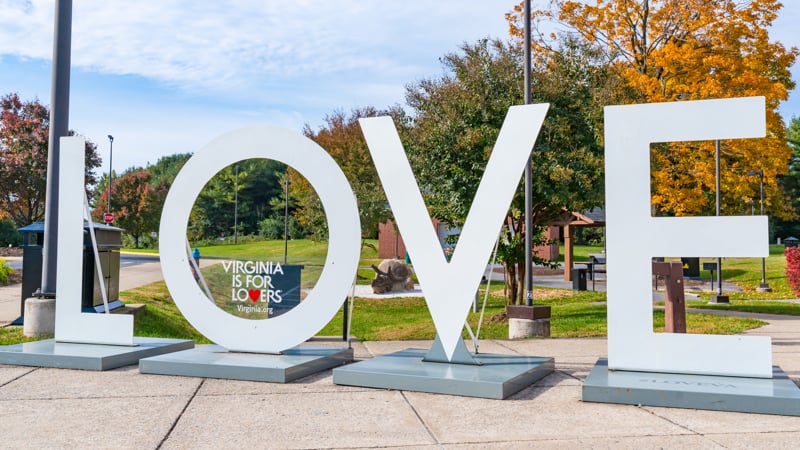 Virginia's travel slogan, "Virginia is for Lovers," made its first appearance in 1969. In the age of hippies, "flower children" and "Make love, not war," the bold innuendo nonetheless caused titters, winks and raised eyebrows among some tradition-minded Virginians.
The slogan's creators – Virginia State Travel Service (now the Virginia Tourism Corporation) and the Martin & Woltz creative team (later the Martin Agency) remained unflustered.
While they couldn't know the younger generation would end up being the most important demographic in history to wield a credit card, they did know from visitor research that Virginia needed younger travelers to keep tourism – and revenues – growing. A new generation required a bolder hook to attract it than "Mother of Presidents" or "birthplace of English-speaking America."
According to Martin & Woltz, the love-for-everything-Virginia concept originated with the $100-a-week copywriter Robin McLaughlin, who suggested pairing "Virginia is for lovers of beaches" with beach images, "Virginia is for lovers of mountains" with mountain images, and so on. But Martin thought that too limiting; Woltz agreed; and the slogan "Virginia is for lovers" was born.
The first ad with the new slogan, in the March issue of Modern Bride magazine, carried a love theme rooted in Virginia history: it depicted the first marriage in the Virginia colony, at Jamestown in 1608. Successive ads portrayed the state's other draws: for example, as a destination for lovers of beaches and mountains, and later for lovers of food, music, beer, wine and more.
METHOD BEHIND THE GENIUS
The "I Love New York" campaign that followed in 1977 was the first spin-off of the embedded heart, which became widely copied around the world, used for everything from shave lotion to Schnauzers. Marshall Murdaugh, who served as Virginia's commissioner of tourism from 1970 to 1983, says, "Unlike 'I (heart) NY,' Virginia's slogan had a strong marketing foundation instead of just a logotype."
In the late-1960s, "Mad Men" marketing executives realized the need to go beyond a jingle, slogan or logo to differentiate brands. For tourism branding to be successful, visitors need to relate to experiences.
The state and its tourism industry have come a long way over the past half-century. The VTC touts Virginia's 280+ wineries and 160+ craft breweries that have sprung up since 1969. Last year, the VTC's marketing plan positioned Virginia as a destination of inclusion for "… all Lovers … a great destination for LGBT travelers."
"Virginia is a welcome place for all," says Rita McClenny, president and CEO of the Virginia Tourism Corporation.
PROFITABLE STRATEGIES
The effort to be first-class has been worthwhile. In 1969 total travelers' expenditures in Virginia were $809 million. Last year, travelers spent $25 billion in Virginia, which supported more than 232,000 jobs and contributed more than $1.73 billion to state and local tax revenue.
Destinations within the state also found the campaign helpful in boosting travel, "for a quick getaway, particularly in the shoulder season," says Tiffany M. Russell, vice president of marketing for the Virginia Beach Convention & Visitors Bureau.
To continue the success, the VTC is working with Richmond-based SIR consulting (which performed the consumer research behind the original "Virginia is for Lovers" brand) to research and develop a long-term strategic plan. SIR's CEO John Martin points to the many visitor-research studies completed for Virginia tourism over the years, "including that first study of Virginia visitors in 1968 that led to the iconic tagline."
Stay tuned as the love story continues.
---
CELEBRATE!
Look for 50 consecutive days of special events and promotions across Virginia, beginning on the first day of summer, June 21. In addition to a VTC "Love Bug" partnership with Volkswagen, these may include restaurant specials, "Lovers Lager" and "Lovers Blend" beers and wines – and perhaps a few items at 1969 prices. Virginia.org
---
1969 memories
A year of love-ins, with the Woodstock Music and Art Fair drawing more than 300,000, for a weekend of love, music and mud.
"One Giant Leap for Mankind"
"It's the Real Thing"
"Give Peace a Chance"
Jacqueline Susann's The Love Machine
Henry Mancini's score, "Love Theme from 'Romeo and Juliet'"
---
Freelance writer Martha Steger, a native of Virginia's Eastern Shore, spent 25+ years as public relations director for the Virginia Tourism Corporation.