Hatch Local Food Hall
| March 31st, 2022
Bringing some of RVA's finest chefs together under two roofs
---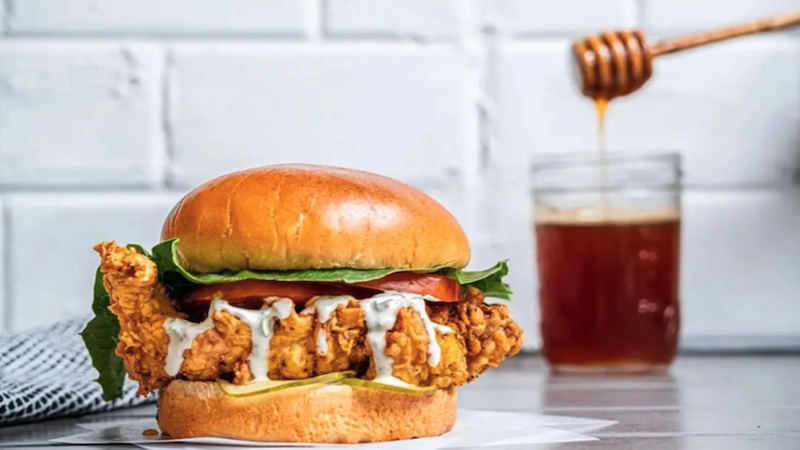 Richmond food and travel writer Steve Cook makes his way around Hatch Local Food Hall, the new culinary concept in Manchester, south of the James River in Richmond, Virginia. He discovers many familiar names in the Richmond restaurant scene and many delicious foods from just as many distinctive culinary backgrounds.
---
I have been noticing a flurry of construction going on along Hull, but it wasn't until last week when I paid a visit to the new Hatch Local Food Hall that I really started paying attention to the amazing transformation of what has for too long been a very neglected part of the city.
As I park and walk towards Hatch Local, at 400 Hull St., I'm stunned. The two beautiful brick and glass buildings have risen from a spot where abandoned warehouses had stood until quite recently. The buildings are separated by a courtyard with an outdoor dining area. Somewhat wrapped around the food hall is The Current, an ultra-modern mixed-use development offering upscale apartments as well as office space. Just behind the outdoor dining area lies an infinity pool for residents of The Current. This is so cool. This, evidently, is the new Hull Street.
What dining adventures await in Hatch Local?
I'm anxious to find out.
I enter the building on the left. That's where I first discover Fat Kid Sandwiches, which I wrote about for last week's dining feature. As I promised then, here's what I discovered in speaking with folks from the other food hall tenants:
Odyssey Fish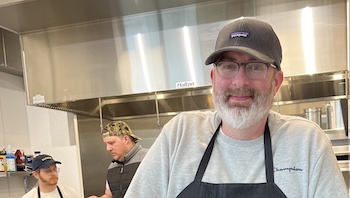 Who should I discover behind the counter that fronts the sleek stainless steel open kitchen of Odyssey Fish but its owner and legendary local restaurateur Lee Gregory? Gregory's The Roosevelt virtually changed the whole tone of Richmond's Church Hill when it appeared on the local dining scene in 2011. Then, in 2014, he and Joe Sparatta of Heritage opened Southbound, which the two owners described as the type of place where families could feel comfortable bringing the kids while still enjoying an elevated dining experience, south of the James River. Gregory's first solo experience as owner is the very popular Alewife in Church Hill. Alewife, a seafood restaurant featuring fare from the Chesapeake Bay, was voted "The South's Best New Restaurant" by Southern Living Magazine in 2020.
The concept of Odyssey Fish, Lee tells me is to "bring a more casual approach to what we do at Alewife." But, he adds regarding that concept, "We are still kind of working on that. We are trying to figure out what works."
With just one week of experience under his belt at Odyssey Fish, already, it seems, the pork rice bowl and the catfish on a stick are working. Regarding the response of visitors to the new food hall, Lee tells me, "Last week was busier than I thought it would be."
Buttermilk + Honey and Bully Burger
My next stop was over to Buttermilk + Honey (see chicken sandwich image above), where I had the chance to chat for a few minutes with executive chef Gerald King. The new Hatch location follows closely on the heels of the original Buttermilk + Honey, which opened in Short Pump just weeks ago.
Gerald helped open Lillie Pearl, which is owned by Michael Lindsey and his wife Kimberly Love-Lindsey. The couple also owns both Buttermilk + Honey as well as its food hall neighbor, Bully Burger. Gerald is executive chef for both. I asked him what differentiates the fare at these two places from other burger and fried chicken spots. He quickly replies, "It's the love and the care we put in our food. It's the way we prepare it. I teach my team to care about the food they're serving. I don't want to sell anything that I wouldn't want to eat."
I couldn't resist an endorsement like that. I had to try the chicken. It was excellent. And as for the accompanying fries, they have to rank on my all-time top-two list of great fries.
Gerald says he personally would recommend that first-time visitors try the OG, which is the chicken with lettuce, tomato, spicy honey, ranch dressing, and shaved pickles.
As for the Bully Burger, he says, they've taken the concept of the Lillie Pearl hamburger and modified it for the casual food hall concept. "We use locally sourced meat and we make our own sauces," he adds. He recommends the bacon cheeseburger, which features a house-made ranch dressing.
Sincero
I crossed the open courtyard and headed into the western building (or the building on the right as you are facing Hatch Local) and visited with Alex Bovadilla. Alex and his partner, Karen Negvesky, own Sincero. He describes his place as "offering Mexican food with enough room to have some fun with the stuff." He adds that they keep the recipes pretty traditional. Alex is originally from Maryland and has been in the hospitality industry for about 10 years. Since moving to Richmond about three years ago, he's worked at Brenner Pass in Scott's Addition. More recently, he and Karen had been operating their Sincero concept, somewhat as a popup, next to The Veil Brewing on the weekends.
Alex says the reception has been really good. "We haven't been on this side of Richmond. It's been nice seeing new faces."
His recommendation from the menu is the quesaberia. "It's traditionally a dish from Jalisco but has become very popular in Los Angeles," he says. While originally served with goat meat, he says, "We use brisket to appeal to our audience." The meat is marinated overnight and then braised for six hours. It's served on a crispy taco with cilantro and onion. "It's definitely our most popular," Alex says.
Royal Pig
My last stop was with Adam Stull and Vanna Hem who own and operate the Royal Pig. Both men have quite a résumé, which includes such stops as Can Can Brasserie, Bingo Beer Co., and Postbellum. Vanna says the Royal Pig concept originated "mostly on one drunken night" when the two began to consider the possibility of doing a popup. They were offered the opportunity to try their idea out at The Cask Café.
When they heard about the plans for the Food Hall, they approached the owners of Hatch. "We asked for more info," Vanna says, "and it sounded great." He describes the fare as "rustic Cambodian with a Chinese influence because my grandmother was half Chinese."
Vanna says the fried rice has been the most popular during the first week, adding, "But it's very Cambodian. It's unlike any fried rice you've had anywhere else in town."
Adam says he expects that the Royal Pig and the food hall in general will be a very popular place as the weather warms up. "Considering last week's weather cold and rainy, we were very busy."
Both men agree that once delivery is offered within the next few weeks, business should be booming. "You can place one order from any of the restaurants. You can mix and match them, and pay just one delivery fee" Alex says.
Because of time, I missed being able to get with the folks at Beet Box, which serves juices, smoothies, and bowls. There is also a coffee shop and a wine bar, both of which are operated by the owners of Hatch Local. Plus you can get cocktails and seltzer, as well as local beer, cider, and wine on tap. You can check out all the menus online.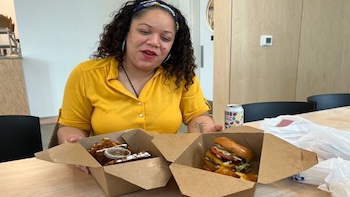 Before I left, I spoke with one visitor to Hatch, Javona Hamlett. Javona is a schoolteacher and had purchased food from both Burger Bully and Buttermilk + Honey. "I'm saving some to take to school tomorrow," she says. I ask her to tell me what she thinks of the chicken. "Wow, it's so much more moist than I thought it would be." She says she feels the whole Hatch concept is quite exciting.
I agree. Hatch is definitely an idea that hasn't laid an egg. I can't wait to go back.