Fat Kid Sandwiches at Hatch Local
| March 24th, 2022
Let us start with the Ring of Fire
---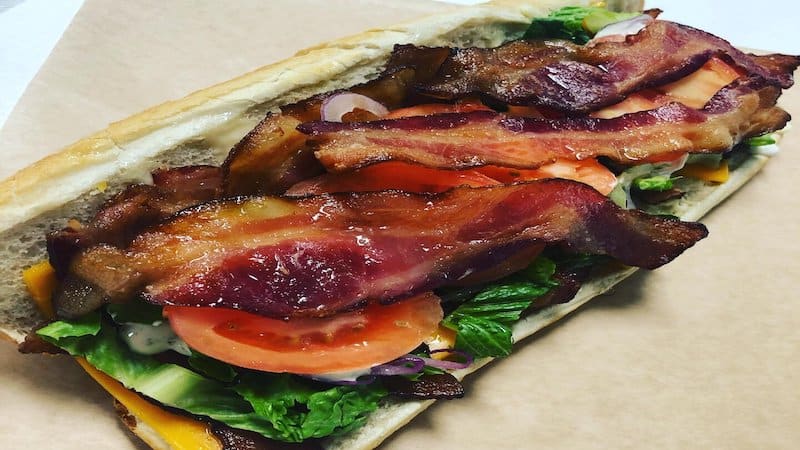 Richmond food and travel writer Steve Cook visits Fat Kid Sandwiches, one of the vendors at the new Hatch Local food hall in Manchester, south of the James River in Richmond. Get your chops ready for the Fat Kid Ring of Fire.
---
Well, I've probably been a source of irritation to my editor today because I'm getting this article in at the last moment. But let me explain. I have an excuse. I always do.
I was so anxious to check out the new Hatch Local food hall at 400 Hull St. It didn't open until yesterday, and this morning (Thursday, March 24, 2022) was my first chance to visit. This is a cool new concept. Unlike anything that I know of in the Richmond area. Currently, there are seven vendors offering a cool variety of food items.
Hatch Local is an offshoot of Hatch Richmond, a food and beverage business incubator located at 2601 Maury St., about a mile from Hatch Local. My goal was to tell you about all the new food counters at the new place, but I got so caught up in my visit with Jon Martin who, with his wife Liz Clifford, owns Fat Kid Sandwiches, that I'm going to have to give you a Part Two next week.
Let's Talk about the Fat Kid
The Fat Kid Sandwiches concept has been operating as a sit-down/takeout dining spot at the Maury Street location for about a year-and-a-half. As of March 23, there's also a Fat Kid in the new Hull Street food hall. Wherever you may choose to indulge, if you love a good sandwich as much as I, you need to check this place out.
Jon served me the special Ring of Fire sandwich, which I had heard about from his publicist. Here's the exact description, because I couldn't say it any better than this: "The Fat Kid Sandwich team takes their crispy fried chicken dipped in hot sauce and then rolls it in a fiery dry spice mix, and pairs it with homemade ranch and quick pickled cucumbers to cool it all down. They pile it all together on a foot-long sub roll with Flaming Hot Cool Ranch Doritos. It's a spicy chicken sandwich, Nashville hot-inspired, but Fat Kid-style."
I concur. It's all that and more. The Ring of Fire has a taste that comes roaring out of the bun and into your mouth. It's spicy, but with a name like "Ring of Fire" what would you expect? It's also delicious. I was expecting something a little greasy. It's not. If you want to try it, visit on March 30, which is National Hot Chicken Day. They'll be serving them at both locations.
---
Take a trip to the Barbecue Triangle in Central Virginia
---
I will definitely be back to try some of their other sandwiches. These are not the sandwiches that you're going to find at your typical chain sub shop. Jon says they serve a true, old-fashioned club sandwich. It consists of thick-cut roasted turkey breast, cheddar, swiss, lettuce, tomato, onion, sliced avocado, cilantro-lime hummus, and then triple-stacked on toasted white sandwich bread.
He adds, "We try to go over the top" in meeting guests' expectations. For instance, the chicken parm offers the crispy chicken, provolone, and homemade marinara. But then they insert some fried mozzarella sticks in the foot-long sub roll.
These are sandwiches that I used to enjoy when I was, well, when I was truly a fat kid. Speaking of some of the other things I used to enjoy, you'll also find tater tots, fried mac-and-cheese bites, and jalapeño poppers.
You can enjoy at either Fat Kid locations or order online for delivery. They also offer catering. Fat Kid is not a franchise, but I could easily envision seeing Fat Kids all over the USA one day. That gives me a rather warm and fuzzy feeling.