Barbecue Road Trip in Central Virginia
| March 3rd, 2022
Beware the Barbecue Triangle, but not the Devil's Triangle in Richmond
---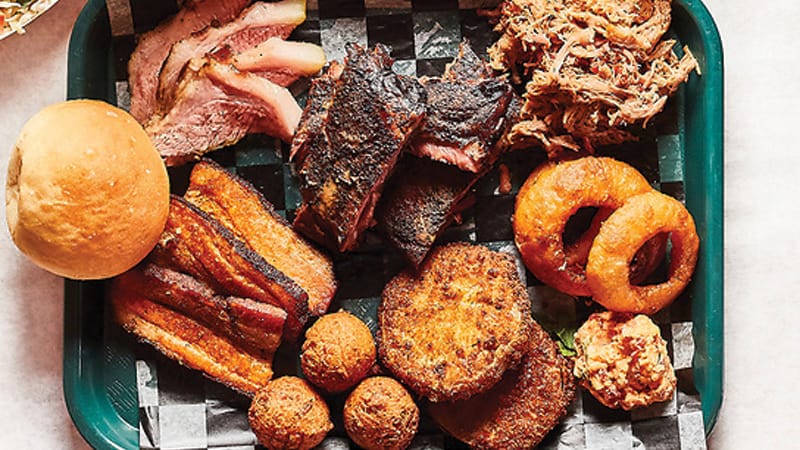 Richmond-based food and travel writer Steve Cook takes us on a Central Virginia barbecue road trip, to three of his favorite spots in the "Barbecue Triangle," and then to Happy Hour in Richmond's Devil's Triangle.
---
Much like that area in the North Atlantic where ships and planes have been known to mysteriously disappear, there is a triangle that runs from Richmond's West End to Gordonsville in Louisa County and down to Ashland. The biggest difference is that there's little mystery as to why one might disappear into this triangle. Those who return generally do so with smiling faces and satisfied stomachs. I am, of course, talking about the renowned Barbecue Triangle.
Just as what happens to those who've disappeared in the Bermuda Triangle is a much-debated topic, the subject of who has the best barbecue is a hot, somewhat smoky, topic, which I'm not going to allow myself to be sucked in to.
I always hate those "Best of" guides. Who has the best of anything and what makes it the best is so subjective. There are some publications that fall into that trap (often connecting their superlatives with advertising money). But, really, before one can make the statement that so-and-so has the best donuts or the best hush puppies, or, yes, the best barbecue in the state, to be fair, that person would've had to try every place that offered those items.
With that said, I'm not going to proclaim that these three spots that make up the Barbecue Triangle have the best barbecue, but, rather, these are three of my favorite barbecue destinations in Central Virginia. You may have your favorite, and, if so, please share.
Central Virginia barbecue
To begin my daring foray into the Barbecue Triangle, I'll start close to my home.
Jadean's Smokin' Six O BBQ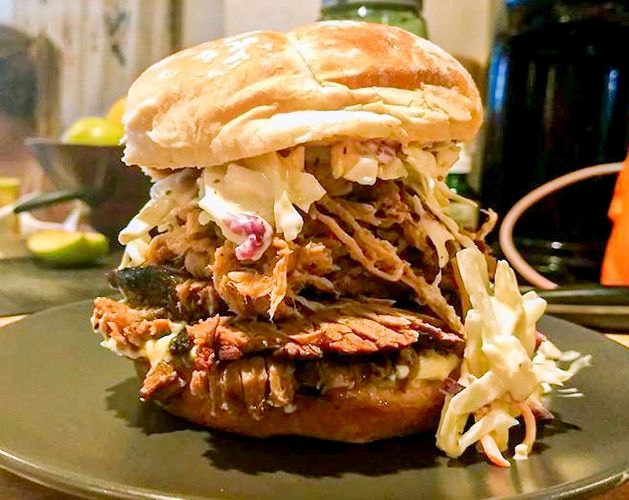 When I hear the names Jan and Dean, I think of the early '60s surf-music duo. However, if you were to say "Janet and Dean," my mind would immediately think of one of the city's greatest barbecue duos, Janet Chamberlayne and Dean Cijek. Dean is the pit master in this duo. He's been in the restaurant game for about half a century. When he and Janet, his partner (in much more than just business), started a food truck back in the days when Richmond had hardly heard of food trucks, Dean demonstrated his brilliance by giving Janet top billing in the name.
A couple of years ago, the couple decided to go brick and mortar and opened their restaurant where the old Alexander's Barbecue had operated for years. They opened Jadean's Barbecue Restaurant 11 days before virtually all restaurants shut down due to Covid.
Having weathered that storm, Jadean's is open for business and serving exceptional smoked pork, ribs, and brisket. On my first visit, I was almost lifted from the parking lot and transported on air into the restaurant in much the way that the pleasant aroma of food would carry Bugs Bunny to the source of that aroma. I wish I could have taken a picture of that smoked meat smell. I would share it with you, right here.
Dean says the secret to the deliciousness of his smoked meats is that he uses very little hickory. "Hickory is too strong and too smoky. Too much smoke chases away the flavor of the meat," he says. Instead, he mainly relies on cherrywood and applewood, both of which he grows on his farm in Midlothian. While I'm no expert, I definitely could taste a milder, sweeter smoked flavor in my pulled pork.
Dean serves all his meats naked. "We don't sauce anything, but we do offer several award-winning sauces that we make ourselves." I sampled each sauce. All created an excellent complement to the meat.
As for the sides, my favorite would be the collard greens. To be perfectly honest, I'm not a fan of macaroni and cheese or baked beans, but Janet tells me, "The smoked macaroni and cheese and the bourbon baked beans are the most popular." And if you still have memories of Bill's Barbecue, I will tell you that Janet makes some killer pies, such as banana cream, apple, and coconut. And Jadeans also sells limeades. What more could a man ask for?
Jadean's Smokin' Six O BBQ – 1126 Westbriar Dr., Richmond
Moving westward, as I venture deeper into the Barbecue Triangle, after about an hour's drive, I arrive in Gordonsville and …
The Barbecue Exchange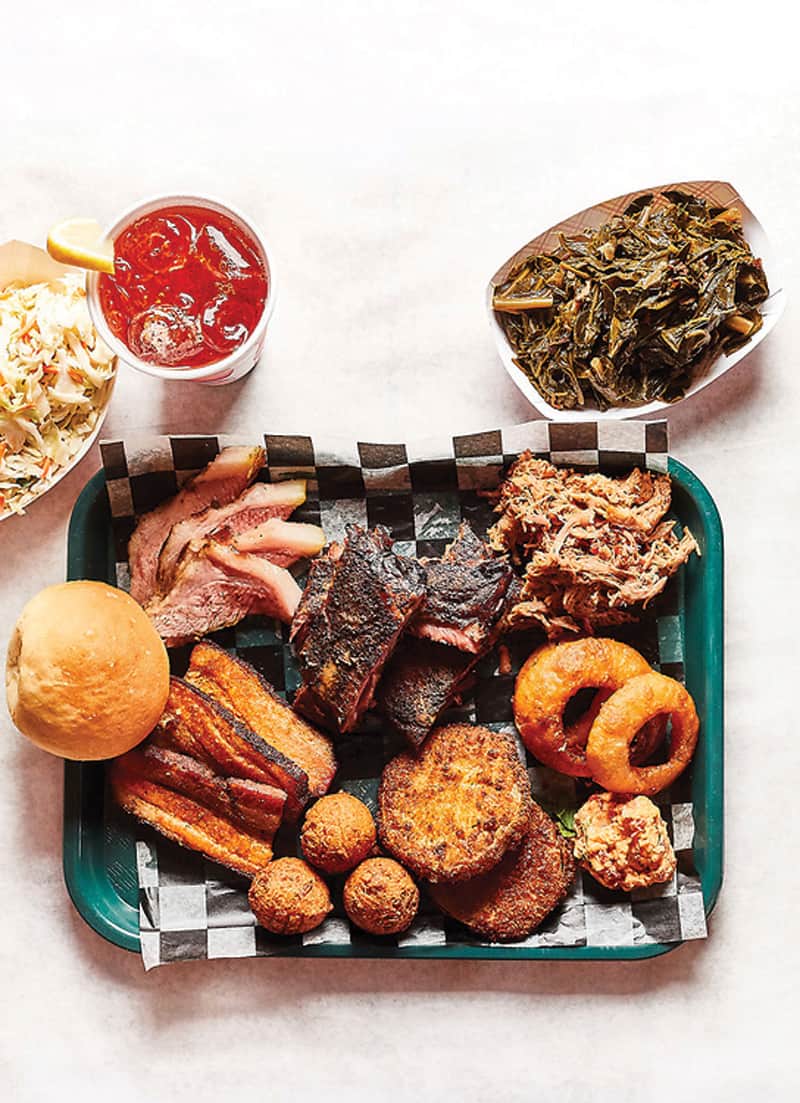 I have passed the Barbecue Exchange on many occasions as I travel westward on Route 33, but that's all I had done … pass it. Recently, after hearing several others tell me how much they love the barbecue, I decided to actually stop and go in and feast on some very good, dare I say, great, barbecue.
The food coming out of the kitchen offers the same aroma that you'll often find at one of those roadside barbecue stands. Now that I mention it, you don't see such stands like you used to. At the Barbecue Exchange, chicken halves are cooked over live coals. The slow-roasted pork shoulders and the spare ribs are dry cured with what they call their "secret-ingredient" rub. It all produces an excellent line-up of barbecued meats, which are served cafeteria style along with such sides as collard greens and mac and cheese.
We opted for their create-your-own salad bar. You choose from a wide range of salad items, which the staff puts together for you. I mention this because I think it was one of the freshest, most delicious salads, topped with their homemade dressing, that I've had in quite a while.
---
Pitmaster Craig Hartman of the Gordonsville BBQ Exchange 
---
The Barbecue Exchange also has their own sauces, including a sweet sauce, a hot sauce, and, of course, a Carolina vinegar-based sauce.
As for the meats, my personal favorite was the pulled chicken. It had a rich, slightly sweet (even without the sauce), smoky flavor. My wife especially loved the very smoky brisket. She says she was impressed with the freshness of everything we tried.
We had been told that the cupcakes were excellent. The restaurant offers a variety of desserts, and my wife chose the faux Hostess cupcake. It was well named and does taste much like the real thing. However, after downing all that meat, cupcakes, to me, are overkill.
The Barbecue Exchange – 102 Martinsburg Ave., Gordonsville
If you're trying to enter and escape the Barbecue Triangle in one day, I wouldn't advise it, but for the sake of our imaginary journey, head east on Route 33 and then cross over to Route 54 in Montpelier. From there, you're just a hop, skip, and a jump to Ashland, the last stop on our adventure.
The Salty Pig at the Sleepy Fox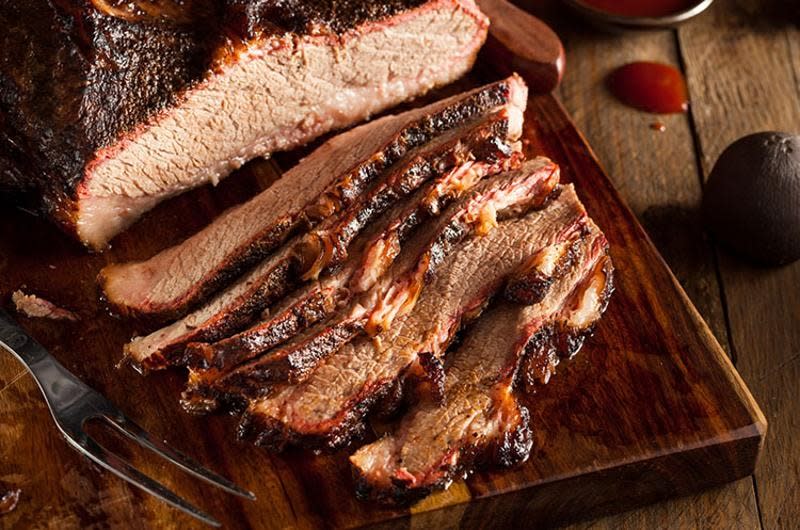 So, what do you get when you cross a moonshine distillery with an exceptional barbecue restaurant? The answer is simple, although it's somewhat of a mouthful: The Salty Pig at the Sleepy Fox. It almost sounds like one of Aesop's Fables, but what I'm about to tell you is the truth, the whole truth.
This unique dining spot, which sits just north of Route 54 on Route 1 in Ashland, is the joint effort of Mike Robeson, who runs the Salty Pig Smokehouse in Mechanicsville, and Mike and Michele Layne, owners of the Sleepy Fox Distillery. The Laynes first opened their distillery adjacent to their Layne's Country store, which they operated off Lewistown Road, south of Ashland. They closed that operation and moved to the North Washington address about two years ago, again, just before Covid, which put a big dent in their new distillery/deli.
After going through a transition period, the Laynes hooked up with Mike Robeson and have given us something for which the world has long clamored: barbecue and bourbon. Yes, in addition to very tasty flavored moonshines, they also produce a 93-proof straight bourbon, as well as their long-aged, single-barrel 110-proof Ole' Fox. Their bourbon is very smooth, but, having grown up in Franklin County, Virginia, I'm a corn guy. And I have to admit that I do love their cinnamon and their apple-flavored shines.
Now, let's talk about the barbecue. Mike Robeson has taken his original smoker and moved it to the new Ashland location. In fact, he tells me that he's in the process of closing down the Mechanicsville operation so he can concentrate on the Ashland restaurant, which is continuing to find new customers as more folks begin to discover it. So, good news for the regulars at the original location, if you're accustomed to the flavorful pulled pork, brisket, or smoked chicken and turkey that you've enjoyed in Mechanicsville, be prepared to enjoy that same great taste in Ashland.
Mike R. tells me that he smokes both his pork and brisket from 12 to 14 hours. The pork is then shredded with his popular Eastern Carolina vinegar sauce added in. The brisket is prepared with a three-spice rub.
I'm a wing man myself, and the Salty Pig is speaking my language when it comes to their chicken wings. Mike R. says he smokes the wings first, then cools them down and fries them to order. This gives the wings both a smokiness and a crispiness. He finishes them off with his own sauce.
I always like to know about the sides, and he says his favorite is their cheesy potatoes. "My dad came up with this recipe years back," he says. "The dish is made with breakfast potatoes with cheese and half-and-half mixed in. But then, we add a four-cheese blend to the mix. It's super cheesy."
Mike R. says that part of the transition to Ashland will include expanding the kitchen so that, ultimately, all the dishes that you've enjoyed in Mechanicsville will be available in Ashland, including some smoked seafood. It sounds like the third leg of my triangle is getting even better.
The Salty Pig at the Sleepy Fox – 250 N. Washington Hwy., Ashland
Well, from here, you're on your own. However, if you would like to share your favorite barbecue joints, drop us a line to WhatsBooming@BoomerMagazine.com. I'm adventurous enough to try out any suggestions.
---
Happy Hour of the Week
With visions of triangles dancing in my head, my mind wandered to an excellent little restaurant I discovered a few weeks ago in the Devil's Triangle. Did you know that there is a neighborhood in the Museum District known as the Devil's Triangle? I'm told that the origin of the name has to do with the fact that in days gone by, in a less-gentle era, this was a neighborhood where fights would often break out in the bars.
Well, there are still bars and restaurants, but today, the neighborhood is tamer. In fact, I've always found it both safe and friendly. The restaurant waltzing in my head is Izzy's Kitchen at 2901 Park Ave., which gets its name from Izzy or Isabella, the daughter of owners Joe and Sharon Carter.
This is a cool, little spot with limited seating, but with unlimited friendly customer service and delicious fare. It also has a very nice Happy Hour, which runs from Tuesday through Friday from 2 until 6 p.m.
Drinks
House shrub cocktail & house tonic – $5
House wines by the glass – $4
Rails – $3
Beers – $1 off
Food
When you buy the Europe Board (capicola, prosciutto, salami, and pepperoni, with selected cheeses from Europe with accoutrements and grilled baguette), you get any appetizer at half off. Appetizers include fantastic meatballs in marinara, pimento dip, and a tasty hummus platter.
I've heard only great things about Izzy's and my experience there was wonderful. Give 'em a try.
---
CAPTION OF TOP IMAGE: Barbecue tray from Gordonsville's Barbecue Exchange with onion rings, hush puppies, pork.