HHHunt Communities VP, Avid Community Volunteer
| September 30th, 2016
---
In her professional life as senior vice president of HHHunt Communities, Kim Kacani literally helps build neighborhoods. "She has played a role in creating community for over 8,500 households," says Melissa Devenny. "Her direct efforts have created nearly 3,000 housing opportunities," including at Twin Hickory, Wyndham and Charter Colony. As co-manager of HHHunt's real estate development division, she is a "Boomer and Shaker" in a male-dominated industry.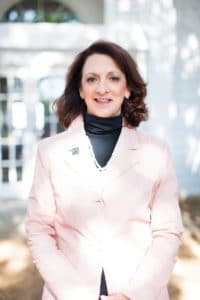 Community also plays a big role when it comes to her volunteerism. Kacani, 54, sits on a number of boards, including a gubernatorial appointment to the Virginia Common Community Interest Board overseeing homeowner associations. She's also vice president of the One Voice Chorus, an interracial community chorus that works toward healing and reconciliation. With a nod to her own personal family situations, she also volunteers with C2Adopt, serving as an advocate for adoptive parents, birth mothers and their children (she and her husband have an adopted daughter) and with Donate Life and UNOS, which raise awareness for organ donations (her husband, Patrick, became a living organ donor in 2012).
WHAT'S YOUR PHILOSOPHY FOR LIFE?
First and foremost, know that life isn't fair. While some would say, "Deal with it," I say, "Accept it." Then you can move forward. My philosophy? Be kind, be accountable and love each other.
WHY DO YOU THINK IT'S SO IMPORTANT TO WORK TO MAKE A DIFFERENCE IN THE COMMUNITY?
If you feel invested in your community and want it to grow and excel, you have to support and defend it. We all have a responsibility to one another and our community.
WHAT'S YOUR PROUDEST ACHIEVEMENT?
At a management retreat, I made a suggestion that we look into adoption benefits for employees who choose to build a family through the miracle of adoption. A year later, HHHunt introduced a new benefit for adoption and for the past two years has been recognized as one of the top 100 best adoption-friendly workplaces in America.
ON HER INVOLVEMENT WITH ONE VOICE CHORUS:
Music has always been a part of my life. When you are born Lutheran, I think you come out of the womb singing! Martin Luther said music is second only to the word. I agree with whoever said singing is like praying twice! We're always working on our next concert, which will be in March, our spirituals concert. Y'all come!
WHO HAS INSPIRED YOU?
I've always known my husband, Patrick, to be an amazing and kind man, but he inspired me even more so when he helped save the life of his friend, Matt, who was dying of a rare liver disease. The fact that Patrick was a match was a miracle in and of itself. His courage and complete confidence and lack of any hesitation blew me away. His whole attitude was, "You don't let your friend die." He put his faith into action.
WHAT'S SOMETHING ABOUT YOU THAT PEOPLE WOULD BE SURPRISED TO KNOW?
I was once the sports radio personality, "The Tailgate Lady," on SportsRadio 910. I reported tailgate weather for Virginia college football teams and provided helpful and fun tailgate tips.