In My Chair: by Eva DeVirgilis
| March 4th, 2019
Scratching the surface of women's issues
---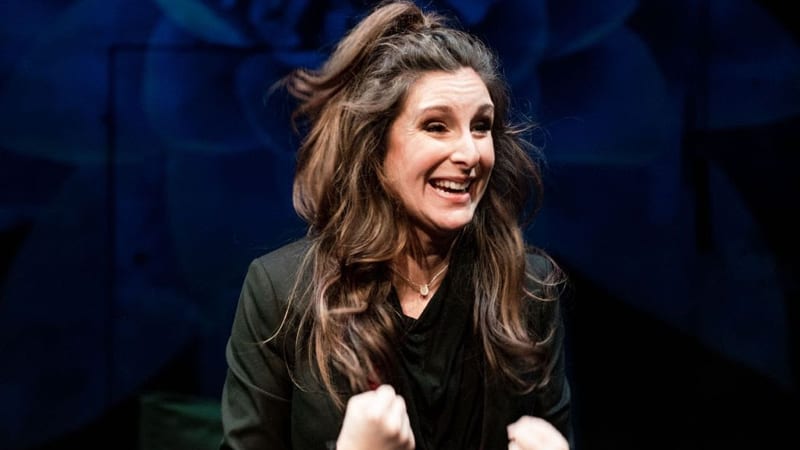 The contradiction is inherent: a makeup professional questions society's emphasis on beauty while continuing to make women feel more beautiful through the application of makeup.
In the Cadence Theatre production of In My Chair, Eva DeVirgilis presents her personal beliefs on women's struggles with beauty and identity. In an entertaining, thought-provoking, 90-minute monologue, DeVirgilis addresses many important issues. Why do women overuse the word "sorry"? How have women's issues changed over the past several decades? How do cultures around the world view these issues? Are some of these differences more or less valid than ours? She identifies her alter ego, whom she dubs "Norma," that second self that many of us as women can recognize: the one who casts doubt on every positive, self-affirming thought we venture to have about ourselves.
The one-woman show is lively and captivating. DeVirgilis makes herself vulnerable by exposing her insecurities and engages with the audience, responding and ad-libbing to further pull us in to her message.
The story behind the show, as told in the show, is inspiring. DeVirgilis was working behind the makeup counter at Saks Fifth Avenue in New York, having moved out of a painful relationship that temporarily removed her from her love for her acting career, when approached about pitching a TEDx Talk on makeup and self-image. She pitched, she presented, and she traveled around the world to meet women who responded to her message.
And this is the story and message in In My Chair.
Hers is an important voice, a powerful voice. Yet for those women whose years and experiences have taken them further, In My Chair can seem to merely scratch the surface. How much skepticism about beauty can we accept from a slim, beautiful actress and makeup artist? How far can we progress by simply telling each other, "We support you"?
DeVirgilis begs us to accept ourselves as we are, to never apologize, while continuing to put women in her chair for makeovers. She acknowledges that some may not buy her continued acceptance of making ourselves up for skin-deep beauty, but she still begs us to accept ourselves as we are.
And yet 90 minutes is hardly enough to cover all of the issues that women face. Books have been written about the problems, by authors that DeVirgilis acknowledges, such as Betty Friedan and Naomi Wolf. So young women can experience In My Chair to perhaps become more self-aware and aware of the issues that surround them. Men can open themselves up to better empathize with their mothers, sisters, wives, daughters and friends.
And those of us who've been around the block a few times? We can nod, perhaps learn, and maybe even contribute some additional nuggets of wisdom to the women around us. And we can look forward to Eva DeVirgilis' next one-woman show, when she looks back at life with the experience of a few more decades.
---
In My Chair, through March 31
World Premiere, written and performed by Eva DeVirgilis
Direction by Lisa Rothe
Part of Richmond's Acts of Faith Festival: theactsoffaith.org
Co-produced by Virginia Rep and Cadence Theatre Company at Theatre Gym