Johnny's Greek Chicken
| January 5th, 2022
An Alabama favorite that features old-world flavors in a wholly American way
---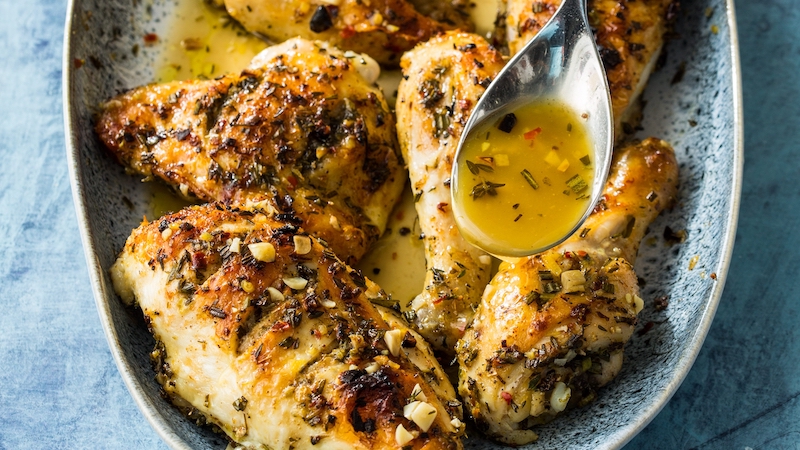 The editors at America's Test Kitchen have re-created Johnny's Greek Chicken, a favorite of customers at Johnny's Restaurant in Homewood, Alabama. Easy enough to make at home – until you can make it to Johnny's.
---
Johnny's Restaurant in Homewood, Alabama, is known far and wide for its Greek baked chicken, a super flavorful dish of marinated and roasted chicken with tons of herbs and lemon – a reflection of the chef's Greek heritage and Alabama upbringing. Once our editors tried the dish on a recipe-research trip, we knew we had to create a version of Johnny's Greek chicken that home cooks could make whenever they couldn't get the real thing.
Our first order of business was determining which herbs to use in the marinade. After experimenting with fresh herbs, dried herbs, and even dried herb blends, we found the best balance with fresh thyme, fresh rosemary, and dried oregano (which packs a more pungent punch than fresh). Rather than finely mince the fresh herbs, we opted to simply chop them; we found that with slightly larger pieces, the bursts of flavor were more pronounced and exciting.
To make sure the marinade penetrated past the surface of the chicken, we cut 1/2-inch-deep slashes in each piece. And to achieve the lovely browning we remembered from the chicken at Johnny's, we roasted our chicken at a relatively hot 425 degrees and gave it a blast of heat from the broiler at the end of cooking. As the chicken cooked, the marinade and the chicken juices transformed into a deeply flavorful pan sauce.
Served with the pan sauce spooned over top, this simple yet flavorful supper is a great addition to your recipe repertoire – until you can make it to Alabama, of course.
Johnny's Greek Chicken
Serves 4
1/4 cup extra-virgin olive oil
2 tablespoons chopped fresh rosemary
2 tablespoons chopped fresh thyme
5 garlic cloves, chopped
6 (3-inch) strips lemon zest, chopped, plus 1 tablespoon juice
1 tablespoon kosher salt
1 1/2 teaspoons dried oregano
1 teaspoon ground coriander
1/2 teaspoon red pepper flakes
1/2 teaspoon pepper
3 pounds bone-in chicken pieces (2 split breasts, 2 drumsticks, 2 thighs and 2 wings, wingtips discarded)
Combine oil, rosemary, thyme, garlic, lemon zest, salt, oregano, coriander, pepper flakes, and pepper in a large bowl. Cut three 1/2-inch-deep slits in the skin side of each chicken breast, two 1/2-inch-deep slits in the skin side of each thigh and two 1/2-inch-deep slits in each drumstick; leave the wings whole. Transfer chicken to the bowl with the marinade and turn to thoroughly coat, making sure the marinade gets into the slits. Cover and refrigerate for at least 30 minutes or up to 2 hours.
Adjust the oven rack 6 inches from the broiler element and heat the oven to 425 degrees. Place chicken, skin side up, in a 12-inch oven-safe skillet. Using a rubber spatula, scrape any remaining marinade from the bowl over the chicken. Roast until breasts register 160 degrees and drumsticks/thighs register 175 degrees, 30 to 35 minutes.
Remove the skillet from the oven and spoon pan juices over the top of the chicken to wet the skin. Heat the broiler. Broil chicken until the skin is lightly browned, about 3 minutes, rotating the skillet as necessary for even browning. Let the chicken rest in the skillet for 10 minutes. Transfer chicken to a shallow platter. Stir lemon juice into the pan juices, then spoon over chicken. Serve.
Recipe notes
Use a vegetable peeler to remove six strips of zest from the lemon. If you have a rasp-style grater and prefer to use it to zest the lemon, you will need about 1 tablespoon of zest.
Make sure to use kosher salt here; we developed this recipe using Diamond Crystal Kosher Salt.
---
Relaxation reigns on the Greek isle of Hydra
Grilled Chicken Parmesan recipe from Hilton Head Health
---
For 25 years, home cooks have relied on America's Test Kitchen for rigorously tested recipes developed by professional test cooks and vetted by 60,000 at-home recipe testers. The family of brands – which includes Cook's Illustrated, Cook's Country, and America's Test Kitchen Kids – offers reliable recipes for cooks of all ages and skill levels. See more online at www.americastestkitchen.com/TCA.
© 2021 America's Test Kitchen. Distributed by Tribune Content Agency, LLC.
CAPTION OF IMAGE ABOVE: As the chicken cooked, the marinade and the chicken juices transformed into a deeply flavorful pan sauce. CREDIT: Keller + Keller.