Kuba Kuba: So Nice, They Named It Twice
| February 3rd, 2022
A taste of paella and empanadillas from the long-time Richmond favorite restaurant
---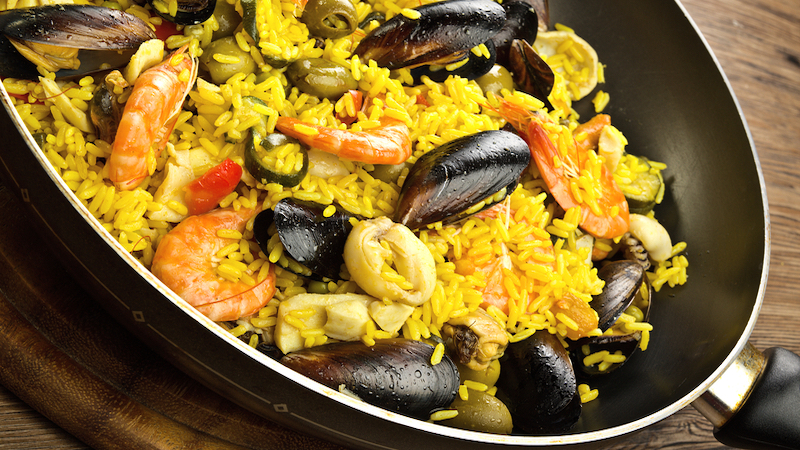 Richmond food and travel writer Steve Cook has a hankering for paella and heads over to Kuba Kuba Dos, the sister restaurant to the original Kuba Kuba, which has been a staple in the historic "Fan" district of Richmond, Virginia, since 1998. Both restaurants serve home-style dishes inspired by chef Manny Mendez's Cuban heritage.
---
Whenever my friends and I get together (mostly virtually, these days), the subject of best Richmond restaurants comes up. So, the other day, I asked if any of them knew of a good Spanish restaurant in Richmond. No one did, actually. These friends are mainly 45+ West Enders. I don't mind hanging around West Enders from time to time. One of those in the group made the comment, "I think you have to go to Hull Street to find one."
That comment harkened me back to days of yore when folks on the north side of the river spoke of Southside Richmond as a distant land that they'd learned about in school, but had never actually ever seen. I'm more adventurous, so one day I'm going in search for that magical land that holds a true Spanish restaurant. If any of you have any recommendations, please share with me at WhatsBooming@BoomerMagazine.com.
However, one of my friends quickly turned the conversation to good Latin American restaurants and he suggested that Kuba Kuba was exceptional. I had been there, but not recently. The friend went on to say that they served the best paella that he has ever had, anywhere.
So, even though Kuba Kuba is not a true Spanish restaurant, paella is definitely a Spanish dish, being especially revered in Valencia.
Even though I've only had the dish once or twice in my life, I couldn't get the desire for paella out of my head, so this week, I paid a visit to Kuba Kuba Dos in the Tuckahoe Shopping Center (403 N. Ridge Road). I've been to that West End location as well as the Kuba Kuba in the Fan (1601 Park Ave.), and they're both excellent. But I just had to try that paella.
Kuba Kuba and empanadillas
With visions of paella dancing in my head, I went in. Although the bar was crowded, I found a seat in the corner (where I like it) and asked for a menu. Since I was alone, my intention was to order the paella mariscos to go. This is a seafood version of the Spanish rice dish, served with clams, mussels, and shrimp. They also serve a vegetarian paella filled with avocado, artichoke hearts, roasted red peppers, tomatoes, potatoes, peas, and spinach.
However, I'm so anxious to taste some of chef/co-owner Manny Mendez's delightful Cuban cuisine, I decide to order the beef empanadillas while I wait. Foodwise, this may be one of the best decisions I've ever made.
These turnovers, cooked to perfection and stuffed with beef picadillo, were amazing; and while I use that word frequently, I don't use it loosely. The appetizer features two large pastries, which at $6.95 is a real deal. I was tempted to place a second order, but since I was going to be taking the paella home for dinner, I figured that might be a bit piggish. If you ever take a word of advice from me, please try this dish.
The much-anticipated Kuba Kuba paella
After a short wait, my paella arrived. Even through the thick grocery bag in which it was wrapped, I could feel the heat emanating from the container. I was getting excited. I almost had to ask for help getting my order to the car. It was that big.
Finally, at home, I unwrapped my treasure. It came in a huge aluminum container, and looked like it could serve four or five people. My wife and I feasted on the paella and still put enough in the refrigerator to feed us a couple more times.
Paella is really a simple dish, mainly prepared with Spanish rice, peas, and saffron. The real treat is in the seafood, which was delicious. The shrimp were especially tasty. Since I'm not a huge fan of paella, I can't really compare it with other restaurants. However, take my friend Shawn's advice, if you do love the dish. Kuba Kuba's is excellent excellent.
Eggs all day
The nice thing about the restaurant is that there is such a varied menu and if you're in a breakfast mood, regardless of the time of day, there is a large variety of huevos dishes, from the simple Eggs & Kuban toast to the Huevos Ranchos, which features two eggs any style served over red beans and Kuba bread. It's all topped with Monterey jack cheese, enchilada sauce, and a sour cream drizzle and served with cornbread, as many dishes in the place are.
The West End version of Kuba Kuba also offers a large bar with a lively crowd. While I was waiting, the bar emptied out and almost immediately filled back up again. There was a large group of lovely 50-something ladies who came in and were ordering Tito and soda with a spritz of lime. They ordered so professionally (if one can do that), I assume they're regulars.
Yes Virginia, there is a Happy Hour
Since I'm always about a Happy Hour, I found out that Kuba Kuba Dos has one that runs from 11 a.m. until 6 p.m. Tuesday through Friday. Because the Fan location has a smaller bar, they only offer beer and wine. So the Happy Hour info below applies only to Kuba Kuba Dos.
Beer, 23-ounce pours (in a special Happy Hour glass) – pint-sized prices.
Wine, select wines – $3 off
Highballs – $5
Bottom line, the food is delicious. The portions are extremely generous and the atmosphere is fun and very laid back. Personally, I'm going back for more empanadillas.