Little Angela's Ristorante
| May 12th, 2022
Try it, you'll love it
---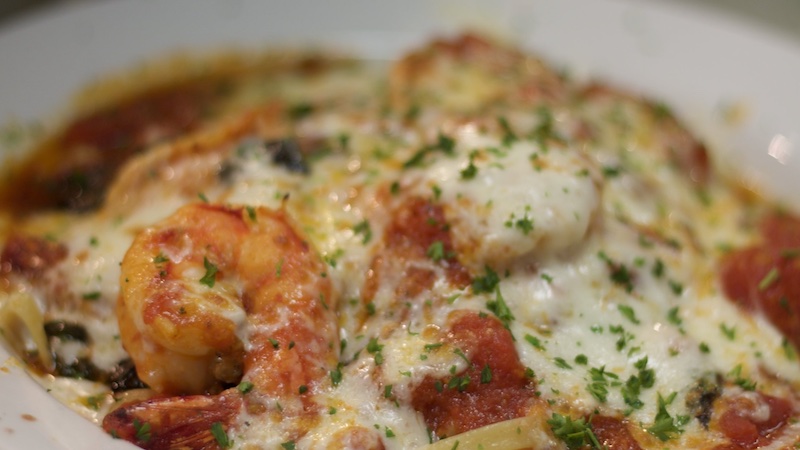 Food and travel writer Steve Cook – thanks to his daughter – stumbles upon Little Angela's Ristorante in the west end of Richmond, VA, nondescript from the outside but worthy of plenty of tasty descriptors inside.
---
I don't know if it would be fair to call Little Angela's Ristorante in the Shoppes at Crossridge (10246 Staples Mill Road) a hidden gem. It sits right there on Staples Mill Road, right beside a big public Publix, but for whatever reason, I've never eaten there. Perhaps I misjudged it. Perhaps I assumed because it sat in a rather nondescript shopping center, the food and the service would not be to my liking. When I go out to eat, I want it to be a special occasion. As inflation soars and my fixed income becomes more broken, I become even more insistent that if I'm going to spend my money on a meal out, I want to be treated as if I'm appreciated. I'm not a prima donna, but I do want good service.
And not all restaurants are created equal when it comes to food or service. Richmonders raved for many years about one intown Italian place that prided itself on offering miserable service. I was not a fan.
Anyway, the other night, my daughter decided to try Little Angela's. It was just her and her 10-year-old son having a mother/son night out. However, when she called me while sampling her appetizer and started raving about the most amazing food, I had to go give it a try.
Because she was also taking dinner home for the rest of her family, she ordered a few extra items, which, for research purposes only, I was forced to try. Wow! Now, if I can get someone to force me to go back. Everything was exceptional, including the professional and friendly demeanor of our server, Tiffany.
Little Angela's Ristorante: her-story history
First of all, let me give you the backstory. Little Angela's is owned and operated by Michael Palazzotto, a native of Palermo, Sicily, who opened his original Angela's at 425 N. Ridge Road Ristorante & Pizzeria back in 1984.
In 2015 Michael and his son (also Michael) opened Little Angela's. The son, who operates the Staples Mill operation and serves as the executive chef, says he began working in his father's kitchen at Angela's when he was about 10 years old.
Obviously, I haven't tried everything on what appears to be a very varied and creative menu, but I can tell you that everything I sampled was superb. For starters, my daughter ordered the Chef Michael's Seafood Appetizer, which features mussels, shrimp, and baby clams in white wine sauce. It certainly lived up to her hype, which had sent me scurrying for a taste.
For her meal, she chose the filet, shrimp, and crab, which is served in a champagne cream sauce over a choice of spinach or asparagus. She proclaimed the cream sauce to be the most amazing thing she had ever tasted. Chef Michael describes it as "an Alfredo sauce with a touch of Champagne, garlic, heavy cream, and parmesan cheese. The menu lists several dishes that come with the sauce.
My daughter's only complaint, and it really wasn't a complaint, is that the filet may have been cooked a little too much for her. She likes her steak extra rare, as do I. However, she said everything was so good and the service was so attentive, she didn't want to say anything about that minor matter.
My 10-year-old grandson ordered the Sunset Salmon, which the menu describes as "salmon poached in a saffron broth with diced tomatoes, onions, and crab meat over spinach and capellini cooked to perfection." Since he had his choice of having the salmon poached or seared, he chose seared.
I would have been a little leery because, in my years of eating salmon, I find that no one does it quite as well as my wife. Most people tend to overcook it. However, according to my daughter, the salmon was "super moist and crispy," just as the menu had promised it would be.
My grandson's assessment of the dish was: "If I were having my last meal, I'd want it to be this."
My daughter also ordered the spaghetti and meatballs to take home. Again, I just had to try it. I have to admit, my tastes are much simpler than the rest of my family. I tend to forego the specialties and stick with the staples. Spaghetti and lasagna are my two favorite dishes. This spaghetti was very good, especially the meatballs, which Michael says he makes personally.
Everything we tried was delightful. I'm just sorry I didn't have room for the pizza. It looked delectable. Little Angela's Ristorante is an unpretentious little place, sitting in an equally unpretentious strip shopping center, but check it out. You may be surprised to discover this is one of Metro Richmond's best spots for fine Italian cuisine.
---
The virtues of Italian food, as experienced by travel writer Rick Steves, in Verona, Italy