Live Music with a Side of Comfort
| July 27th, 2016
Some RVA venues cater to more mature tastes in music consumption.
---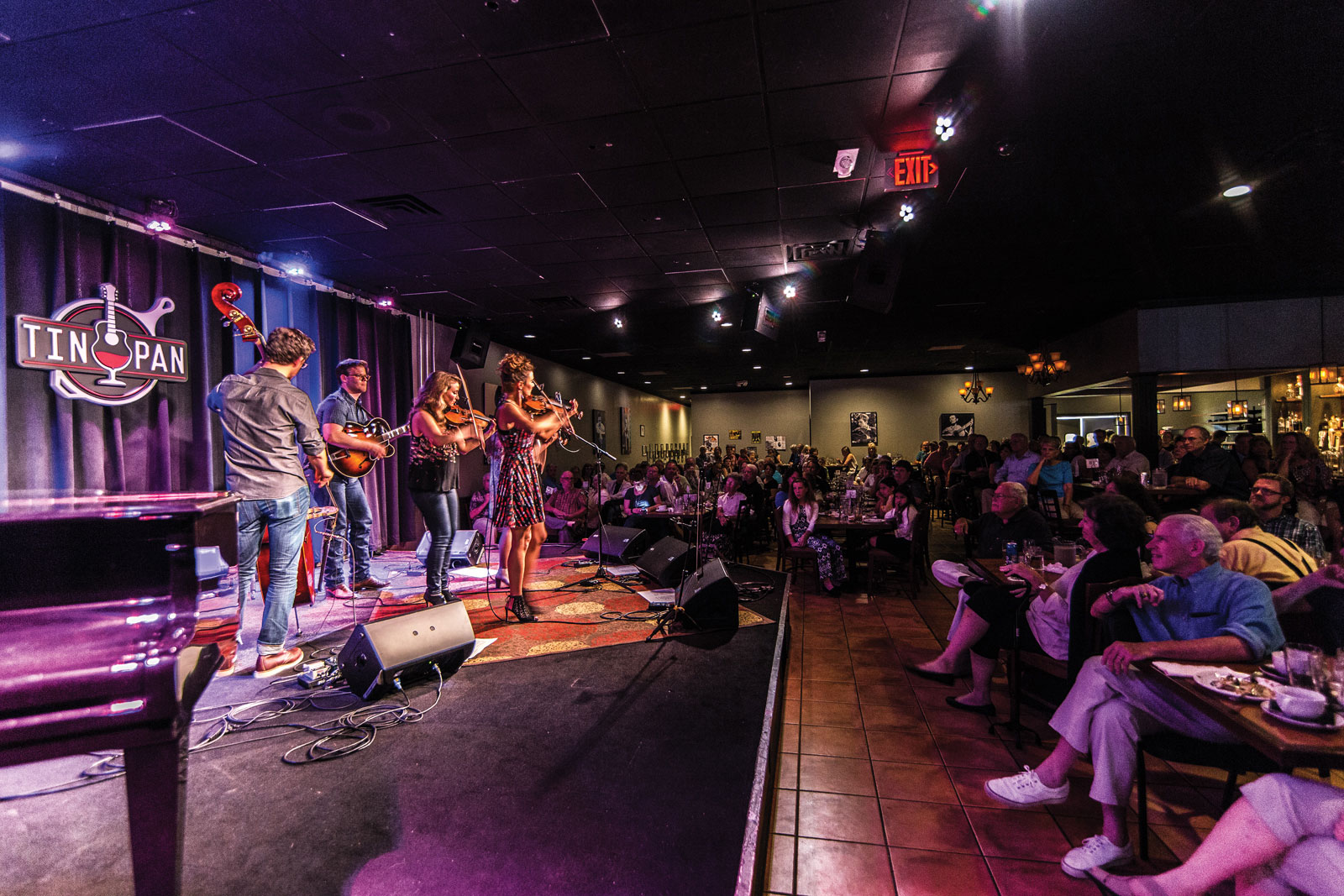 In our teens and 20s, most of us would gladly pack ourselves like sweaty sardines into a concert hall, bar or outdoor venue – and eat a bag of chips for dinner – just to hear our favorite bands perform. Fast forward a few decades and, while our pulses still race when we hear the first whine of the mic and that monotone "check, check," we are a bit more selective about the "how's" and "where's" of our live music experience.
Luckily, several venues in RVA are happily obliging our more mature tastes in music consumption.
SUPPER CLUB
Before co-owners Lisa Harrison and Kevin Liu opened The Tin Pan in early 2015, their vision for their new venture was "a supper club with live music." After customers had a good dinner and chatted with friends – maybe even made some new ones seated together at four-tops – they would see a national-level show, the kind they might normally see in a big concert hall … but up close and personal.
This triple threat of great music, great food and a guaranteed seat (220 of them) has garnered The Tin Pan, located in the West End, a large and loyal following of boomers. On some days you might find an up-and-coming singer/songwriter or a local artist on stage, but Liu says that the supper club has invested in "top-tier sound equipment and sound guys" to bring in an increasing number of national acts like Spyro Gyra and Don McLean. For some shows, you can even get up and dance.
Plus, the food, like the Bourbon Whiskey Shrimp appetizer and the specialty cocktails (Liu actually wrote a book on the subject) are just as exceptional as the music. One bit of advice: The Tin Pan gives priority seating to those who book earliest and dine with them (although having dinner is not required to get a seat).
SINGING A NEW TUNE
One of the pioneers of this type of "sit back and soak in the music" experience in the Richmond area is Ashland Coffee & Tea. The venue has long been known for its "listening room," which meant there were absolutely no distractions to the music. Recently Ashland Coffee & Tea changed ownership, and with this change came an end to its ultra-quiet, almost reverent listening environment.
"It's still about the music and bringing in good acts that people can see, hear and appreciate," says the new owner, Gian Pimpinella. The intimate venue, which accommodates 150 seated customers, is now simply loosening up on the rules, which he says ruffled some feathers over the years.
While the new management has retained the genres, like folk and bluegrass, which have endeared them to many longtime patrons, Ashland Coffee & Tea's range of music has expanded to appeal to a wider variety of music lovers. The menu is also simpler, with lighter, healthier options. But you can still enjoy wine, beer or a cocktail, in addition to coffee and tea. Pimpinella has also spruced up the place with some new furniture and a fresh coat of paint.
GETTING IN ON THE ACT
Some nights, you may not be satisfied with simply soaking in the music and prefer to help feed the band's energy with your own. Capital Ale House Music Hall, which is part of the downtown location, prides itself in "breaking down the 'fourth wall' between artist and audience," says Audrey Finney, marketing and Music Hall manager.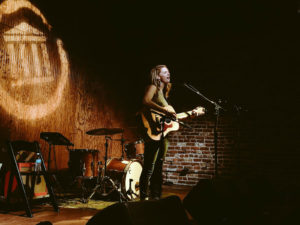 Most shows, which range from national acts like the Gin Blossoms and Kiefer Sutherland to local and emerging artists at the monthly Folk Friday, are seated; however, for select rock shows, the Music Hall clears the floor to accommodate a standing audience of up to 300 people. When you're ready for a bite or a drink, you'll have an extensive list of beers, along with a full bar, and everything from the standout burgers to crowd favorite, the giant Bavarian pretzel, to choose from. Don't forget the side of pimiento cheese!
Also in the city, The Broadberry delivers this same brand of engagement with big-name acts like The Nighthawks and Cracker.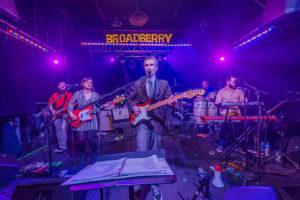 It's primarily standing-room-only, but if you call ahead,you can sometimes reserve one of the approximately 70 seats. For shows more suited to a large, seated venue, owner Lucas Fritz partners with Capital Ale House Music Hall to present them.
Smaller sister to The Broadberry and just down Broad Street, The Camel is a bar on one side with the band on the other (the sound is good on both sides). Although it tends to attract a younger crowd than The Broadberry, you'll often find people of all ages in the audience, thanks to its diverse lineup of local and emerging artists. The Camel accommodates 250 to The Broadberry's 450 and offers seating for about 100 on both sides of the establishment.
To please customers' palates while entertaining them, the pair of venues take typical "bar food" up a notch with menu options like Sausage Stars, featuring a green and black olive tapenade, at The Camel and Chicken & Waffle Fries with a bourbon maple syrup glaze at The Broadberry. And each offers a full bar, including a good beer selection with some local craft brewery favorites.
ART ACCOMPANIED BY MUSIC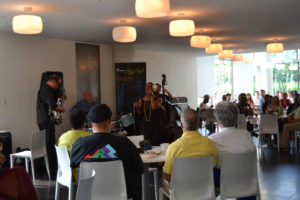 While VMFA in the Museum District has hosted live music programming for decades, nowadays the museum packs the Best Café every Thursday night for the free Dominion Jazz Café, presented in partnership with the Richmond Jazz Society. The Café has plenty of tables where you can sit and listen as well as dine on sandwiches, soups, salads, pizza, beer and wine from the full Café menu, plus a weekly dinner special, all served cafeteria-style. But the staff also leaves space for you to get up and dance when the mood strikes.
On the other side of town, the Cultural Arts Center at Glen Allen offers a listening and dining experience. Enjoy dinner from DeFazio's Catering at both the 2nd Stage concert series – with music ranging from bluegrass to big band – as well as select Center Season shows, which include a mix of music, theater and more. All Center Season shows have reserved seating; 2nd Stage performances are general admission, but you can pay a small surcharge for priority seating. Beer and wine are available.
BEER AND BANDS
You'll often find the tunes flowing as freely as the libations at the craft breweries and cideries in town. And you can count on the music these venues serve up in their tasting rooms or outdoor spaces, mostly free of charge, to be as diverse as the styles and flavors of the beverages they're pouring. "We have a variety of music including bluegrass, jazz, rock, folk, funk, swing and honky-tonk," says Cheyenne Burnham, community relations director at Strangeways Brewing. "Most bands are local, but we have had bands from all over the East Coast come through as well."
Only a handful of breweries serve food, but there's a revolving door of Richmond food trucks, offering everything from gnocchi and pasta to hoagies and tacos, to satisfy beer drinkers' appetites.
"If you don't want the food truck offerings, many welcome and encourage you to bring your own food. I have also seen people have food delivered to them," says Sandi Burner. She and her husband, Matt, especially love Midnight Brewery, where their dogs can tag along, as is the case at most breweries with outdoor spaces.
There's also plenty of seating at most breweries, but you can typically bring your own chairs in case they pack the house or patio. Not all breweries offer music consistently throughout the year, so check the calendar on their websites and Facebook pages before you plan your afternoon or evening.
FIND YOUR MUSICAL HAPPY PLACE
Ashland Coffee and Tea, 100 N. Railroad Ave., Ashland | (804) 798-1702
The Broadberry, 2729 W. Broad St., Richmond | (804) 353-1888
The Camel, 1621 W. Broad St., Richmond | (804) 353-4901
Capital Ale House Music Hall, 623 E. Main St., Richmond | (804) 780-2537
Cultural Arts Center at Glen Allen, 2880 Mountain Rd., Glen Allen | (804) 261-2787
The Tin Pan, 8982 Quioccasin Rd., Richmond | (804) 447-8189
Virginia Museum of Fine Arts, Best Café, 200 N. Boulevard, Richmond | (804) 340-1400