Local Volunteer Feeds the Homeless
| September 30th, 2016
---
Thomas Green, 69, has been overseeing Richmond Friends of the Homeless daily lunch service in Gilpin Court for 15 years, says Shawnee Hansen, who founded the charitable group. Mary Jane Hansen, also a volunteer with Richmond Friends of the Homeless, calls him "guardian angel Thomas … a commanding presence and a gentle soul." Volunteer Pam Woltz notes, "He keeps the program running smoothly. I always look forward to his smile, which is a reflection of his huge heart. He is there out of love for the people and not out of duty."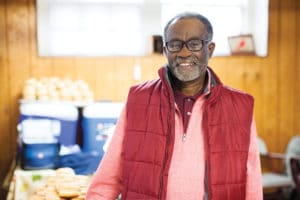 Green greets guests, welcomes volunteers, directs cleanup and is in charge of security. This Vietnam veteran says, "I work with almost everything. I make sure everyone is safe while feeding." He's been called a wonderful liaison between the community, its needs and the volunteer efforts, and a great role model and father figure for the young boys who come in for lunch, offering advice, guidance and friendship.
A fellow volunteer points out Green's joy of interacting with the hungry and homeless; greeting and praying with them at the door of his church and also encouraging youth and offering sage advice. Another says, "It is an honor for me to serve alongside of him."
Along with being a dedicated and well-respected volunteer, Green is also a deacon at Greater Mt. Moriah Baptist Church and president of the Veteran Mentorship Ministry and is retired Air Force and Army and Richmond Deputy Sheriff.
WHAT'S YOUR PASSION?
My passion is to help children to do things, take them places, show things that they may not get at school or home; also to help veterans who have lost his or her way.
IS THERE SOMETHING YOU'RE WORKING ON NOW?
Trying to start up a drill team in the Gilpin community, to teach leadership and discipline.
WHAT ADVICE WOULD YOU GIVE YOUR YOUNGER SELF?
Keep pushing. Don't give up ever.
IF YOU COULD HAVE A CONVERSATION WITH ANYONE PAST OR PRESENT, WHO WOULD IT BE AND WHY?
The President of the United States, Barack Obama, for inspiration.
WHAT DOES SUCCESS MEAN TO YOU?
Finishing things that you start.
WHAT'S YOUR PROUDEST ACHIEVEMENT?
Retiring from the military.
WHAT'S YOUR FAVORITE ADVICE TO PASS ALONG FOR ACHIEVING SUCCESS OR HAPPINESS?
If I can help someone along the way, then my life is not in vain.