Lots of Tots at Sticky Rice
| December 1st, 2022
A surprising food pairing at this Fan favorite restaurant
---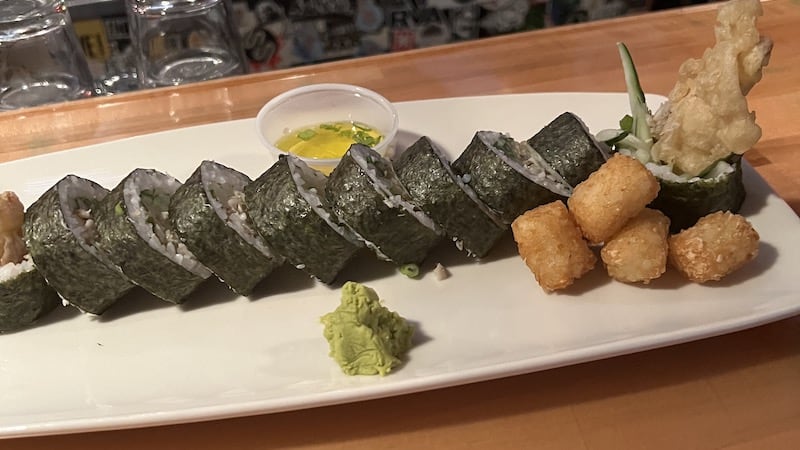 Richmond food and travel writer Steve Cook takes us to Sticky Rice in Richmond's Fan District for a surprising food pairing.
---
So, I was reading Greg Schwem's column here at BoomerMagazine.com last week and it got me to thinking. If you haven't read it, perhaps you need to go back and take a look. He was heralding the beauty of Tater Tots. In the column he claimed that these delicious little greasy morsels pair well with everything.
Well, he's right and there's probably no place in Richmond or anywhere else on earth, for that matter, where you can better prove that argument than Sticky Rice Restaurant at 2232 W. Main St. in the Fan.
"You don't ever think of Tater Tots going with sushi unless you think of Sticky Rice," bartender Brendan Hamilton told me. He's right. In fact as soon as I read Greg Scwhem's column, I knew a visit to Sticky Rice was in my future.
I used to love ordering a refreshing adult beverage and a huge bucket of Tots at Sticky Rice. But then the lockdown came along and my habits changed. I haven't been to this cool little hangout since about 2 B.C. (before Covid). But thanks to Greg Schwem, I returned this week. My mind was filled with trepidation. Do they still have the Tots, I wondered. Do they still serve them in those big buckets brimming with golden-fried bits of potato dipped in oil? With oil prices soaring, I wondered even if they did, indeed, still serve 'em, how costly might it be.
As I pulled up in front of the restaurant, a beautiful sign sitting out front on the sidewalk quickly addressed all my concerns. It read "Happy Hour 4 to 7 p.m. Tater Tots half price."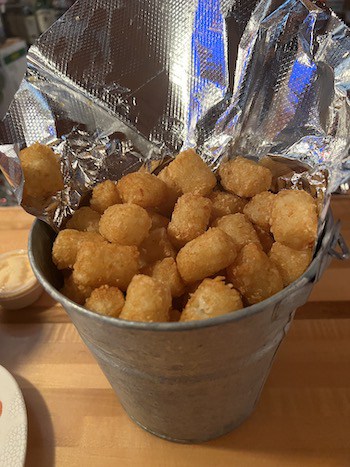 With a huge smile plastered on my Tot-loving face, I parked and hurried in. The place hasn't changed a bit. The sushi counter is on the left and the bar was right in front of me. I pulled up a stool, sat down, and announced that I was there for the half-priced Tater Tots.
Now, let me make a confession. I had enjoyed the Tater Tots but had never ordered the sushi. Today was going to be different. I had to prove to myself that Tots do go with everything. Today, they were going to go with sushi.
I perused the menu. In the past, I was mainly there for the Taters. The menu is interesting. With a nod to a more health-conscious public, Sticky Rice offers the plant-based Beyond Burger with "tourgashi and our vegan miso dijonaise." I really don't know what those things are. But I will promise you that whenever I'm feeling the need for a healthy meal, I'll try that out, along with my very healthy Tater Tots.
However, I was interested in a Tater Tot and sushi pairing. The menu features some delicious-sounding bowls, as well as maki, nigiri, and sashimi. I barely gave those items a glance. My eyes came to rest on the column that read "Monster Rolls." Yes, a monster roll. That's what I wanted. I was tempted to go for the Godzilla, which is described as offering "Large crunchy shrimp, avocado, cream cheese, spicy sauce and cucumbers with tempura crunches." It sounded fantastic, but then I saw a roll that I don't believe I've ever tried before. The name –"Drawn 'n' Buttered" – sounded interesting. Well, let me tell you that it was not only interesting, it was wonderful. This is a sushi roll filled with crab meat. There are two crunchy tempura-like shrimp that come with it. But, here's the kicker – it's served with a side of hot, melted garlic butter. I don't think I've ever had butter with my sushi, but this was very tasty. I didn't even go for the wasabi and soy – just me, my crab, my butter, and, oh yes, my Tater Tots.
Greg Schwem is right.
Of course, as I had already proved on past visits that the Tots also go well with wine, which is just five bucks a glass during the daily 4 to 7 p.m. Happy Hour. And in case you're wondering, that huge bucket of Tater Tots, which normally sells for $10, is just $5 during Happy Hour. That's enough Tots to feed a family of four. If you just want a taste of Tots, you can get a side order for $4. Besides the $5 wine, there are also some very reasonably priced Happy Hour drink deals.
If you are a Tater Tot lover, as am I, you need to pay a visit. However, even if you despise Tots, there are plenty of reasons to visit Sticky Rice. I'm told the Tuesday night Karaoke packs 'em in. I don't need an excuse. I'm definitely heading back for another bucket of what Greg Schwem calls "The World's Most Perfect Food."
Sticky Rice Restaurant
ILoveStickyRice.com 
2232 W. Main St., Richmond, VA
---
Steve Cook has lived in the Richmond area for most of his life, working as a writer and editor and in marketing and radio. He loves to keep abreast of the local restaurant scene and researches the subject voraciously. "I used to think I was a foodie," he says, "but then I realized I just like to eat a lot." He once co-hosted a local Richmond restaurant radio program with BOOMER editor Annie Tobey. Steve completed his first novel in 2017 and says he hopes to read another one this year.
Dig in to more restaurants and other recommendations from Steve Cook