Doing It Family Style at Maggiano's Little Italy
| June 1st, 2023
Go with an appetite – a really big appetite
---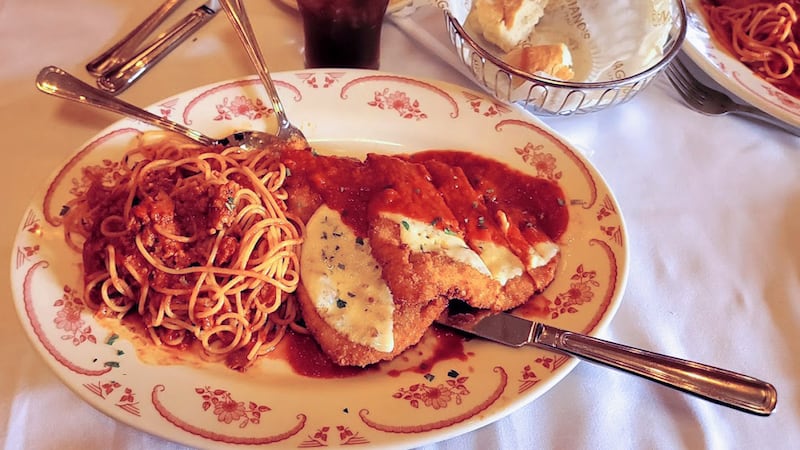 Never try to chain food and travel writer Steve Cook to one kind of restaurant. His review of Maggiano's family style dining proves he's willing to eat outside of the box.
---
I have to admit that when it comes to chain restaurants, I tend to be a bit snobbish. I guess through the years in visiting with local restaurant folks, I've developed a certain affinity for the moms and pops of the world; you know, the folks who pour their whole souls and hearts into their business. It makes for a great story and often makes for a great meal.
I never did fit into the corporate world. True, when I worked for Capital One years ago, I was voted Most Mediocre Employee of the Year for three years in a row. I still display those plaques proudly.
But truth be told, it's hard to go into a big corporate-run restaurant and have a nice sit-down with the owners. I do, however, like to think I'm a fair guy. So, when I chance upon what I consider a very good meal and an even greater deal, it would be unfair not to tell you about it.
The other night, I went with my wife, my daughter, her husband, and four of their kids to Maggiano's Little Italy in the Short Pump Town Center.
Generally, when I want Italian, there are a few local favorites that I frequent. However, my daughter's family tend to favor the more plasticized restaurants. I just coined that term. I hope you get the picture. I also hope you don't show her this article.
But I have to tell you, Maggiano's offers a fantastic Family Style deal that's hard to beat when it comes to sheer quantity of food. And, yes, the quality was, in my opinion, very high, too. I thoroughly enjoyed my meal. And this Family Style thing is fantastic. It's like if you went to a fantastic Italian-style Golden Corral and instead of you having to get up, they kept bringing the food to you. And the food was good, much of it, very good.
Now, it's a bit pricey, but when you consider that I spent $7 for a small McDonald's hamburger, fries, and a drink the other day, the $35.99 per person ($9.99 for 5- to 12-year-olds) was not all that extravagant.
You start off with a salad. Actually, you get both a Caesar Salad and Maggiano's Salad. Both were very good. The produce was fresh and tasty. The dressings were excellent. I had about three helpings. But if you empty the big Family-Style bowl, just ask for more. That goes for anything on the Family Style menu, based upon your choices.
After the salads come the starters. Choose two from the seven options. We opted for the Calamari Fritté and the Balsamic Tomato Bruschetta. The calamari was very good, lightly breaded and fried perfectly. The meat was tender enough and tasty. The bruschetta was exceptional. I wish I had taken the time to eat more of that. It was that good.
Other starter options include garlic bread. But why bother with that? Maggiano's will keep bringing you their sliced Italian bread and, if you ask them real nice, real butter patties. Not only could I have made a meal off of the bread, I almost did. By the time I got the salad, I'd eaten four slices of bread. Service wasn't slow, but when you have four beautifully mannered children at the table, things can take longer. For these four, considerably longer.
Anyway, the bread was fantastic. Other starter options include Italian meatballs and stuffed mushrooms. You can check out the Maggiano's family style menu at Maggianos.com.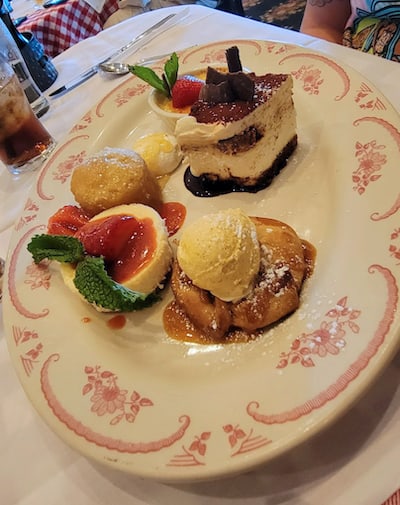 Before I get to the main course options, I'll admit, I filled up so much on the bread and salad and bruschetta and, oh yeah, the calamari, that I didn't really take the time to linger over the rest of the meal. I was stuffed.
However, our choices included the Salmon Lemon & Herb. I don't usually order salmon because I'm very picky about how it's cooked. But this salmon was done perfectly, not overcooked at all. And the lemon and herb blended for a delicious taste.
The chicken parm was another well-chosen choice. It was lightly battered and the chicken was excellent. In all honesty, the sauce was a little too tomatoey for me, but I just scraped a bit of it off. We also ordered the spaghetti, which looked good, but I was too stuffed to even try it. I did have a meatball and it was excellent. You could actually taste the ground beef, so the breading must have been minimal.
You get four selections from the main dishes and, again, if you want a refill, just say, "Please."
Now, you're probably thinking with all that food, there couldn't possibly be dessert. Stop thinking that. There is dessert. They brought out two plates (there were eight of us, after all) of a selection of mini desserts. There was tiramisu (very good) and cheesecake (also tasty) and a few others. But my favorite, which I kept going back to even though I was stuffed, was GiGi's Buttercake.
I didn't get the name of the dessert, so I called Maggiano's and spoke with Collin, one of the managers. And, while he didn't sound like a mom or a pop, he was very cordial, friendly, and helpful. There was none of that corporate stuffiness at all. So, maybe I've been too quick to judge. Maybe I should start trying more of the chains. One thing for sure, next time I can work up a hefty appetite, I'm going back to Maggiano's.
Maggiano's Little Italy at Short Pump Town Center  
11800 West Broad St., #2204, Richmond, Virginia
---
Steve Cook has lived in the Richmond area for most of his life, working as a writer and editor and in marketing and radio. He loves to keep abreast of the local restaurant scene and researches the subject voraciously. "I used to think I was a foodie," he says, "but then I realized I just like to eat a lot." He once co-hosted a local Richmond restaurant radio program with BOOMER editor Annie Tobey. Steve completed his first novel in 2017 and says he hopes to read another one this year.