Mama Cucina Italian Restaurant
| March 10th, 2022
For an out-of-the-ordinary experience
---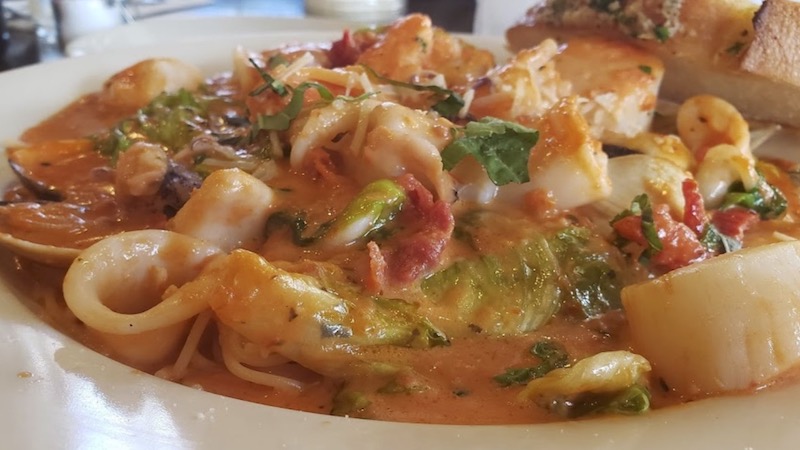 Richmond food and travel writer Steve Cook takes us to Mama Cucina Italian restaurant, introducing us to some of its best traits, including the rigatoni rosa, seafood sauteed combination, fried mozzarella, Mozzarella Cucina, and friendly, familiar service.
---
Although it pains me a great deal, I have a confession to make. I can sometimes be a snob. Let me explain. I'm always on the lookout for a great restaurant, but, on occasion, I tend to turn my nose up at restaurants that are nestled in the heart of a strip shopping center.
But a couple of years ago, we had some family visiting from out of town and staying at the Marriot Hotel in Innsbrook. Everyone wanted to go out to eat at a nearby restaurant, and I reluctantly agreed to try Mama Cucina Italian Restaurant at 4028 Cox Road in the Innsbrook Shoppes. I didn't plan to enjoy it, but I'd be the good guy. I'd go and even pretend I liked it. We didn't bother to make reservations. After all, this was a little shopping center restaurant. No one would be there, I reasoned.
We walked in and I was shocked. The place was packed. Servers were scurrying to and fro carrying trays of Italian dishes that both looked and smelled delicious.
To my surprise, I was greeted by an old restaurant friend of mine, Joseph Palumbo. I had first met Joseph years ago when he was running the front of the house at a restaurant that I had enjoyed but for a number of reasons had closed down. I had lost touch with Joseph through the years and was very happy to see him at Mama Cucina.
Even though the place was packed, Joseph found us a table in short order. When it comes to treating customers-guests in the manner that they desire and deserve, Joseph gets it. That may be why he and Mama Cucina's owner Nick Panos make such a great team.
As for the food, about which I was not very excited going in, I have to admit that I was way off base. There was no crow on the menu, but I had to eat some that night. Mama Cucina was everything one could hope for in a fine Italian restaurant and so much more.
Nick opened Mama Cucina 10 years ago. I guess I had just been ignoring it for all those years. Those were wasted years when I could have been enjoying some of the finest Italian fare in the entire Metro area.
A little Mama Cucina backstory
Nick grew up in the restaurant business. His parents owned and operated several restaurants in the city, including one of my long-time favorites, the original Crazy Greek. Today, his sister runs the fantastic Greek Taverna in the same location, on Staples Mill Road just south of Broad Street, where the Crazy Greek had sat for many years.
He describes Mama Cucina as offering an energetic, bustling atmosphere. That is indeed the truth. However, despite the bustle, the atmosphere is casual, warm, and welcoming. When I go out to eat, I want it to be a special occasion. A night out in a nice restaurant should be something beyond the ordinary. "Beyond the ordinary" is the ordinary at Mama Cucina.
Nick says the menu is very unique. Again, he is spot on. "Everything is made to order, it's fresh," he says. "We offer items that you can't find elsewhere in town."
All you need do is peruse the online menu and discover some amazing dishes.
The rigatoni rosa is one of their top sellers. It's a chicken and sausage dish served with a pink sauce and topped with mozzarella. Nick says that the seafood sauteed combination is one of the favorites of local TV anchorman Curt Autry. "He often posts pictures of our food on his Facebook page."
The dish features shrimp, clams, calamari, escarole, and sun-dried tomatoes in a light pink sauce with capellini pasta.
For an appetizer, he suggests either the shrimp prosciutto or the homemade fried mozzarella.
One of my absolute favorites, which I've discovered on subsequent visits, is the Mozzarella Cucina, with fresh mozzarella, prosciutto, sun-dried tomatoes, and artichoke hearts with a slice of fresh tomato. Everything including the mozzarella is fresh and delicious.
If you've been overlooking Mama Cucina, I suggest you look over the menu and pay 'em a visit.
---
Happy Hour at the Grille at Magnolia Green
Spring is in the air and an old man's thoughts may turn to golf, or, in my case, sitting around a cool clubhouse and watching other people play golf. I do like the private clubhouse feel offered at the Grille at Magnolia Green at 7001 Awesome Dr. in Moseley.
Sure, it's a bit of a drive unless you live in the general Brandermill, Woodlake, or Magnolia Green area, but it's a pleasant drive, and your visit is likely to be quite enjoyable.
The clubhouse and grille are very inviting, and the folks at the bar could not be friendlier. Although you may feel as if you're dining in a fine, upscale restaurant, the atmosphere is quite casual and the menu is totally non-intimidating. It features salads, burgers, pizzas, and such entrées as pasta, fish & chips, chicken, and steak.
If you're going primarily for the Happy Hour, you'll also want to check out the excellent variety of starters, which are discounted during that most happy time of the day. Choose from mini salmon cakes or mini chicken & waffles. There's also a cauliflower buffalo dip, which I'm told is very good. However, I have a psychological allergy to anything with the word cauliflower in it. I can tell you that the meatballs are very tasty. Whet your appetite with a look at the menu.
Happy Hour details
Happy Hour – Monday through Friday from 3 to 6 p.m. And it's all quite simple.
Beer, drafts – $2 off
Wine, house by the glass – $2 off
All starters/appetizers – $2 off
On Wednesdays, all bottles of wine are half off all day.
Who knows, you could enjoy the visit so much, you might actually play a little golf. Whatever you do, drink responsibly and be happy.