Meet Bobby Kruger and Brambly Park
| June 9th, 2022
Talk about cool in Richmond, VA
---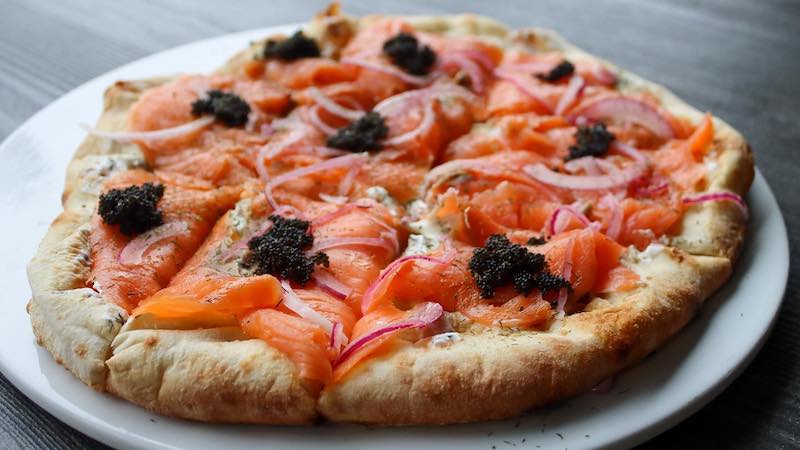 Richmond food and travel writer Steve Cook takes us on a short pilgrimage with restaurateur Bobby Kruger, through his magical restaurant résumé – including Julep's, Belle & James, The HofGarden – to the latest creation, Brambly Park in Scott's Addition.
---
There seems to be no off switch on Richmond restaurateur Bobby Kruger's creative machine. Every time you turn around, he's working with a new idea and generally it involves something delicious to eat or drink – generally both.
I first met Bobby probably 15 years ago or so when he was the head bartender at Julep's New Southern Cuisine. That's when they were down on 18th street in Shockoe Bottom. Although I was not bright enough to fully comprehend what Bobby was experimenting with, in effect he was creating cocktails using gelatin balls or something like that.
What I understood much better was the late-night speakeasy concept he developed for Julep's, complete with a spyhole in the door on the side of the building. I found that rather intriguing.
After that, Bobby headed to New York City to hone his craft, but bartending was only a small part of his ever-growing résumé.
Next time that I saw him, he was GM at Belle & James Restaurant, which was on the ground floor of Kabana Rooftop at 7th and Main streets. Kabana may have been the first rooftop dining spot in the city since the old Top of the Tower (who remembers that?).
Speaking of rooftop dining, Bobby moved on from downtown to Scott's Addition as that neighborhood slowly (then quickly) became the city's adult playground. He helped to create The HofGarden at 2818 W. Broad St., just west of Arthur Ashe Boulevard.
The HofGarden, better known as The Hof, is also a rooftop hot spot patterned after a German biergarten. It's kind of cool to ride down Broad or Arthur Ashe Boulevard at night and look up at the partiers on top of the building. What's even cooler is to visit The Hof, which includes much more than a rooftop. There's even a speakeasy lounge inside.
However, Bobby wasn't done creating cool spots for Richmonders to enjoy delicious food and refreshing adult beverages. His next move was west, but only a few blocks west. Somehow, there were two acres of available land on the western edge of Scott's Addition … the perfect spot for Brambly Park, a park-like oasis tucked away at 1708 Belleville St.
Do you remember the Doublemint twins? They had two, two, two mints in one. Well, Bobby is kind of like the Brambly Park quadruplets. He's divided those two acres into (1) a winery, (2) a restaurant, (3) the park, and (4) an event space. And from my experiences there, they all work well.
My favorite spot in good weather is the Park. Offering outdoor dining as well as lots of live entertainment, the Park features a much simpler menu than the restaurant (more about that in a minute). You can still enjoy a full meal there, though. Generally, I go for the pizza, which is quite good, but you'll also find sandwiches, wraps, tacos, and a variety of meat and cheese platters. The platters pair very well with the wine (more about that in another minute).
The outdoor area welcomes leashed dogs. It also includes outdoor games including bocci, cornhole, and Giant Jenga.
On Saturdays and Sundays, you can enjoy breakfast in the Park until three in the afternoon. As I mentioned, there's lots of live music. Check their website for a full schedule. Most of the entertainment is free; however, on the weekends, Brambly Park After Dark is a ticketed live music performance.
If you prefer a little more sophistication, Brambly Park offers Bari, a casual but upscale restaurant with seating inside and outside on an enclosed patio. Bai's menu features such Italian delights as pork chop saltimbocca (grilled pork loin chops with prosciutto) and black truffle and sweet pea risotto. However, I generally stick to the pastas. I do love a good pasta. The mushroom parpardelle with the sun-dried tomatoes is excellent. The Brambly spaghetti with meatballs is also very good, as are the hand-tossed pizzas. Bari offers a variety of both red and white pizzas.
Given Bobby's early days as a bartender, it's only natural that both Bari and the Park offer a full menu of creative cocktails as well as beer – including a nice selection of local craft beer, cider, and more. And, of course, you can always enjoy a glass of Brambly wine with your meal, or just something to sip on as you sit in the park enjoying the weather, the crowds and the music. But if you're going just for the wine experience, there is also the winery.
You can find a fine variety of red and white wines at the retail store in the winery. I typically opt for their Wilamette Valley Pinot Noir. And if you're into that sort of thing, you might want to consider membership in the wine club. The 3-, 6-, and 12-bottles a month packs are all very reasonably priced and give you an opportunity to sample from their full selection of wines. Membership in the wine club also gets you discounts in the restaurant and invitations to member-only special events.
---
Virginia wine history: creativity and genius make for award-winning wines
---
And that brings us to the fourth spoke in the Brambly Park wheel: special events. If you're planning a wedding, a business meeting, or any special event, check out the venue. There are a variety of indoor and outdoor spaces available. One of the coolest ideas for small groups is the yurt rental. The heated yurts are furnished with lodge-style seating along with accessories to add to the enjoyment for you and up to eight of your friends. You can order from the Bari menu and have your own private server.
There really is something for everyone at Brambly Park. But you better hurry up and check it out before Bobby Kruger moves on to something else.
Brambly Park
1708 Belleville St. Richmond, VA
---
Dig in to more restaurants and other recommendations from Steve Cook