Milk River Arts
| October 19th, 2018
Studio opens doors for artists with developmental disabilities
---
Since he was a child, Albert Costanzo has created art. He never thought of himself as an artist, though, and he never anticipated that anyone would see the work he created. That changed three years ago when he joined Milk River Arts, a neuro-diverse community in Church Hill that supports artists like Costanzo who have developmental disabilities.
Sally Kemp, executive founding director, established Milk River Arts after being inspired by the California nonprofit Creativity Explored, a studio for working artists with developmental disabilities, including long-term problems such as learning disorders and physical restrictions.
However, Kemp was adamant that Milk River Arts not be a program for people with special needs within a larger arts organization. "Then it would always be about disabilities," she says. Instead, she wanted to emulate the Creativity Explored model because, as she explains, "I entered that studio not thinking these were individuals with disabilities. They were artists first."
Kemp visited Creativity Explored several times before figuring out how that model could work in Richmond. After one such visit, she serendipitously ran into her friend and Visual Arts Center colleague, Abernathy Bland. Kemp says that Bland gave her confidence that the organization could work in Richmond. "Her whole spirit is about making connections in the community and uniting people of all abilities," Kemp says. "Abby is an artist who made me believe I could do this."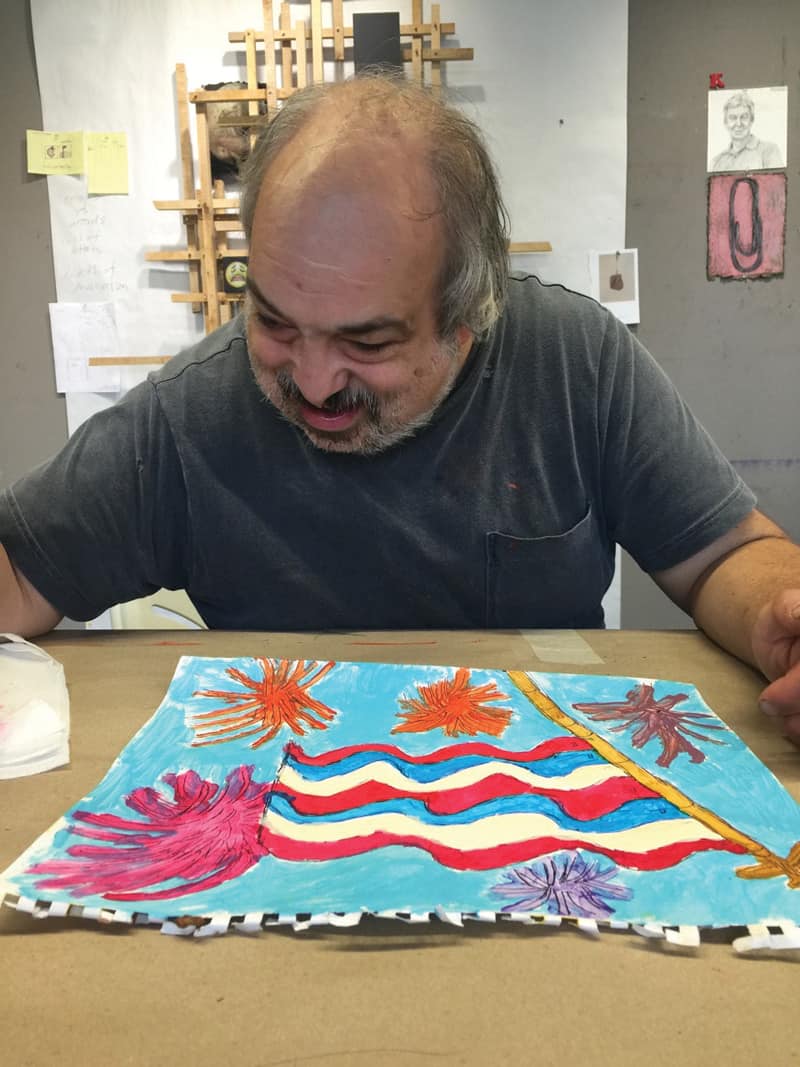 WORKING SIDE BY SIDE
Bland has participated with Milk River Arts from the very beginning as a mentoring artist to Costanzo and other studio artists. The artists come together in a studio space in Church Hill. Because the studio is small, it is used primarily for mentoring and design. Some of the artists create their work there, but others, like glass artist Mark Trezise, create the finished product elsewhere.
The mentors typically guide the participating artists rather than teach them. "We're not really providing art lessons," says Bland, "but lessons sometimes slip in," especially since many of these artists have been making their art without opportunities to participate in classes. Bland strives to provide tips while encouraging the artists to express their unique perspectives. "My job as mentor is to see what the artist has going on, get excited about it and support it," she says.
Milk River artists also participate in workshops in other Richmond art venues, such as the Virginia Museum of Fine Arts and Studio Two Three. Kemp says she doesn't want to take art to the artists' personal spaces, which is what typically happens for adults with special needs. She feels it is important that the artists meet and have workshops at art spaces. "The best artists look at art all the time," says Kemp.
BEING VISIBLE
Like artists all over the world, Milk River artists work part-time or even full-time jobs while producing their art. Costanzo, for instance, commutes to Quantico several times a week for his job washing dishes.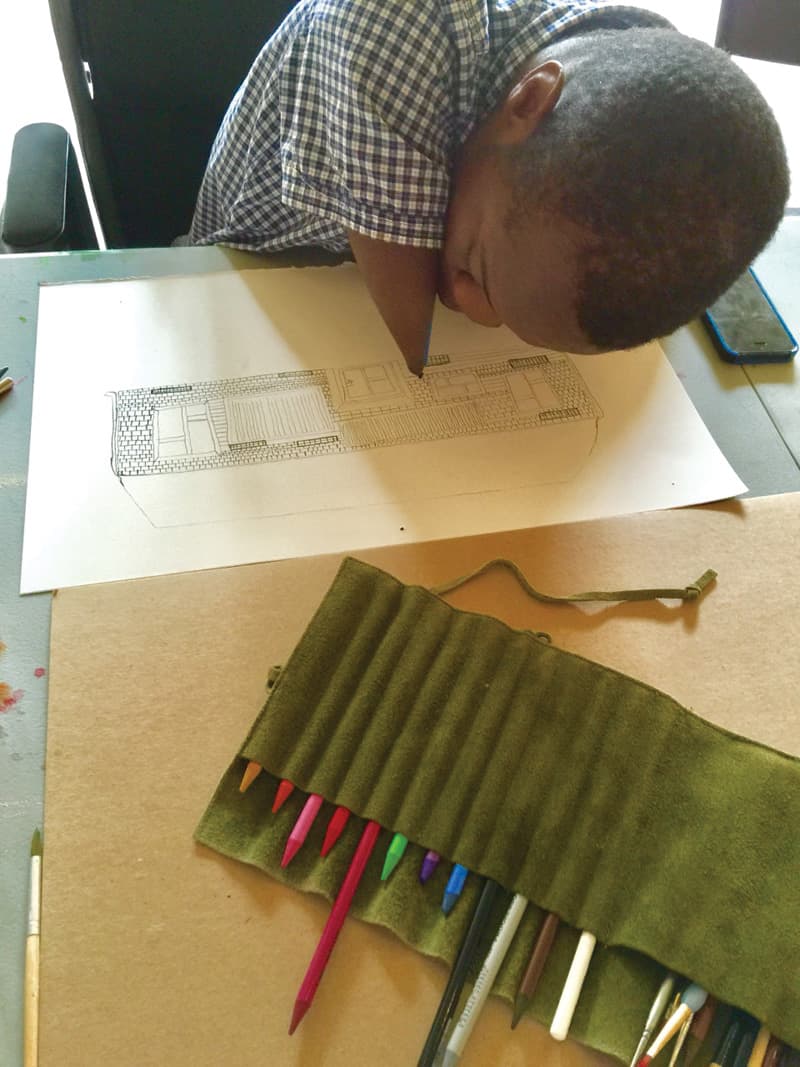 While all of the studio artists do have disabilities, to Kemp and the mentors, they are, first and foremost, artists whose voices deserve to be heard. "Our communities are bigger and better when we enable the unique perspectives of people that think and move differently to shine through," Kemp says.
Mentoring artist and program manager Blythe King agrees. "Their work is so important in the dialogue about contemporary art," she says.
Providing multiple opportunities for artists to exhibit and sell their work is one of Milk River Arts' primary missions. "Having other people respond to their work is so important for them as artists," says King.
"Pentagon Papers," a solo exhibition, showed drawings Costanzo created based on his imagination and his time working at the Pentagon. Another piece was part of a group exhibition at artspace.
Costanzo expresses gratitude that his works are on display. "I never thought my work would be in a gallery," he says. "Sally has opened doors for me. Milk River Arts gives me the opportunity to do more than wash dishes."
---
Catherine Brown studied art history and has worked in several museums, including a brief stint at the Virginia Museum of Fine Arts. She is passionate about sharing stories, connecting with people and celebrating the good in the world. WriteHappy.net