'Mixology and Murder' Chi-Chi Chowchilla Recipe
February 1st, 2022
Paired with the story of the Chowchilla school bus kidnapping
---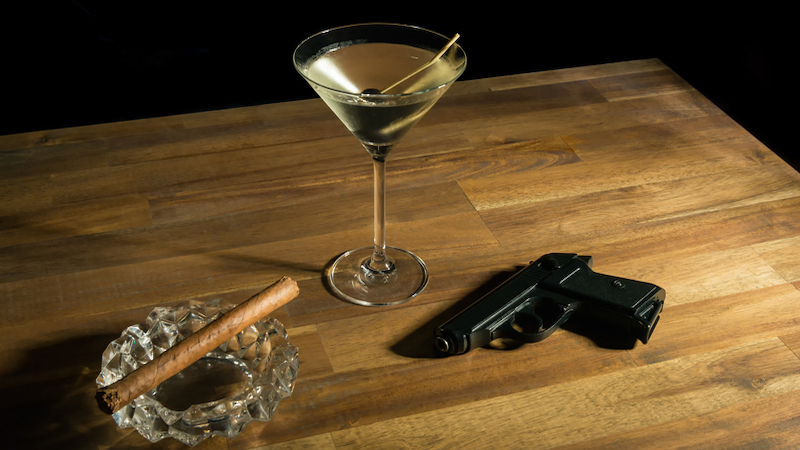 The Chi-Chi Chowchilla cocktail was inspired by a true story of kidnapped school children and their bus driver, who were forced into a bus buried underground in a remote rock quarry. The recipe and the tale appear in a stirring and chilling cocktail recipe book pairs recipes simple enough for the home bartender with anything-but-simple true crimes. Presenting Mixology and Murder: Cocktails inspired by infamous serial killers, cold cases, cults, and other disturbing true crime stories.
As part of our Boomer review of the book, the publisher has given us permission to share three recipes with our readers. Along with the review, we presented Mother Dearest, inspired by a demented killer who inspired Alfred Hitchcock to create Norman Bates in Psycho.
Read, shiver, shake, and sip. Then order up your own book, for many nights of mixing with the darkness.
Excerpted from Mixology and Murder by Kierra Sondereker. Copyright © 2021 Ulysses Press. Reprinted with permission from Ulysses Press. New York, NY. All rights reserved.
CHI-CHI CHOWCHILLA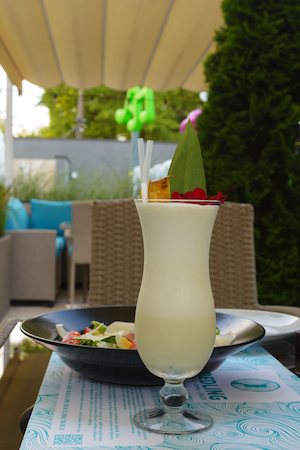 This happy Chi-Chi cocktail, with its bright-yellow color and fun alliteration, pairs well with the story of the Chowchilla Bus Kidnapping – a true crime story with a rare happy ending.
Serves 1
½ cup ice cubes
2 ounces vodka
2 ounces pineapple juice
1 ounce cream of coconut
¼ cup fresh pineapple, cubed
Handful of ice cubes
Fresh pineapple wedge, for garnish
Add the ½ cup ice, vodka, pineapple juice, cream of coconut, and fresh pineapple to a
blender, and blend on high for a few seconds.
Pour the mixture into a highball glass with the handful of ice.
Garnish the rim with the fresh pineapple wedge and serve.
The true crime tale
On a day in July 1976 that seemed like any other, bus driver Ed Ray was taking kids home from school in Chowchilla, California, when three masked men suddenly jumped onboard, brandishing guns, and took control of the bus. The men forced everyone from the bus into two vans and then drove Ray and the students more than 100 miles away to a rock quarry. There, the kidnappers had Ray and the students climb down a ladder through an opening in the roof of a truck trailer that had been buried underground. The trailer contained dirty mattresses, a few jugs of water, and only two air tubes that filtered in some air from above. The kidnappers closed the opening and covered the trailer with dirt, burying the group alive. Then the three men went home to plan out how they would send ransom notes to the victims' families.
After more than 12 hours underground, the situation was growing desperate. Ray and 14-year-old Michael Marshall began stacking the mattresses so they could climb up and push against the door they had come through. Finally, it moved enough that they were able to start digging. Hours later, Marshall and Ray dug their way to the top, and the rest of the captives were able to follow.
Sixteen hours after they had been buried alive, the captives emerged and were able to walk to the nearby guard shack at the quarry to get help. Once police got the students and Ray to safety, they started their hunt for the kidnappers by looking into who had access to the rock quarry. It didn't take long to see that the owner's son, 24-year-old Frederick Woods, had access. Woods also had two friends, brothers James and Richard Schoenfeld, who had criminal records. Police got a warrant to search Woods's house, where they soon found the guns used in the kidnapping and the unsent ransom notes. As it turned out, the kidnappers had been unable to phone in their ransom demands to police because the phone lines had been backed up with calls from parents of the kidnapped children and the media. Richard voluntarily turned himself
in a little over a week after the kidnapping. It took police about two weeks to catch both Frederick and James. All three men were arrested and sentenced to life without parole, a ruling that was later overturned to grant the possibility of parole. Richard was paroled in 2012 and James in 2015. Frederick remains in prison to this day.