'Mixology and Murder': Cocktails You Can't Drink Alone
| January 25th, 2022
With recipes to pair with serial killers, cults, and other true crimes
---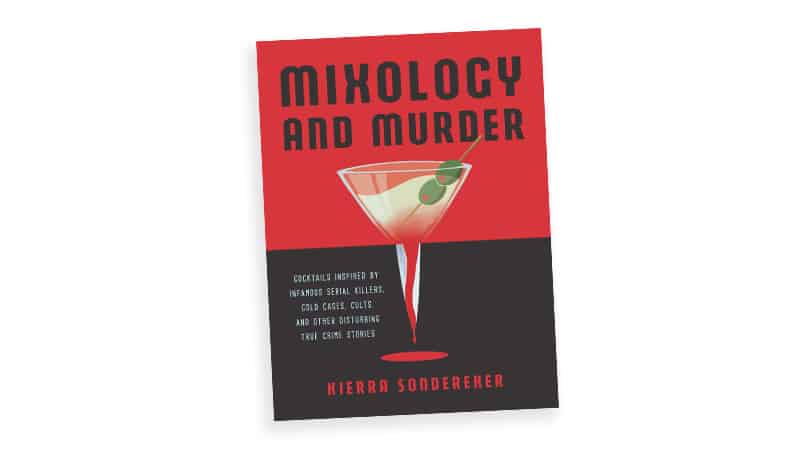 I admit to a penchant for themed cocktail books. When you can pair a great drink with the perfect story, you have a recipe for fun. The latest such mix to come across my desk – and my home bar – is Mixology and Murder. The title clues you in to the book's dark theme, then the subtitle illuminates the darkness further: Cocktails inspired by infamous serial killers, cold cases, cults, and other disturbing true crime stories.
Book 'em – or, an overview of Mixology and Murder
The book begins with a short primer on home bartending, for those who might appreciate a refresher course – basic ingredients, equipment (and substitutes, if you don't have "proper" bartending gear), and glassware. The recipes throughout the book tend to be simple enough for most at-home bartenders – not too many ingredients, no fancy homemade syrups or infusions, and no hard-to-get liquors. Many are based on familiar cocktails, with a creative twist – like the novelty displayed by some infamous criminals.
Each chapter gathers the crimes as listed in the subtitle – serial killers, cold cases, cults, and true crimes. Each of the 60 recipes is followed by a true tale, gripping atrocities that were gruesome and sobering. Many stories are familiar, such as Bonnie & Clyde, Charles Manson, DB Cooper, Ted Bundy, the Jonestown Massacre, the Nicole Brown Simpson murder, and the Amanda Knox trial. Others have been hidden by years, distance, or simple lack of coverage. The crimes occurred throughout the U.S. as well as abroad, such as Germany, Australia, and Japan.
Some of these crimes, in fact, became the inspiration for chilling books and movies. Which we might have thought were pure fiction … !
There's the
Killer Clown Cocktail, based on John Wayne Gacy
Dark Side Dahlia, representing victim Elizabeth Short
Helter Skelter Sangria, based on Charles Manson and his gang
Skeleton in the Closet, based on the same found in an NYC closet
Sazer-Ax Murderer, for Lizzie Borden
Milwaukee Corpse Reviver, for Jeffrey Dahmer
Half of the fun of Mixology and Murder is shivering at the evil deeds of the disturbed perpetrators and the innocence of their victims.
And then comes the fun of mixing up a cocktail to toast the hope for eternal justice!
Publisher Ulysses Press has provided Boomer readers with three tales and their partner cocktails from Mixology and Murder. Read, shiver, shake, and sip. Then order up your own book, for many nights of mixing with the darkness.
First up, Mother Dearest
Excerpted from Mixology and Murder by Kierra Sondereker. Copyright © 2021 Ulysses Press. Reprinted with permission from Ulysses Press. New York, NY. All rights reserved.
MOTHER DEAREST
A play on a Mother's Milk cocktail, this drink is especially fitting for the story of Edward Gein, a man who had such an unhealthy obsession with his mother (even after she died) that he inspired Alfred Hitchcock's character Norman Bates in Psycho.
Serves 1
Uses a coupe glass
1½ ounces butterscotch schnapps
1½ ounces heavy whipping cream
1 ounce cinnamon simple syrup
1 tablespoon coffee grounds
3 whole coffee beans, for garnish
Combine all the ingredients except the garnish in a cocktail shaker and shake vigorously for about 20 seconds.
Double strain the mixture into a coupe glass to ensure the coffee grounds are removed.
Garnish with the coffee beans and serve.
The murders
Edward Gein, also known as the Butcher of Plainfield, grew up on a farm in Plainfield, Wisconsin, with his alcoholic father, his extremely strict and religious mother, and his brother, Henry. In 1944, Gein reported Henry missing, and it was later discovered that he mysteriously died in a fire. Henry's death was ruled an accident, despite the fact that his head was covered in bruises at the time of his death, and Gein had been able to lead police to the exact location of Henry's body. A year later, Gein's mother also died, and this triggered something in Gein. He began sectioning off the parts of his house his mother had used the most, keeping those rooms pristine while the rest of the house fell into disrepair.
Gein stayed under police radar until November 1957, when hardware store owner Bernice Worden went missing. Witnesses said Gein had been at the hardware store earlier that day, so police tracked him down and eventually arrested him. When they searched Gein's home, not only did they find Worden's decapitated body, but they also found a plethora of Gein's homemade human trophies, including a wastebasket made of human skin, bowls made of human skulls, and leggings made of human leg skin.
It turned out that Gein had a morbid habit of digging up recent graves, stealing body parts, and fashioning keepsakes out of their hair, skin, and bones. After his arrest, Gein admitted that ever since his mother had died, he had been attempting to create a "woman suit" so he could literally become his mother. Gein also confessed to killing another woman, Mary Hogan, in 1954. At his trial, he was found guilty of the murder of Worden, but declared legally insane. He was sent to a psychiatric institution, where he died of respiratory failure in 1984. Gein's activities inspired numerous gruesome characters in American entertainment besides Norman Bates, including Hannibal Lector from The Silence of the Lambs and Leatherface from The Texas Chainsaw Massacre.
---
Recipe #2 from Mixology and Murder – Chi-Chi Chowchilla 
---
Image used with the Mother Dearest cocktail: A very tasty espressss martini. At Bristrot Bruno Loubet, Clerkenwell, London. By Ewan Munro.