Natalie's Taste of Lebanon
| June 16th, 2022
Keeping the Vibe alive in Stratford Hills in Richmond
---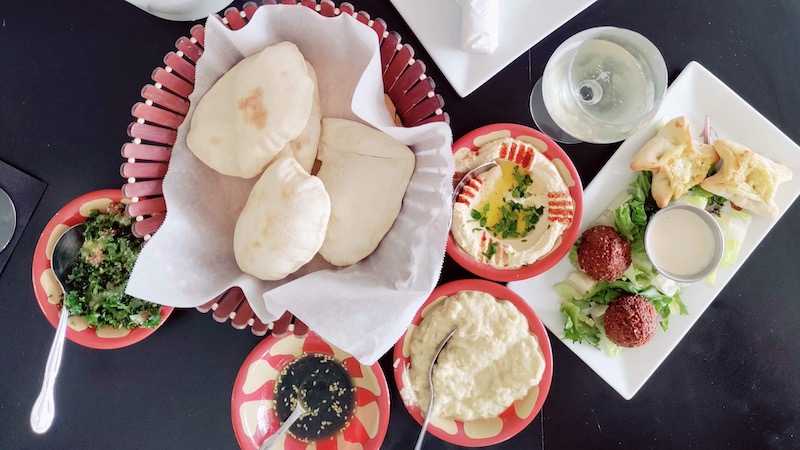 Richmond food and travel writer Steve Cook visits Natalie's Taste of Lebanon, where the mission – to advocate for and employ people with disabilities – is every bit as wonderful as the Mediterranean cuisine.
---
I'm sure you remember the old Max's Positive Vibe Café at 2825 Hathaway Road in South Richmond. Max's dad, Garth Larcen, opened the café and eventually created the Positive Vibe Foundation in an effort to train people in the food service industry, who, like Max, had disabilities, which made entry into the workplace difficult. Actually, through the years, the efforts of Garth and others who supported his efforts through donations of time, talent, and money, did much more than help disabled ones to find gainful employment. Such efforts made possible the fulfilment of the foundation's stated mission, of "providing transformative training and coaching to help individuals with disabilities lead fulfilling and independent lives."
Unfortunately, the café was a casualty of COVID. Fortunately, another Richmond family stepped in to pick up where Max's Café had left off. About six years ago, Dr. Anne-Marie Irani and her husband, Dr. Larry Schwartz, both physicians with VCU Health, opened a restaurant, Natalie's Taste of Lebanon, in Richmond's West End. Natalie is their daughter who was born with a genetic condition that makes accomplishing certain tasks difficult. Much like Garth Larcen, Natalie's parents had a similar goal in opening their own place. Natalie had, herself, trained at the Positive Vibe Café, so it might seem to be a natural transition for Natalie's Taste of Lebanon to make the move across the river and into the space that had been occupied for more than 15 years by Max's café.
I always enjoyed dining at the old Positive Vibe. The food was good, the Happy Hour was happy and the folks were friendly. But that was yesterday, and yesterday's gone.
New life in the Vibe space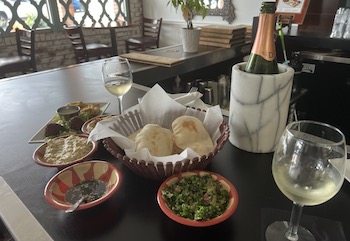 I had my first chance, this week, to visit Natalie's. And let me tell you, its owners have done an amazing job of transforming the looks of the place. There was absolutely nothing wrong with the appearance of Positive Vibe Café, but the new place is so much brighter. It's amazing what a little paint and a few pieces of art can do to class up a joint. Don't get me wrong. I loved the Vibe, but the vibe is, if anything, even more vibrant at Natalie's.
Now, while I've heard great things about the food, I've only had the opportunity to sample the mezze platter. Based on the delightful tastes and ample portions from that sampling, I definitely am inclined to go back soon and dig deeper.
The menu features a variety of kebabs and other Mediterranean delights, such as ribeye beef and chicken shawarma. For the uninitiated, such as myself, a shawarma is a popular eastern Mediterranean dish consisting of meat cut into thin slices, stacked in a cone-like shape, and roasted on a spit.
But back to my sample platter. The platter for two is just $15, and although I had only eaten a couple pieces of the most delightful warm pitas, the server asked if I wanted more. So, the portions are plentiful. I could have eaten a couple baskets of the pitas had I not been counting my WW points. By itself, I would describe it as "Wow," but dipped in the most amazing baba ghanouj that I have ever put in my mouth, this appetizer borders on sheer ecstasy. In addition to those two items, the sample platter included falafel and cheese pies, hummus, and tabbouleh. Everything was virtually perfect. A sip of cava, a sparkling wine from Catalonia, on the side didn't hurt either.
Since Natalie's has only recently opened in its new location, I was told that the Happy Hour hasn't been introduced yet, but it's coming soon.
While I declined dessert, I did ask my server to describe the selections. I like to live vicariously, at times. She says the baklava is wonderful. When I reach my first goal on my self-created program to transform myself from "chunk to hunk," I'm going back for the baklava, or else the flourless chocolate torte. When I reach my second goal, I'll have both.
Bottom line is this: If you appreciate the work done by the Positive Vibe Foundation, which continues to function and occupies space next to Natalie's, then you're going to have the same appreciation for what the folks at Natalie's Taste of Lebanon are doing. If you love delicious Lebanese and Mediterranean fare, served in a bright, friendly, and caring atmosphere, you're absolutely going to love Natalie's.
Natalies Taste of Lebanon, in Stratford Hills Shopping Center
2825 Hathaway Road, Richmond, Virginia
---
Steve Cook has lived in the Richmond area for most of his life, working as a writer and editor and in marketing and radio. He loves to keep abreast of the local restaurant scene and researches the subject voraciously. "I used to think I was a foodie," he says, "but then I realized I just like to eat a lot." He once co-hosted a local Richmond restaurant radio program with BOOMER editor Annie Tobey. Steve completed his first novel in 2017 and says he hopes to read another one this year.
Dig in to more restaurants and other recommendations from Steve Cook