Johnny Crawford, Son of 'The Rifleman' Faces New Challenge
| March 25th, 2020
Johnny Crawford, best-known for TV's 'The Rifleman,' faces Alzheimer's
---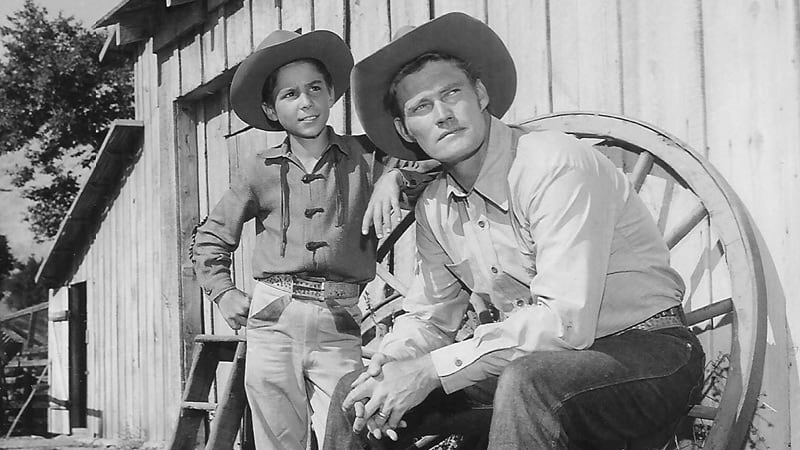 From 1958 to 1963, Johnny Crawford played Mark McCain, son of widowed rancher Lucas McCain (portrayed by Chuck Connors) on 168 episodes of the now-classic hit TV show The Rifleman. Set in 1880s New Mexico Territory, the show was filmed on California location shoots and studio sets. Pro-athlete-turned-actor Chuck Connors starred as Lucas McCain, one of TV's first single dads. It featured Lucas' prowess with a tricked-out Winchester rifle, a touching father-son relationship and morality lessons that still ring true today.
Likewise, as the soft-spoken Crawford told me in California in 2012, "We loved doing it. The scripts were wonderful. As a result, even as a kid, I felt we were doing something special."
An Early Beginning in Showbiz
Crawford and brother Bobby were born into a show-biz family and started out as Mouseketeers on TV's The Mickey Mouse Club. (Bobby portrayed Andy Sherman on another now-classic TV show, Laramie, and later became a Warner Brothers producer). Subsequently, post-Rifleman, Crawford, an expert horseman, spent a few years on the American rodeo circuit (trick roping was one specialty), served two years in the U.S. Army and continued to act in television, films and theater.
---
Take the Boomer trivia quiz on famous kids (with maybe a Johnny Crawford question … !)
---
He and the 6'5" Connors reprised their Rifleman roles in 1991's The Gambler Returns: The Luck of Draw. Crawford remained close to his TV dad until Connors' 1992 death.
Strumming to Fame
Crawford, who played guitar and sang on several Rifleman episodes, recorded three albums in the 1960s that resulted in eight top-ten hits (including "Cindy's Birthday"). A childhood passion for 1920s and '30s dance music, formed while listening to records owned by his paternal grandfather (vice-president of Irving Berlin's music company), led to The Johnny Crawford Dance Orchestra in 1992.
"It's all about authentic period arrangements written by great craftsmen at the peak of Tin Pan Alley's business," Crawford explained to me in the same 2012 interview. "Radio went commercial in 1922, and the very first broadcasts were of dance bands. It was romantic and exciting for listeners to [hear] this music coming live into their homes."
The orchestra took Crawford around the country for in-person performances and resulted in an acclaimed 2008 CD, Sweepin' the Clouds Away. In 2015 we met again when he made a personal appearance at Virginia's Williamsburg Film Festival; now known as Williamsburg Nostalgia Fest. There he signed autographs and delighted fans with a roping exhibition.
---
Like nostalgia? Browse celebrity nostalgia on our website.
Or sign up for our monthly Nostalgia e-newsletter or other e-newsletters tailored for boomers!
---
He made a cameo appearance as silent-film cowboy William S. Hart in 2019's Bill Tilghman and The Outlaws, showing off his riding and roping skills. The film has recently been released on DVD with a new name, The Marshal.
The Most Difficult Challenge Yet
Now, the multi-talented Crawford, 74, is facing an unexpected new challenge: Alzheimer's disease.
He has moved to the same California assisted living community where his wife, Charlotte, is employed. Longtime friend, actor, author and child-star advocate Paul Petersen (Jeff Stone on The Donna Reed Show) is also supportive. He founded the nonprofit A Minor Consideration; which provides guidance and support for former child stars and young performers. As a result, Petersen has started a GoFundMe page to help with the enormous costs of Crawford's 24/7 care.
"Alzheimer's is a debilitating disease … you can tell he wants to talk but the words aren't there," Petersen says of Crawford's life today. "But he's always got a smile on his face."
Petersen says the GoFundMe page is one way people can give back "for all those who enjoyed Johnny's work and music."
If you'd like to donate or want more information, then go to the GoFundMe page or the Crawford legacy site.
So, to see a 13-minute film featuring Crawford at a fall 2019 fundraiser honoring him (currently with nearly 706,000 views) go to: You Tube: The Rifleman's Johnny Crawford Needs Your Help