Hardywood Partners with Chef Joe Sparatta for New Restaurant
| May 17th, 2019
Dining at Hardywood West Creek will feature a seasonal fast-casual menu using local products
---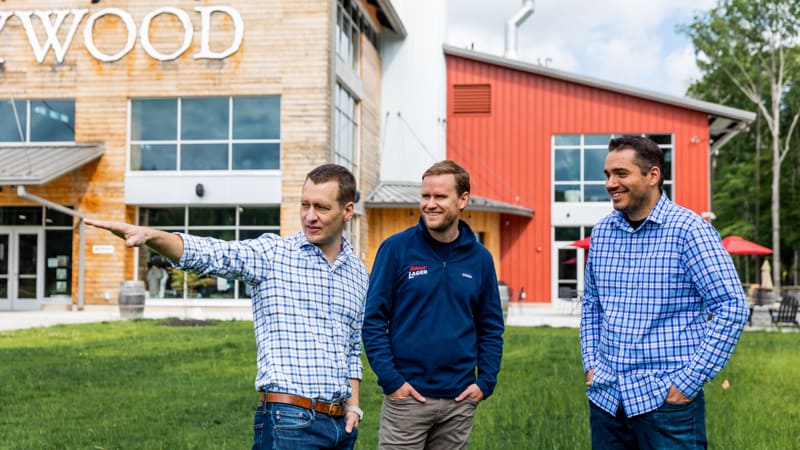 Regular customers of Virginia brewery taprooms know that food can be hit or miss, with most breweries inviting in food trucks – often enjoyable food but at limited hours. Customers at Hardywood Park Craft Brewery's West Creek location will soon have a better option: co-owners Eric McKay and Patrick Murtaugh have announced that they will be opening a restaurant there. Better still, the consulting chef for the restaurant will be Joe Sparatta, best known locally for Heritage and Southbound restaurants.
Sparatta, McKay and Murtaugh have all demonstrated appreciation for use of local ingredients: Sparatta in the seasonally driven menu at his restaurants and McKay and Murtaugh in Hardywood beers such as Gingerbread Stout (using local honey and ginger) and Raspberry Stout (with local red raspberries).
Appropriately, said Sparatta, the new gourmet, fast-casual menu will be seasonal, using products from local farms, "maintaining a consistent level of quality that we have established with Heritage and Southbound," he said.
The grassy areas at Hardywood West Creek, added Martaugh, make it "picnic friendly, so you can sit with your family and enjoy a meal."
As Hardywood begins the build-out, Sparatta is working on the food menu, which will integrate with the setting. "It's meant for trying to make things accessible but also to offer family options, because [Hardywood West Creek is] a great place to bring family. We're still trying to get things to be very delicious, but able to travel a little better, so people can enjoy the space and the grounds" Instead of composed plated dishes, for example, customers can expect items like sandwiches, wraps and other handhelds.
Some foods will also use Hardywood beer. "I'm working on developing a Gingerbread Stout barbecue sauce as a staple year-round," Sparatta said. "I'm working on a kind of a sausage, using beer itself within the sausage. That's still in development, but the barbecue sauce, definitely."
Sparatta also intends to include beer pairing recommendations. "I'm working with the flavor components of the beer and developing [food] flavor components around that," he says, "so that's at least a goal, but not for not every dish."
The counter for food orders will be in Hardywood's spacious main taproom, separate from the counter for ordering beers, with all public spaces shared by diners and imbibers. Given the shared layout, the restaurant will operate under the Hardywood ABC license, thus only able to sell Hardywood beers – that's approximately two dozen beers available from the tasting room taps, from crushable Suncrush Kölsch-style beers, Richmond Lager and Cream Ale to IPAs and rich, high-octane barrel-aged stouts and Belgian-style ales.
The restaurant will be the first for the West Creek development. "As exciting as it was for us to dream about a restaurant at West Creek, it wasn't until Joe came on the project that Eric and I knew this would be a truly memorable concept and experience," said Murtaugh. "As long-time patrons of Heritage and Southbound, we know Joe's immense talents as a chef firsthand. We can't wait to open this restaurant and share our concept with our guests."
The restaurant is due to open in early 2020.