Nonprofit Head Helps People Recover from Addiction
| September 30th, 2016
---
Roz Watkins' mission is to provide support and programs to help people recover from addiction.
There's been a surge in fatal drug overdoses across Virginia in recent years. Watkins' stepson, John Henry Watkins III, is one of those unfortunate statistics. After struggling with addiction for several years, Henry, as he was known, died of an accidental overdose in 2010 at the age of 21. "I don't think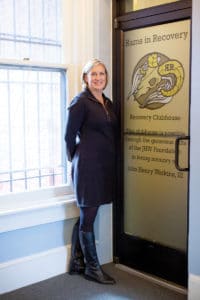 you ever overcome this," Roz Watkins, 53, says, "but you learn to live with it. Our family chose to try to help young adults and families in similar circumstances."
The JHW Foundation is named in honor of Henry. Fittingly, the support programs focus on young adults between the ages of 14 and 25. One of those support programs is VCU Rams in Recovery. The group developed a "recovery roast," a coffee blend used at events to encourage recovery conversation over a cup of coffee. In addition, the John Henry Watkins Scholarship Fund provides financial assistance to qualified VCU students in recovery.
Roz says, "I'm very excited to be a part of a movement that supports young adults in recovery and (to be) helping to develop a strong collegiate recovery program in our community so students don't have to choose between their education and recovery."
WHY IS IT SO IMPORTANT TO MAKE A DIFFERENCE IN THE COMMUNITY?
There is a big misunderstanding in our community about addiction. Most people don't understand that it is a disease, not a behavioral problem. Our family did not really understand that we were dealing with addiction versus abuse until Henry had been using for a few years. People did not really talk about addiction. Henry's friend, Kevin Meyer, founded the foundation. Two of our friends' sons died within six months of Henry's death. I started to realize the problem was much bigger and I needed to help others in similar situations.
WHAT DOES SUCCESS MEAN TO YOU?
I'd like for people to be more aware of addiction and more supportive of people struggling with it. There would be better support systems in place, especially in high schools, community colleges and colleges. There is an epidemic of addiction to opioids, including painkillers such as oxycodone and heroin. I'd like to see the numbers of overdoses dramatically reduced, prescriptions limited and people struggling get the support they need. It can happen to any family.
HOW DO YOU MAINTAIN A POSITIVE OUTLOOK, ESPECIALLY IN THE FACE OF CHALLENGES?
I try to focus on the positive and not dwell on the negative or the what if's. I try to be quick to forgive and move on.
ANY INSPIRATIONAL ADVICE TO SHARE?
Stay strong and keep trying even when the going gets tough. You've got this.