Pianist George Winston
| October 4th, 2015
BOOMER interviews the famous pianist, who performs at The Cultural Arts Center at Glen Allen Nov. 9, 2015
---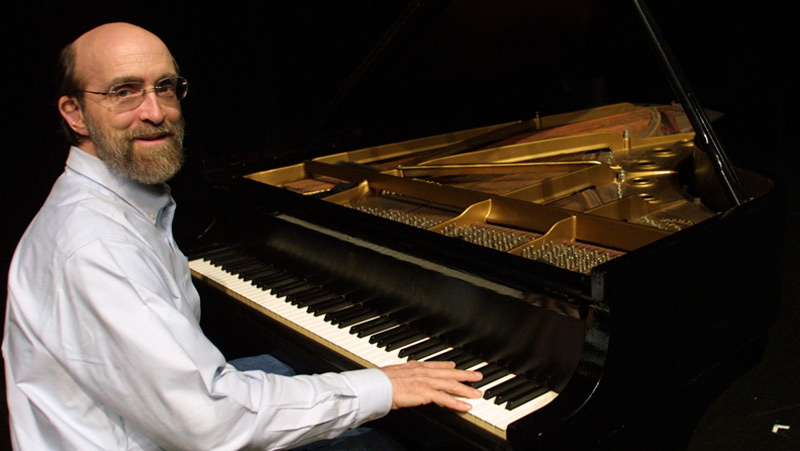 There is a reasonable chance you will bump into George Winston at Ellwood Thompson's while he's in town for his Glen Allen concert.
Yes, the grocery store. Or maybe you'll see him hanging around the West End, since he tends to settle in an area between The Fan and Henrico County for up to a month every year.
Winston, the piano instrumentalist renowned for his seasonal-themed collections and meaningful musical tributes to Peanuts composer Vince Guaraldi, lives in Santa Cruz, Calif., but says of River City, "I love Richmond. It's my second home."
He's a longtime friend of harmonica master Rick Epping, who used to live in the city when he was accordion product manager of Hohner Inc. The two frequently recorded in Richmond before Epping moved to Ireland more than a decade ago. But the warm, talkative Winston has remained a fan of Richmond's low-key offerings.
He'll bring his unique piano stylings – a combination of gentle easy listening and fiery New Orleans blues influenced by Professor Longhair – to The Cultural Arts Center at Glen Allen Nov. 9 for a performance he calls his "summer show."
Yes, he realizes he's performing in the fall.
But, said Winston in a call from his California home, "I did the winter show in Richmond two times in a row. Enthusiastically, I have to do both of them. But whichever I decide, at least two-thirds of it will be different than the other."
So maybe fans will get a little of both.
BARE-FOOTED TRIBUTES TO THE SEASONS
Winston, who usually takes the stage in casual wear and bare feet, said his concerts are inspired by the seasons and the locale and tend to be a mixture of "full piano pieces," along with harmonica, Hawaiian slack-key guitar and his Guaraldi interpretations.
Among his 13 solo piano albums released since 1972, Winston has recorded two volumes of the jazz pianist's work – 1996's Linus and Lucy: The Music of Vince Guaraldi and 2010's Love Will Come: The Music of Vince Guaraldi Volume 2 – and said he's almost finished with a third collection.
"I just love his pieces," Winston said. "I've recorded at least 70 of his compositions. Most composers I've done one or two, but they don't all work because they're not instrumental solo piano. … A lot of Vince's tunes were seasonal in nature because Peanuts (TV) specials are almost all seasonal in nature. They hit me that way."
While Winston's reputation is usually entwined with his tenure with the acoustic-oriented Windham Hill Records – which distributed his work on his own Dancing Cat record label – and his platinum-plus recordings December and Winter Into Spring, he is also an unabashed fan of The Doors (2002 brought Night Divides the Day – The Music of The Doors, Winston's reframing of Doors songs as solo piano music) and Frank Zappa.
THE ECLECTIC LISTENER
Since most of Winston's fans seek out his soothing music to relax, what does the creator of lulling melodies listen to for leisure?
His old friend Epping, as well as Zappa, Professor Longhair and Appalachian fiddler Mike Bryant.
But Winston turns contemplative and philosophical as he considers people's listening habits.
"The listener always has final say. Everyone has their own perception," he said, "If you like it, it's good music. It doesn't matter if somebody else doesn't like it. People didn't like jazz. They didn't like Stravinsky."
Regardless of opinion of Winston's music, his charitable efforts are always laudable. He continues to raise money for food banks – a local beneficiary will be chosen closer to his Glen Allen show – and for animals.
"To me, all animals are just cats in another form," said the feline fan, whose Nov. 15 show in Athens, Ga., will benefit area humane societies and pet rescue organizations.
Winston also has a three-song preview of his next album, Spring Carousel – A Cancer Research Benefit, which will aid City of Hope cancer research hospital in California, available on iTunes.
Even with such a sturdy career backdrop, Winston remains humble.
"My natural ability is as a listener, not as a player," he said. "I never planned on any of this. I planned to be a delivery guy and get other people's work recorded. I just didn't want to be in an office or sit in traffic."
---
Melissa Ruggieri, a former music critic and writer for the Richmond Times-Dispatch, now is the music critic for the Atlanta Journal-Constitution. She is a frequent BOOMER contributor.