Plenty of Pimento Cheese in Richmond
| February 20th, 2023
Enjoy the caviar of the South at a restaurant near you
---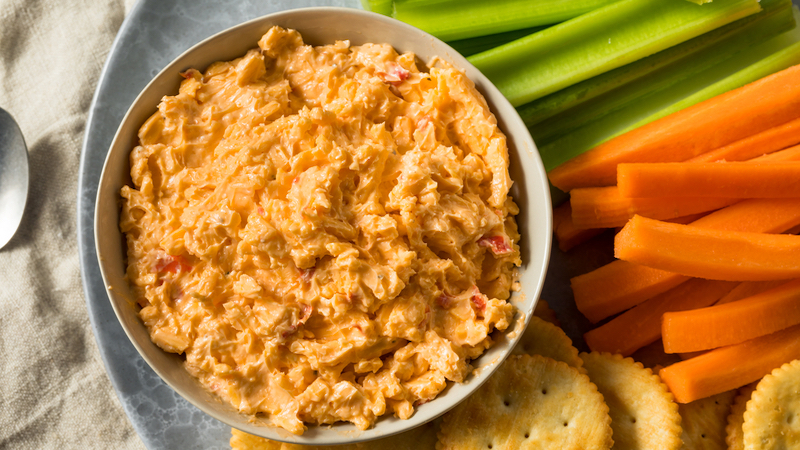 Southerners, be proud! Though Northerners originated pimento cheese, theirs was a mass-produced spread of cream cheese or American Neufchâtel with imported canned Spanish peppers (hence pimiento).
While the rest of the nation (understandably) tired of this, Southern families began making a luscious, creamy, tangy cheese blend from scratch, sharing it and creating memories. I remember my excitement when my mother mounted her hand-cranked grinder on the kitchen counter, pulled out jars of pimentos, mayonnaise, seasonings and a block of (gasp!) Velveeta to make her fresh pimento cheese. Though the recipe is simple, the variations give each chef – or each family – bragging rights.
Arguably, the gold standard in Richmond comes from Chef Jason Alley, which he once presented at his Comfort and Pasture restaurants. His recipe calls for sharp cheddar cheese, roasted red bell peppers and Virginia-favorite Duke's mayonnaise, seasoned with shallots, tarragon, Worcestershire, black pepper and hot sauce. In fact, Alley's recipe is so classic that Wine Enthusiast magazine presented it as the "Virginia-Style Pimento Cheese" recipe.
BOOMER staff explored Richmond-area restaurants to sample the interpretations. We discovered variations in how the spread was served and in how creamy, chunky, tangy, spicy, mayonnaise-y and pimento-ey each dish was, finding few we didn't swoon over.
Since taste is subjective, our descriptors don't pass judgment – if a spread is too creamy, too dry, too chunky, too spicy is a matter of opinion. Sample for yourself!
Perk co-owner Christophile Konstas produced an informative and entertaining video on the history and popularity of the spread. At Vimeo.com, search for "Pimento Cheese, Please!"
---
Originally published on April 17, 2017 online (and in the Boomer print edition, April-May 2107), the article was updated 10/6/2021 to reflect changes, including the closing of Pasture and Comfort and the addition of Fall Line Kitchen & Bar. On May 5, 2022, and Feb. 20, 2023, other businesses were added to the list, removed, and/or verified – but be sure to check before you go, if you have your chops set on pimento cheese!