Within the Walls of the McGuire VA Medical Center
September 8th, 2017
A new documentary highlighting the benefits of polytrauma rehab premieres Sept. 14 & 15
---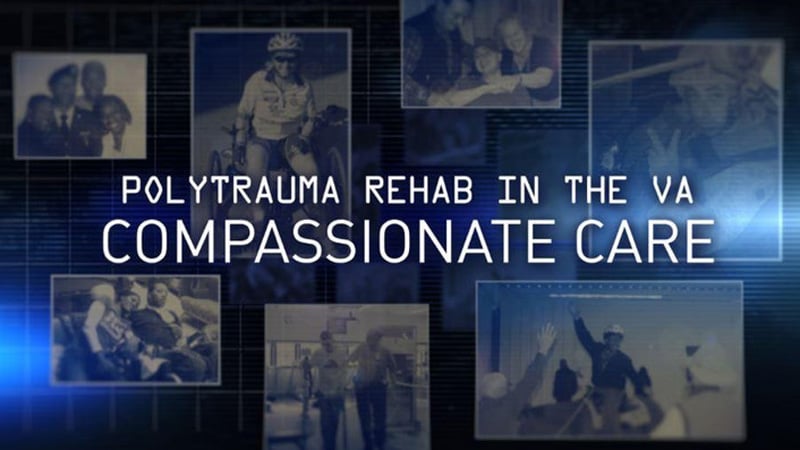 In hearing of American soldiers and veterans who have suffered traumatic injuries, seeing their faces, their scars, their families and their dramatic comebacks makes their stories real. A new documentary showcases these military heroes and the medical heroes who aided in their healing.
To create this documentary, two unlikely partners came together for one very strong cause. The Community Idea Stations connected with the Hunter Holmes McGuire VA Medical Center to create a documentary to detail the work of the medical staff, and to give a voice to the active-duty service members who found recovery through the hospital's services. The one-hour film, Polytrauma Rehab in the VA: Compassionate Care, gives a look at what goes on within the walls of the hospital. It provides the perspective of doctors, medical staff, and family members, along with personal stories of the trials and triumphs of patients themselves.
Through the individual narratives, it becomes clear that the McGuire VA Medical Center isn't simply a hospital for veterans. The documentary captures the bond that staff and patients form, which harbors not only physical healing, but emotional recovery. Because, as David Cifu, MD at the McGuire Medical Center, confirms: "Our heroes deserve everything."
The McGuire VA Medical Center, a veteran's hospital located in South Richmond, provides a medical facility for injured service members, with both long-term and short-term afflictions. But this is not your average hospital. Its polytrauma unit, one of only five in the country, provides physical recovery and rehabilitation, plus services for physical, mental, emotional and spiritual wellbeing. Each treatment is tailored around the individual patient, to make it as purposeful and beneficial as possible.
The film premieres on Sept. 14 at 9 p.m. on WCVE PBS and Sept. 15 at 9 p.m. on WCVW PBS.
Have tissues ready.